4 minutes
Four SERP best practices
Sponsored by CUNA Mutual Group
The process of recruiting and developing a top-performing executive is a major investment. Losing that executive to a competitor after this outlay has really begun to pay off can be a serious, long-term blow to morale, productivity and financials.
Supplemental executive retirement plans can protect a credit union's investment in top talent and help recruit the best candidates. In fact, the "R" in SERP could easily stand for "retention" and "recruitment" in addition to "retirement"—but only if the SERP is designed carefully. A good SERP protects the credit union's interests while providing a meaningful incentive for executives.
Maybe that sounds like a tall order. But as the average CU asset size continues to grow, and as competition increases for leadership talent, more and more credit union boards are looking to SERPs as an essential element of executive compensation packages.
The Ripple Effect of a Top Executive's Abrupt Departure
Unfortunately, credit unions often wait to engage an executive benefits firm to help set up SERPs for their leadership team in the difficult aftermath of a top executive's departure.
The damage I've witnessed in these situations often goes beyond simply losing the executive's day-to-day leadership and expertise.
Sometimes, for example, other executives will take their eyes off the ball, turning their focus away from the CU's operations and instead wondering what happened and whether they should be polishing up their resumes, too. And sometimes, departing executives even bring top performers along with them, sooner or later.
A host of other complications can follow an effective and popular executive's vanishing act. To mitigate this risk, give your leadership continuity program more retention power with these four SERP best practices:
1. Don't just be sold—be informed.
Creating an effective SERP should be a process: a conversation with your executive benefits specialist, rather than just hearing a sales pitch for a specific executive compensation instrument, such as a 457(b) or 457(f) plan, or split-dollar life insurance.
CU boards or compensation committees should be open-minded going into the SERP process, with a desire to explore as many plan design options as they can. This means that if a vendor specializes in selling a single product, be sure to find other vendors to present a full array of possibilities.
Ask about tradeoffs for certain products, such as assuming additional risk for a potentially higher return.
You should never feel you're being pushed to settle on a product merely because it hits your target price point.
2. Customize SERPs based on each executive's unique situation.
Put meaningful benefits in place by customizing SERPs based on each executive's life stage/events, and on your CU's strategic goals. An executive compensation program will be only as effective as it is meaningful to the individuals receiving it.
For example, a SERP designed to reward a long-term CEO five years from retirement age shouldn't have the same features as a "golden handcuffs" SERP for a CFO in his or her late 30s or early 40s. If that younger executive has children who might be heading to college in 10 years, for example, create a SERP designed to generate a significant payout near that milestone.
SERP vendors should start with a thorough assessment of each executive's financial profile.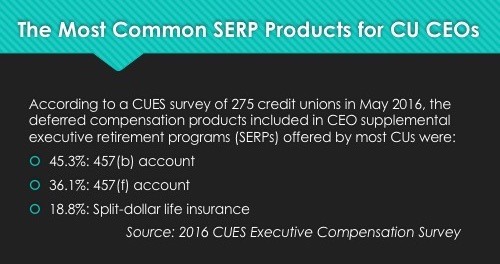 3. Put as much effort into the SERP agreements as the SERP plans themselves.
Financial products are only half of the SERP equation—they are the funding mechanism. The other half is the agreement: a contract that details the conditions under which SERP proceeds will or will not be paid, among other components. You need an attorney experienced in these agreements to act on your CU's behalf in executing these documents.
4. Review all SERPs regularly.
Ongoing oversight is critical. At least annually, you and your SERP provider should review investment performance, regulatory changes that may affect your plans, changes in the SERP recipients' work status, personal financial needs, etc.
It's About More than Money
A SERP isn't an attempt to flat-out buy loyalty. A properly designed SERP is a personal reward. You're spending time working with each executive on their specific financial needs, and responding with a personalized plan to meet those needs.
You're showing people—not just telling them—how much you value their leadership, loyalty and potential.
Mark Wilson is senior executive benefits specialist for CUESolutions Platinum provider CUNA Mutual Group, Madison, Wis. Reach him at mark.wilson@cunamutual.com.