4 minutes
These three Twitter tactics can help your organization connect with key audiences.
Over the past several years, social media has become an effective tool for credit unions to connect with their members, colleagues and even technology partners. Twitter, in particular, has proven to be a dynamic channel for sharing messages and interacting with key audiences. 
However, it can be challenging to determine exactly how to best leverage Twitter for optimal success and engagement. Financial technology companies often provide strong examples of successfully leveraging this platform in the financial services space. 
By sharing interesting content, promoting client relationships and getting involved in industry conversations, many fintechs have amplified their voice and strengthened relationships via Twitter. Credit unions can adopt some of these tactics and tips to formulate winning Twitter strategies of their own. 
1. Actively share compelling content.
Many fintechs regularly share their news—such as new executive hires or the introduction of new products—via Twitter to help drive traffic to their websites. Fintechs that go the extra mile expand their postings to include the promotion of blogs as well. Sharing blogs on Twitter is an effective way to start conversations and position themselves as knowledgeable thought leaders within their respective industries.
For example, Entersekt, a push-based authentication and mobile app security company, tweets each week to promote its blog. The fintech's posts cover a wide variety of topics such as industry trends, company highlights and overviews of conferences they attend.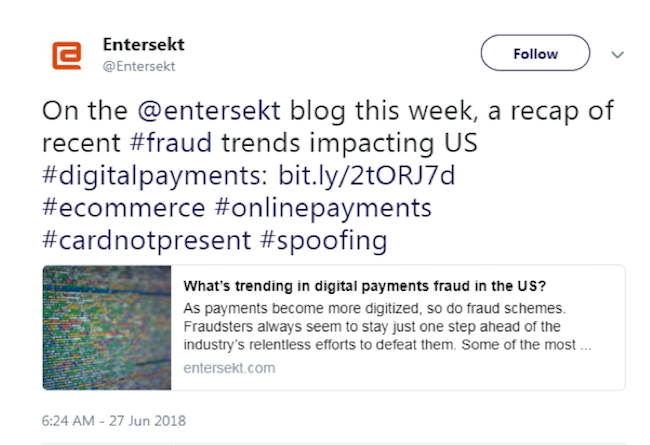 D3 Banking Technology, provider of a digital banking platform, regularly tweets to promote their older blogs, providing additional exposure to blog posts that were crafted anywhere from last month to one or two years ago but still contain relevant insight.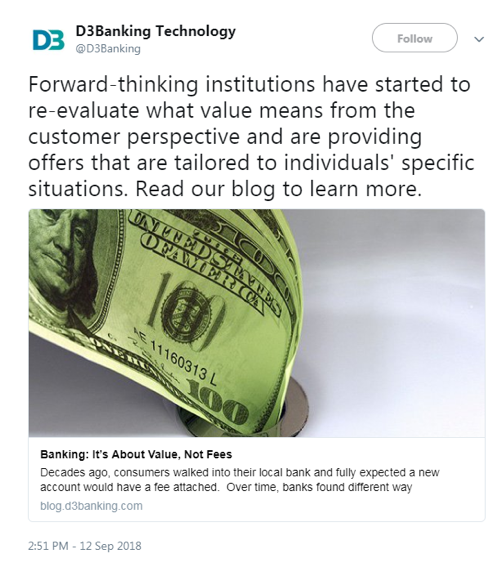 Credit unions can use this tactic to share such pertinent updates and announcements with members as new branch openings, new product offerings and digital banking updates on Twitter. CUs that publish blogs around topics such as financial health should also circulate that content via Twitter, as it can expand their readership and start conversations with members and industry colleagues. 
2. Promote client relationships.
Fintechs often use Twitter to highlight client accomplishments and the ways their clients are successfully leveraging the company's offerings or products. Not only does this tactic give clients a shout-out for their success, but it also demonstrates the specific benefits that the fintech's product offerings provide. 
Safe Systems, a provider of fully-compliant IT and security services for community banks and credit unions, recently highlighted a client for implementing its automated solution. The company used Twitter to communicate the benefits of leveraging its streamlined solution to efficiently manage important networking tasks.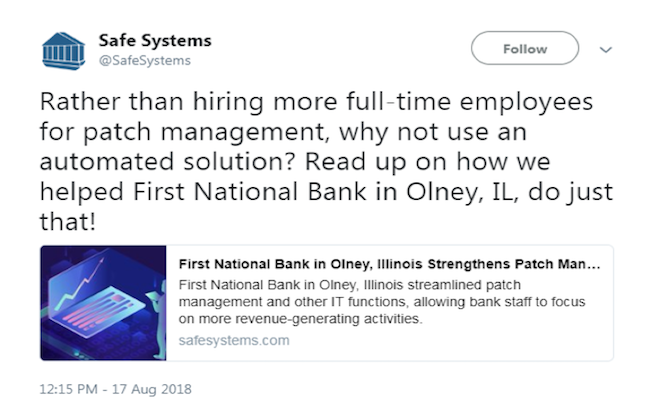 Credit unions can use Twitter as an opportunity to highlight their relationships with members as well, particularly by demonstrating the success of their business members. For example, if a business took out a loan with your credit union and, as a result, was able to reach a revenue milestone, expand its facilities or hire additional employees, that would be a great story to tell on social media (with proper permission, of course). 
3. Participate in industry conversations. 
While promoting a company's own content can appeal to clients and prospects, fintechs that share and comment on broader industry news and trends reach a wider audience and better position themselves as true experts. 
For example, Sionic Mobile, a provider of cloud-based connected-commerce and loyalty currency gateway services, recently shared its support of the Snapchat and Amazon partnership.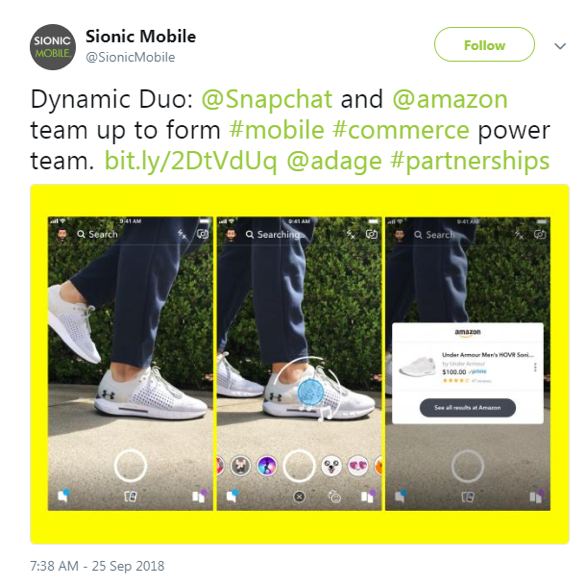 Validis, a provider of financial data sharing and standardization technology, regularly provides its opinions on trends and what other companies are doing in the industry. Proactively engaging in this way helps Validis position itself as a go-to source for industry updates and commentary.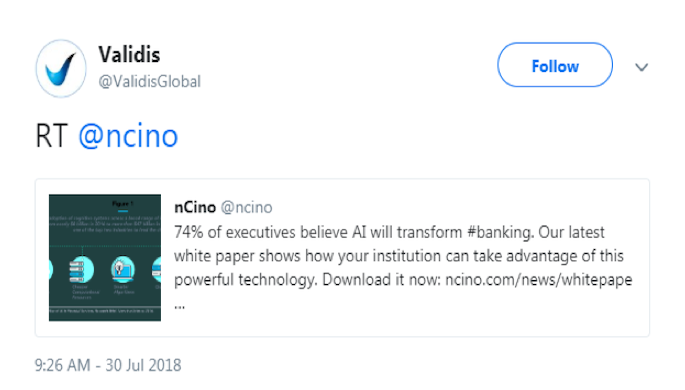 Credit unions can take this approach by socializing news and commenting on industry trends beyond their own products and services. Doing so involves credit unions in larger industry conversations and demonstrates their thought leadership and expertise, which strengthens their credibility in the financial space. 
Twitter has certainly been an effective platform for savvy fintechs, and credit unions would be well served by adopting some of the same tactics. By sharing compelling content, highlighting valuable member relationships and participating in larger industry conversations, credit unions will nurture and strengthen connections with members as well as industry peers and partners. 
Maggie Wise is an account coordinator at William Mills Agency, the nation's largest independent public relations firm focusing exclusively on the financial services and technology industries. The agency can be followed on Twitter, Facebook, LinkedIn or its blog.
CUES' Credit Union Management's online-only "PR Insight" column runs the first Thursday of every month.