6 minutes
Millennial CEO who learned leadership working in disaster relief and internationally is now a credit union devotee.
Monica Belz, CUDE, president/CEO at $114 million Kauai Government Employees Federal Credit Union in Lihue, Hawaii, began her journey of leadership, volunteerism, learning and adventure when she was just a kid. While her next steps may be in the office or classroom rather than on mountain trails, she isn't slowing down. We asked how her early exploration and professional development choices have influenced her career.
You have had a lot of amazing experiences, ranging from being a certified PADI divemaster, helping oversee the 2003 elections in Russia, wilderness survival, disaster relief and serving as a credit union CEO. What has been your top leadership learning experience? What did you learn?
Motherhood! Ha! Aside from the great leadership challenges and responsibilities inherent in having children, I think my most significant leadership experience was joining the Fire Cadet Youth Program based in the Pacific Northwest when I was 14.
We did several training burns as cadets, with real houses on real fire, but controlled. I led my teams on training burns several times. The most exciting was being on the "nob"—going inside the house, crawling low to stay under the fierce heat, navigating our way through thick dense smoke to the hottest point of the fire (usually in the kitchen) to extinguish the fire from the source.  
We also went on the scene at real emergencies almost every day. Most were car accidents and medical calls. One exciting call involved a standoff, a SWAT team, snipers and a gunshot wound. My engine and paramedic crew rushed to treat the woman who was shot, and I was tasked with holding her exit wound to try to prevent massive blood loss. Life Flight showed up; we got her on the stretcher, quickly escorted her onto the helicopter and she was rushed to a trauma center. She survived! That was one memorable day I will never forget.
By the age of 17, I was promoted to Fire Cadet Chief, where I supervised a crew of 30 high school students. Undertaking such an enormous responsibility at the firehouse while the majority of my peers were attending the traditional classroom setting provided me with invaluable hands-on exposure to leadership in some extremely stressful situations (i.e. real emergencies). Learning the vital importance of both being prepared as a team and remaining calm and focused to implement decisions under extremely difficult conditions was pivotal to my leadership development. I learned to rely on my training, my team and myself in life-threatening conditions.           
How does your Global MBA degree feed your leadership today?
My Global MBA from Thunderbird, a division of Arizona State, feeds my leadership on a perpetual basis. As with everything in life and business, people and relationships are paramount. Through my experience at Thunderbird, the numerous relationships I have developed across the world act as a constant source of wisdom, camaraderie, perspective, support and innovation. Additionally, the Thunderbird MBA program intentionally placed students in unfamiliar and uncomfortable foreign settings with high expectations for innovatively solving business challenges. 
For one of my "Regional Business Environment" trips, I spent two weeks in Beijing and two weeks traveling down China's coastline until reaching Hong Kong. Along the way, we were tasked with several assignments and only given partial information to complete them—all in the name of "throwing you off." I recall one such team assignment of immersing at a tech facility that had been under global scrutiny for potential IP fraud, interviewing the executives and staff, analyzing their business model and competitive landscape, and coming up with a recommendation to improve their strategic positioning amidst the scrutiny. Other regions of the globe that Thunderbird took me included Latin America, Peru and Japan. 
The learning experience of problem-solving outside of our comfort zones, failing miserably, assessing our mistakes and relentlessly seeking solutions is deeply embedded in my leadership approach with my teams.
Finally, the greatest lesson that feeds my leadership is never forgetting to have fun with the team while embarking on an uncertain journey together. I think I've always been the type to find and remember the fun in the journey, no matter how gnarly it gets. I learned that as a young explorer in mountaineering, firefighting, participating in volunteer projects across the world, living in Tonga when I was 11, trekking the Himalayas for a summer, training to be a professional snowboarder and learning a new language while living abroad in Russia. But I think Thunderbird helped me translate and apply that very important style of leadership (and approach to challenges) into the business environment. It permeates business culture. If we can stay positive regardless of the situation, stay open to learning, growing and evolving, and have fun together while doing it, everybody wins.
Jump in, trust yourself, support your teams, be a passionate learner, find a mentor, be curious, be brave, get uncomfortable (at least once a month), foster your emotional intelligence and most of all—have FUN!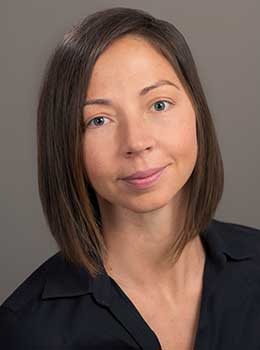 Kauai Government Employees FCU
What impact did completing the Credit Union Development Educator program have on your professional development?
I assumed I had already "drunk the credit union movement Kool-aid" when my first CU CEO, Mel Chiba, sent me to the World Council of Young Professionals at the World Council of Credit Unions conference in 2015. After having worked in international development my entire life, and because I was new to the credit union scene, he thought the conference would indoctrinate me into the meaningful social impact of credit unions across the globe. It worked. I wanted more. 
Mel Chiba was the sole CUDE alumnus in the state of Hawaii for decades, and he encouraged me to apply for the program. After meeting Gigi Hyland and learning more about the National Credit Union Foundation and the CUDE program, I was hooked and immediately applied.  
The CUDE program far surpassed "drinking the Kool-aid." It entirely altered my understanding and sense of responsibility for our industry while strengthening my character, purpose and vision. This program has redefined my outlook while providing invaluable resources and applications that continually inspire and influence my life's trajectory. For me, the CUDE program inspired the amalgamation of my life's experiences and passion into a clear mission: to be a part of vitalizing and shaping the power, purpose and impact of credit unions across the globe. Credit unions were the original disruptors of the financial industry and arguably the most powerful social enterprises of the 20th century. The CU Kool-aid now flows through my veins.  
What will be your next professional development step(s)?
I would like to obtain my I-CUDE by completing an international project. My all-time hero is Lois Kitsch, with whom I one day aspire to work in some capacity internationally. With the help of my executive mentor, I am also evaluating and vetting several executive leadership programs ranging from Stanford, Wharton, Columbia and other comparable programs in the Hawaiian islands. My current venture as CEO has kept me fully occupied. In just one year, I have learned much about leading a small/mid-sized credit union amidst a rapidly-changing, competitive landscape (while leading our relief efforts during a major natural disaster on Kaua'i). Regardless of where my next steps take me, I genuinely look forward to what the future holds for our industry, both locally and globally.
What advice would you give to other aspiring female professionals?
Jump in, trust yourself, support your teams, be a passionate learner, find a mentor, be curious, be brave, get uncomfortable (at least once a month), foster your emotional intelligence and most of all—have FUN!  
What advice would you give to other new CEOs?
Congratulations! Thank you for stepping up to the plate to help forge the future of our incredible industry. To the new millennial CEO, like myself, we have no idea what we just got ourselves into. My first year felt like drinking water from a fire hose; and I would know what that feels like. Ultimately, I have found that seasoned CEOs are always willing to help—which is a true reflection of our collaborative credit union industry. We are also fortunate to have myriad resources and trade groups at our disposal. The more we collaborate, cooperate and support each other, the stronger our industry will become.  cues icon