4 minutes
Bias in the workplace means female leaders have a tightrope to walk.
When I was little, my mom always told me I could be anything I wanted to be, just as I'm sure your parents told you. I remember her saying to me over and over again that I needed to be a strong, independent, ambitious woman—basically, her way of saying "take no sh*t" to a 7-year-old. (Oh, wait … she said that, too.) If I worked hard and always stayed true to myself, I really thought I could accomplish anything and get anywhere. However, this ambition and tenacity we instill in our daughters can be a double-edged sword once they leave the nest and flock into a professional setting.
Unfortunately, an ambitious woman in the workplace is rarely described as just that. Instead, a strong female presence is often degraded, viewed as "bossy," "intimidating," or "aggressive," instead of being celebrated. Too often women are expected to be submissive, gentle, and are told they should be grateful to have a seat at the table. This same tenacity in men is instead interpreted as a positive and necessary leadership trait, something other men should aspire to. There seems to be a tightrope women have to walk between ambition and aggression. It's a fine line; one misstep can push you off the rope and derail your career trajectory.
The social cost of being ambitious in the workplace can be high for women. Too frequently, when women choose to think big, they are shut out, viewed as difficult to work with, interrupted and suddenly no longer considered a "team player." The effects of this on women's confidence and success is huge. Women may lose connections, opportunities and even their aspirations towards a senior management position. According to a study by Bain & Co., 43% of women aspired to be in top management during their first two years in a new job, but after that, only 16% were still shooting for those C-suite positions.
According to another study by Kieran Snyder, the CEO of software company Textio, ambitious, high-achieving men and women were described vastly differently in their performance reviews. Women's reviews were more likely to include critical feedback (87.9% of women versus 58.9% of men), and men's constructive suggestions tended to be focused on additional skills to develop, whereas women's tended to include phrases such as "watch your tone," or "step back and let others shine." These biases and judgments are not just affecting women socially but can be barriers to receiving promotions and raises.
It's crucial for both men and women to disrupt this kind of talk when we hear it and to remind people that gender equality in the workplace isn't a women's issue, it's a business issue.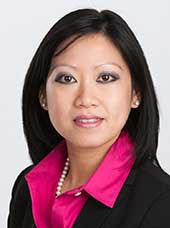 Collins Community Credit Union
So, we know this is happening, but how should we address the problems? Why can't we describe a woman who knows her worth and what she brings to the table the same way we describe a man who knows the same thing?
The first thing to note is that biases and prejudices exist in all of us, usually unknowingly. Everyone has unconscious biases based on a multitude of things: how they were raised, where they grew up, their circle of friends and family, etc. So, when you witness these biases, labels or perceptions, step in and stand against them. It's crucial for both men and women to disrupt this kind of talk when we hear it and to remind people that gender equality in the workplace isn't a women's issue, it's a business issue. Gender equality is good for business: It's shown to improve organizational performance, help companies attract and retain employees, and increase profitability.
Also look for women (and men) around you who are willing to band together and provide a ring of support, guidance and insight. Leverage these connections not only for yourself but to spread the mission of gender equality and create a bigger impact in the areas you work and live. Through leading by example and showing up for one another, we can make a difference in how women are perceived in the workplace.
Lastly, believe in your value and continue making it known to others, even if you receive the pushback outlined earlier. By asserting yourself, you're not only working on your personal and professional growth, but you're also bettering those around you and positively impacting your company's culture. And continue teaching your daughters (or any women in your life), to be ambitious and set their sights high. We've made significant progress and will continue to do so, but one day they'll be the women the world needs, too.
Mai-Linh Hoang is VP/marketing at $1.2 billion Collins Community Credit Union, Cedar Rapids, Iowa, where she oversees the organizational strategy for the credit union as well as marketing and communications strategies. She has a strong background in non-profit communications, strategic planning, media and client relations, branding and event management. Hoang is a co-founder of the Iowa Sister Society of the Global Women's Leadership Network, an affiliate of the World Council of Credit Unions. GWLN's goal is to bridge the gap and provide women resources to become future CEOs and executives of credit unions. She also serves on various non-profit boards, primarily focusing on youth and education.