5 minutes
Affinity Federal Credit Union paves the way for employees to own their professional growth.
It is not entirely surprising that one of the 10 competencies senior staff at $3.6 billion Affinity Federal Credit Union chose for employees to hone their skills in 2021 is "resiliency." After all, 2020 was a challenging year in so many ways.
Affinity, based in Basking Ridge, New Jersey, defines resiliency as "the capacity to recover quickly from difficulties or tough situations," and chose this competency as the first in its "competency of the month" learning program we rolled out in March.
The idea is for employees to learn more about a different competency each month from March through November. In December, staff will review all 10 competencies plus participate in a "virtual conference" with guest speakers and other activities designed to summarize a year of developing competencies.
Affinity believes staff will boost their own performance—and thereby organizational performance—by developing their knowledge and skills in each of these 10 competencies through the course of the year: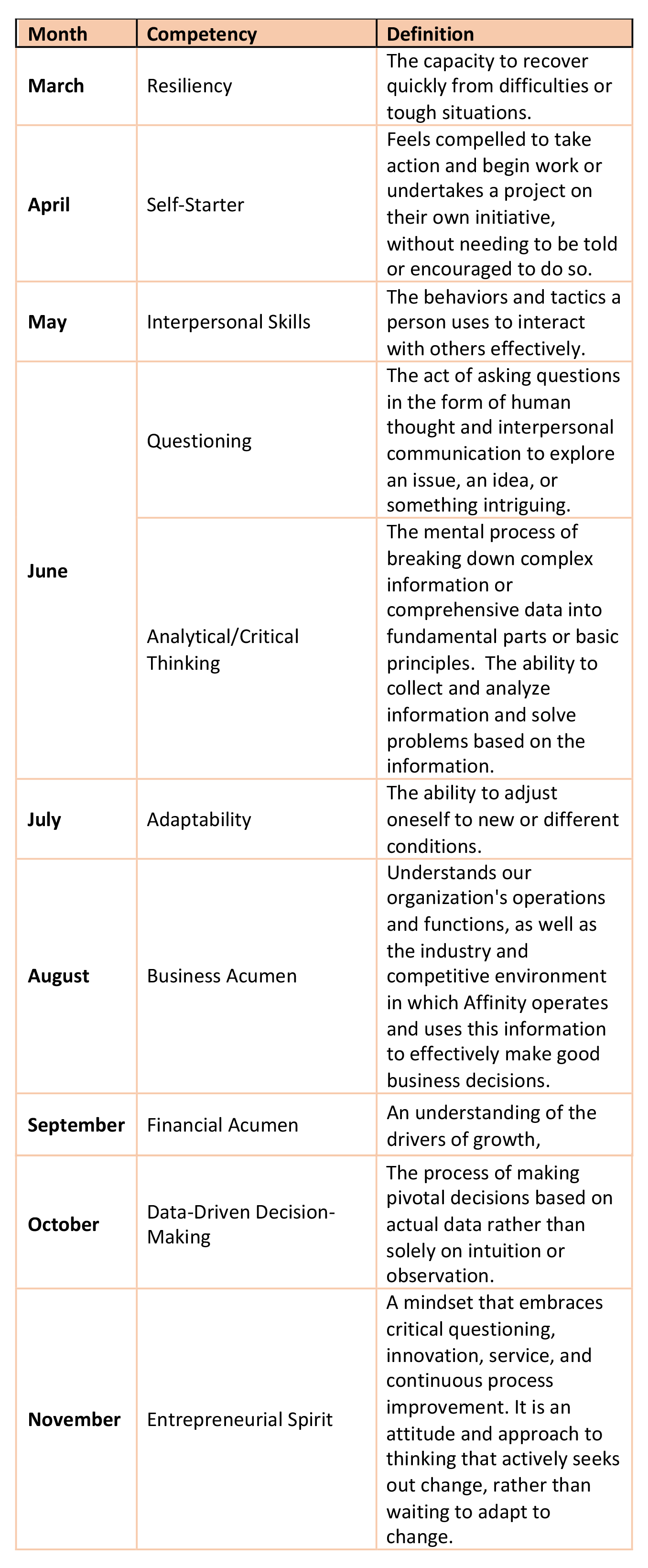 Rolling Out the Tools
Especially now that many of Affinity's 439 employees are working from home at least some of the time, it is important they have the option to learn on their own time and at their own pace from wherever they are. So, we have built our 10-competency learning system right into our intranet. (For frontline staff, the program is also offered through the Salesforce portal they use throughout the day.)
The starting place for employees is a calendar of what to learn each day of the month. Links from the calendar take employees to content—including articles, videos and interactive quizzes—they can consume from CUES Learning Portal (every one of our employees has a CUES Unlimited+ membership), Franklin Covey or other content sites related to the topic of focus.
In addition to the self-directed learning through our intranet, mid-level managers are asked to be ambassadors who will help employees follow through on online learning. Managers are also given support for their conversations with each team member during one-on-one meetings and performance reviews about what that employee's learning needs might be and how to meet them. These conversations are essential for helping people do a good job now and preparing them for the next step in their careers.
"Change is inevitable; therefore, it is important for us to be able to provide our employees with the necessary tools for success," says Affinity Learning Solutions Specialist Laura Reed. "Being able to customize the learning journey has been so important and provides employees the flexibility to focus on the skills they need to elevate. Gone are the days of rigidity; every employee has different needs, therefore it is important to have a program that can support that."
Our credit union also provides managers and team members virtual "competency cards" to support these efforts. There are three cards for each competency, one for each level of growth, with check boxes to track achievements in skill and knowledge at each level.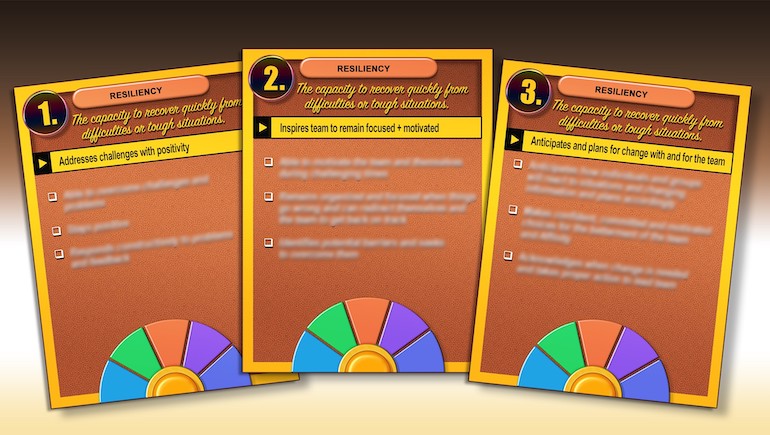 Our AVP-level leaders are also involved in motivating employees to participate in the learning program by asking them to submit a scorecard each month indicating the number of articles they read, videos they watched and "playlists" or "pathways" they completed. For the moment, we are relying on our culture of accountability to support our learning needs.
Believing in the Journey
It is important for us to keep in mind that learning and professional growth take time. We first launched a competency-learning program in November with a tab on our intranet pointing to learning links. Due to various employee responsibilities and workloads, we concluded it was not the right time for the program.
Our re-launch showed great promise, with many more staff members accessing the learning offered. During 2021, we hope to develop more reporting capability and regroup in December to launch a 10-competency program for 2022.
Everything we are doing with staff needs to align with the leadership vision, so we are excited about helping staff learn more about the competencies selected by our top leadership.
In keeping with the first competency of the program, we trainers and staff learning leaders must model resiliency as we roll out this large initiative. We need to keep believing that providing staff with learning opportunities is a journey. For sure, learning efforts are never a one-and-done sprint. We keep working on how to get better in helping employees learn and boost their own performance and deliver organizational results.
CUES member Peggy A. Pascale is learning & growth specialist with $3.6 billion Affinity Federal Credit Union, Basking Ridge, New Jersey. With more than 20 branches across the tristate area, Affinity is the largest credit union headquartered in the state of New Jersey, proudly ranking in the top 2% of all credit unions in terms of asset size based on NCUA call report data.