9 minutes
What will be enough to keep your future leaders protected?
2021 will be known as the year of "The Great Resignation." Many companies are facing a mass exodus of employees, both new and old. Quit rates are around 3% nationwide, with this percentage peaking in September 2021, according to the U.S. Bureau of Labor Statistics. This is not only affecting the service industry and hourly positions; private-sector employees have been quitting their jobs at unprecedented rates as well, according to the Federal Reserve's FRED blog. 
While companies are sorting through the why, we are beginning to see the true financial impacts. How many of you struggled with staffing needs during the holiday season? How many of you are changing branch hours because you can't meet your staffing needs? How many are worried about losing middle managers because of increasing demands on workloads? All of these things trickle down to how well you are able to service your members and meet their needs. The impact is real. 
Disengaged Employees Is TOP Factor in The Great Resignation
What has led to this mass transition of employees just up and leaving jobs? According to a recent Gallop poll, most of the people leaving their jobs are either not engaged or actively disengaged in their careers. This group of people make up more than 50% of those currently working. 
What adds to the disengagement for front-line staff is that while Americans are re-entering society, they have become shorter on patience. In September 2021, there were several notable incidences of public rage in the news, including hostesses being harassed in Texas and flight attendants attacked on flights. Front-line employees are no longer accepting this treatment and are walking out on their jobs. 
Employees Demand Flexibility and Work/Life Balance
2020 brought huge challenges for many Americans. It also reshaped what workers found valuable. Prior to the pandemic, the idea of being able to work anywhere and with flexible hours was just a wish for many. 
Now, two years into the pandemic, this new way of working is something that more employees are expecting. Being able to have that ultimate work/life balance—going to workout classes, taking your kids to schools, cooking meals at home, going for a walk, all while dictating your own work schedule—is something more and more employees are looking for. Unfortunately, this is not possible with many service jobs today and is impacting staff shortages. Credit unions are having to make tough decisions, like not opening their lobbies on Saturdays to make sure they maintain staffing. 
Internal Mobility Issues Are the Second Largest Factor 
Disengaged workers often do not see a clear path forward in their workplace. They don't see themselves growing within their company, and this erodes their loyalty to their employer. Nearly 90% of millennials say they would stay in a job for 10 years if they knew they'd get upward career mobility. And while job hopping has been a trend among this younger generation, most are leaving because they do not see a path upwards or they want to start their own venture, seeing a greater benefit to providing a service or product than what their current company provides. The number of startups has continued to rise since 2020: Over 4.3 million new business applications were filed in 2020, an increase of 24% over 2019, reports the U.S. Chamber of Commerce.  
Compensation Is the Third Factor
The final factor in all of this is compensation. Companies are reacting to large portions of their work force potentially leaving, and the simplest solution is to pay more to try and retain them. This is leading to $15/hour pay for the most entry-level jobs (plus benefits). However, these wage hikes do not go without their own challenges, as inflation continues to climb steadily. Your wallet might be a little fuller, but it definitely isn't going as far. The overall result is that while increased salaries may lessen the rate of resignation somewhat, disengagement and lack of internal mobility are more than likely going to override the impact of greater income. 
Create an Empowering Culture
Credit unions need to make sure they are targeting these issues with strategic decisions that truly break down the causes of employees leaving. As we look forward, we need to discuss how credit unions can protect their current and future leaders by establishing an empowering culture, offering a path to leadership mobility, and using long-term and short-term incentive programs. 
Empowering culture comes directly from the top. Leaders must lead through example and help bring up those that surround them. 
What makes a good culture or a bad culture? If you think of your career and the job that you could not wait to quit, it's likely that company had a bad culture. This could have stemmed from a manager who wanted to micromanage you or an organization that disregarded every idea you had because it didn't come from management. Thinking back on these jobs and organizations, you knew they were not the right fit for you. Reflecting on your current organization, do you see the same tendencies? Or do you feel empowered? 
An empowering culture allows employees to be able to own their career and make decisions in their day-to-day environment. This also enables leaders to cultivate confidence in their employees. Those employees that start to excel and grow in confidence will self-identify as upcoming leaders. They will master lessons that are invaluable, from learning how to prioritize their days to what tasks to put the most effort into. Employees will feel a sense of ownership and pride in the credit union. This helps retain talent because they know they are part of the larger picture and feel valued. 
Build Loyalty With Recognition Programs
According to an OC Tanner survey, 79% of employees quit their jobs due to a lack of appreciation. Showing appreciation is sometimes a difficult cultural task for leaders. What is the best or right way to show thanks? It could be creating a kudos board or giving an additional day off. Another way to show appreciation is involving individuals in tasks that would help them move up in their career and show that they are valued for their contributions. 
"As a fintech startup, we often receive resumes from candidates coming from larger organizations who are drawn to our company because of our core values—transparency, curiosity, flexibility and collaboration," says Bryce Deeney, cofounder/CEO of equipifi, Scottsdale, Arizona. "Our employees understand that their voice matters and are provided an opportunity to design their career path as we continue to scale in the fast-growing buy-now, pay-later space."
Create Leadership Mobility 
Key to retaining employees and avoiding turnover at your credit union is providing a path to upward mobility. This means you need to understand where your current and future leaders want to go in their careers.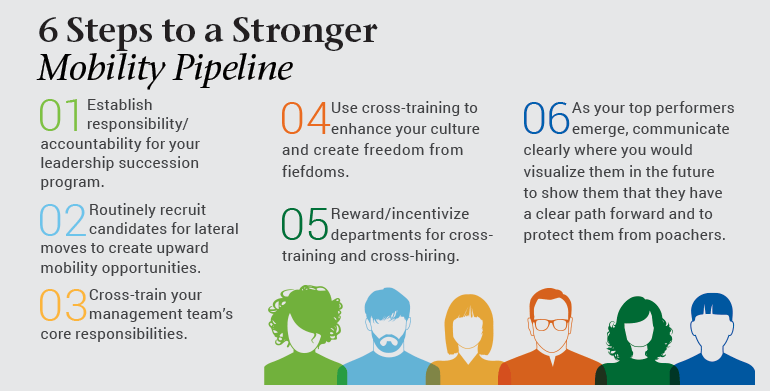 Fifty-six percent of CEOs vacating their post are being replaced by external candidates. If you had to ask yourself two questions today when it comes to your credit union's ability to maintain continuity and development, those questions should be: "When the next leader leaves, who steps in?" and "Who among our current staff could be our next leader(s)?" If we are not having these conversations, we are failing our future industry leaders. 
In a recent Randstad RiseSmart survey, only 43.2% of people feel that they have internal mobility opportunities. Employers, however, believe that there are opportunities upwards of 68.4% for promotions and growth within their organizations. The truth of the matter is that without mobility, we are going to lose talent. 
Being transparent about how to move up the ladder is an important factor for talent retention. 
Designing a mobility ladder starts with identifying the needs of the credit union and positions that will be needed for future success. Once those positions and gaps are identified, the real work begins by building out a mobility playbook. A mobility playbook not only helps your top performers by showing them a path to leadership—it can also protect the credit union by identifying succession gaps and options. 
To promote a culture of continuous learning and growth at your credit union, encourage lateral career moves and cross-training. According to Deloitte's "2019 Global Human Capital Trends," only 6% of leader respondents said they're excellent at moving employees from role to role. The key to increasing this metric is clear communication through periodic touch-bases with each team member about where they want their career to go. 
You may even want to consider skip-level meetings, so higher leaders can get to know up-and-comers. A skip-level meeting is when a CEO or other higher-up manager meets with employees who are more than one step down the chain of command. 
Offer Short-Term & Long-Term Incentive Programs
The use of short-term and long-term incentive programs is a must in the competitive talent marketplace. 
Short-term incentive programs have traditionally been designed around results. These may include result-driven year-end or quarterly bonuses. While short-term incentive programs are great for the here-and-now, they do not always work for retention. Employees may hang on until the end of year only to leave once they receive their bonus. This is traditionally why we see larger percentages of employees transitioning roles in the first quarter of the year. 
Long-term incentive programs are generally focused on retention, rewarding or recruiting. In the credit union space, we see these programs designed as either nonqualified 457(f) programs or collateral assignment split-dollar programs. 
There is a misconception, though, that these programs can only be for top-level executives, when in fact these programs can be offered to any credit union employee who is deemed deserving or who has been identified as someone at risk of being poached. 
Typically, 457(f) plans can be designed several different ways from a defined benefit, a target benefit or defined contribution plan. They can be positioned to keep individuals at the credit union through a time of transition or entice an individual to stay until they are able to move into their next position. The plans have numerous uses and time frames with risk of forfeiture dates. 
Collateral assignment split-dollar programs are another long-term incentive program. This program characteristically has vesting periods of seven to 10 years but can be built for retention and reward. Ideally, your credit union will combine short-term incentives with long-term incentive programs to retain those individuals focused on the long-term goals and growth of the credit union.
We may not be able to prevent all of our future leaders and our rising stars from joining the Great Resignation. But we can be thoughtful in our practices and ensure we have the tools to make sure our culture is strong, our incentives are within market expectations and we show employees that they are valued.  cues icon 
Danielle Scodellaro, CFP, is an executive benefits specialist at CUESolutions Platinum provider Cuna Mutual Group, Madison, Wisconsin. She holds various FINRA securities registrations, her Certified Financial Planner® designation, as well as life, health and annuities licenses.