4 minutes
Business as usual with the wrong technology is not a sustainable model.
Sponsored by Fiserv
The financial services landscape is in constant motion. Change is expected, but it's not just about change anymore. It's the accelerated pace of change that puts credit unions on the defense—scrambling to find a solution to meet members' digital demands, protect data from cyber criminals or address staffing challenges. The good news is that with the right technology in place, you can put your credit union on the offensive and be ready for changes and challenges on the horizon, whatever they may be.
While every credit union is different, a common challenge is the effect of market forces impacting operations and member experiences. Some new realities must be acknowledged:
Digital is now everything, and the name of the game is speed, ease and convenience.
The data explosion continues, which drives the potential for great insights but also raises the risk of fraud and security breaches.
Fintech and big tech are everywhere, accelerating change in the competitive landscape.
The financial pressure and resource constraints brought on by the COVID-19 pandemic will linger for years.
These happen to be today's prevalent market forces. In 10 years, the list will be different. That's why business as usual with the wrong technology is not a sustainable model. With the right technology in place, no matter what happens, you can accelerate and elevate your ability to respond to change, and perhaps even get ahead of what's next.
The Imperative for a Strong Technology Offense
Recent research shows that younger people want more from their primary financial institutions than accounts, loans and card services. Raddon, a Fiserv company, revealed that 61% of millennials would like their bank or credit union to provide tools that monitor spending behaviors, budgeting and other financial wellness metrics. With just 9% of millennials claiming a credit union as their primary financial institution, it seems providing services like these would be an opportunity to attract new, younger members.
Is your credit union positioned to quickly respond to this market demand? Can you easily integrate new technology into your ecosystem that provides millennials with a holistic view of their finances, including accounts with other financial institutions and fintechs? What would it take for you to offer this service—or would it be almost impossible? These questions illustrate the significance of a forward-thinking technology strategy.
3 Ways Future-Ready Technology Gives Credit Unions an Edge
1. Compete with confidence. A modern, future-ready account processing system helps credit unions quickly respond to disruption and new expectations by providing a foundation that easily integrates with surround solutions and fintechs. With open architecture, scalability and flexibility combined with strong fraud and security protection, a future-ready system opens doors to possibilities and innovation that enhance efficiency and accelerate growth while satisfying members. A modern, future-ready core will be the hub that connects your credit union to innovation and enables you to face market forces head on.
Your account processing technology provides the foundation that can give you the ability to create innovative member experiences. Capable of far more than processing transactions and posting account updates, a forward-looking, modern account processing system is positioned to:
Provide an open architecture that provides for fast and efficient implementation of applications
Create new opportunities to drive revenue and create operational efficiencies
Enable continuous, real-time processing that supports payments, alerts and analytics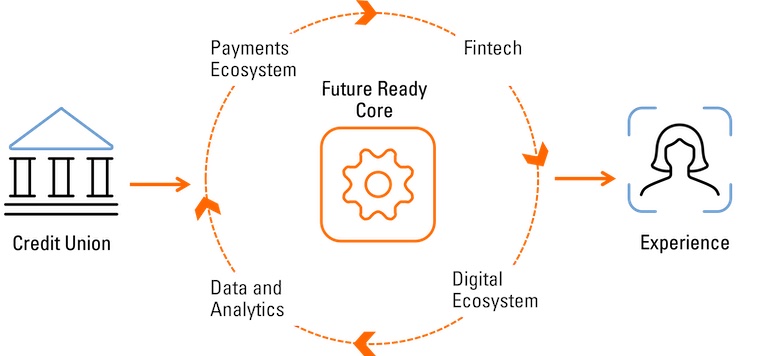 2. Focus on member experiences. To succeed in a changing market, credit unions are rethinking their digital strategies. Many are using fintech partnerships to launch new services that appeal to the next generation and enable user journeys that prioritize the member experience instead of the banking or payment transaction.
Some credit unions partner directly with fintechs, which leverage application programming interfaces to help introduce new products and services for their members. Many also look to their primary technology provider to help curate fintech partnerships and integrate them directly into the banking technology stack. That integration into back-end technology means credit unions can more quickly and easily introduce fintech capabilities to help plug product and service gaps, strengthen brands and deliver tailored services to members.
3. Create new opportunities. For credit unions, future-focused, open banking is the engine that powers strong innovation that meets members' evolving expectations. Open banking provides fast and efficient implementation of applications that create new opportunities, drive revenue and create operational efficiencies.
As open banking continues to evolve, many financial institutions are partnering with fintechs to deliver banking as a service. At the same time, fintechs are expanding their offerings to incorporate traditional financial services, such as debit cards and lending. However, it's equally important to view open banking as a better model of interoperability within the financial institution. Both members and the associates interacting with the members should have a consistent, seamless and easy experience when using systems throughout the credit union.
As credit unions continue to face stiff competition and increased pressure to meet member expectations, they need to constantly scan the horizon for ever-changing member needs as well as industry disruptors that threaten their success.
Doug Donofrio is SVP/general manager of credit union solutions at CUES Supplier member Fiserv, Brookfield, Wisconsin. Fiserv is in a unique position to help credit unions meet member expectations for innovative, differentiated experiences, including those of the next generation. Learn more about future-ready technology for credit unions at fiserv.com/creditunions.