5 minutes
Incorporate strategic planning and thinking into your routine discourse.
When more than 30 percent of our clients describe themselves as "less than effective" at something, we sit up and take notice. And that's exactly how (and how many) of the board members and CEOs we work with describe the challenge of articulating a compelling future vision for their credit unions. 
Not having a future vision for your credit union is a genuine problem, but one that can be overcome (though not easily, or a third of our clients wouldn't be struggling with it!). Is your credit union challenged with crafting or updating the foundational components of your overall strategic plan—vision, mission and strategic goals—as well as the more specific strategic objectives and metrics undergirding them?
It's worth the struggle to get your future vision right. This is much more than just a convenient tagline or agreeable-sounding statement in your annual report. The conscious or unconscious future vision that a board and senior team hold in their heads has real consequences. Crafting a clear and effective path forward that will truly benefit members is among the most critical and nuanced challenges you will collectively undertake. Yet many boards and executive teams spend less time thinking about the consequential strategic issues facing their credit union than they do on small changes to the loan-loss ratio, car loan volume or even on a single member complaint suggesting that the carpet needs to be replaced in a branch.
We recently facilitated the CUES Director Development Seminar in Santa Fe, New Mexico. When we asked the 100-plus attendees who included strategic discussions regularly on their board meeting agendas, one brave soul posited, "Well, we have an agenda item called the 'strategic moment.'" Though the room spontaneously filled with laughter, the speaker was quite serious, and everyone knew it. Many other attendees may have recognized that by including such a "moment" on the agenda, their colleague was likely well ahead of their own routine meetings typically filled with data-intensive, financial and fiduciary oversight reports.
Veteran directors may recall the days when their credit union was just forming and their role was to pour over financial statements, do cash counts and fill the void that a lack of professional staff created. Today the director's role is quite different. Unless your credit union is very small or in start-up mode, you rely on professional staff to brief you on financial and fiduciary reports. You need to provide effective oversight, hold staff appropriately accountable—and then move effectively to your strategic responsibilities that will help propel your credit union to flourish into the future.
In that spirit, we recently developed a list of sample strategic topics for directors to discuss in board meetings, even just for 20-30 minutes. Not all of them are applicable to your situation, but they are the types of questions that can help you regularly exercise your strategic thinking muscles:
What criteria would you use in considering—or rejecting—an offer to merge your credit union into a larger one?
What types of risks does the evolution of payment systems foreshadow for your credit union?
How is your credit union growing? How might you need to grow differently in the future?  Even if your credit union is growing, is it genuinely improving members' financial lives?
What would the "ideal" board for the credit union you envision in the future be like? Do you have the right blend of directors for that future? What would the future focus be? What committees would the board have? What type of relationship would it have with your CEO and executive team? What type of relationship would it have with your members and the community?
How does your credit union define its risk tolerance or philosophy? Are you too risk-averse? How does your credit union's risk profile compare to peers? How should you balance ROA, risk and stewardship to members?
How do you leverage your cooperative culture into a competitive advantage?
Are there other success measures you should be looking at, beyond financial performance?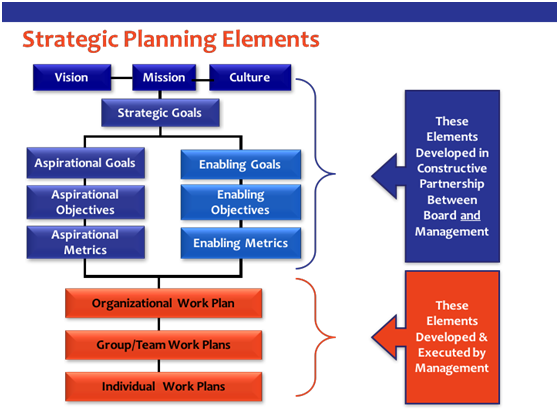 We strongly encourage the board to work hard to fine-tune a strategic plan that includes clear vision and mission statements, strategic goals, objectives and metrics in constructive partnership with your committee leadership, CEO and executive team.  After reaching a consensus on the features on the accompanying chart shown in blue, challenge your CEO and executive team to develop their organizational work plans to meet or exceed your agreed-upon strategic goals.
But don't stop there. Include regular and ongoing strategic thinking, discourse and potential changes to your strategic plan, if necessary, in board meetings throughout the year. Insist that your CEO and management team report regularly on the strategic metrics of success as you march toward achieving your strategic goals and objectives. Consider changes in the marketplace or your business environment regularly to assess whether anything needs to be fine-tuned, adjusted or even eliminated.
Strategic planning and thinking are continual processes. Off-site sessions annually or every few years may be helpful to recalibrate your leadership's thinking, but they're not the end-all. The real work of strategic planning should be a regular feature of the discourse and thinking of the board and executive team—day in and day out, moving beyond the "moment" (though that's a good start) to become the central focus of your most important deliberations.
Michael Daigneault, CCD, is CEO at Quantum Governance L3C and has more than 30 years of experience in the field of governance, management, strategy, planning and facilitation. Daigneault has served as an executive in residence at the Rotman School of Business program for credit union leaders focused on credit union governance.
Jennie Boden serves as managing director of strategic relationships and a senior consultant with Quantum Governance. She has more than 20 years of experience in the national nonprofit sector and served as the chief staff officer for two nonprofits before coming to Quantum Governance.