4 minutes
This Canadian CU finds that mastering it will get you closer to your vision.
"Our journey began during our strategic planning session with our board. Our objective was to define our strategic priorities by renewing our understanding and commitment to our vision, mission and values." ~ Brian Thorne, CEO for Lakeland Credit Union 
Brian Thorne, CCE, CEO of $600 million Lakeland Credit Union, Bonnyville, Alberta, is leading a cultural evolution. After 21 years in the business, he's found asking "why" (not how) will lead to ultimate success. A CUES member, Thorne suggests following the dynamics developed by Simon Sinek, the inspiration behind Lakeland CU's new and innovative "corporate why."

To quote Sinek, everyone (and every organization) has a why. Your why is the purpose, cause or belief that inspires you. Knowing your why gives you a filter to make choices, at work and at home, that will help you find greater fulfillment in all that you do.
The Journey
Lakeland CU had already started its cultural journey when Thorne joined the team last July, simply by dialing in on the member experience. "Our first step coming out of our planning session was to redefine as a team, our vision, mission and values within the context of why, how and what," says Thorne. This was a process that took some time and dedication.

"We spent hours brainstorming. Everyone from the newest employee to the most senior leader and board member was part of the process. It became clear we had an opportunity to ensure our culture included the attributes of being proactive and personal accountability." 
Step two consisted of a word cloud exercise, the team brainstorming Lakeland CU's core values and mulling the question, 'Why are we relevant?' The words 'community' and 'advice' emerged.
Strategic Priorities
After further planning sessions analyzing the why, how and what, the CU was able to define its Corporate Why:
WHY: We provide financial opportunity, choice and lifelong value. (VISION)

HOW: We partner with our members and our communities to enrich their lives through trusted advice and exceptional service. (MISSION)

WHAT: We are all stronger and more successful when we work together. (GUIDING VALUES)
Observe that the "why" statement is now at the heart of every process and motivation; it is the CU's vision and the question every employee's action must answer. The "how" is the mission and "what," the guiding values.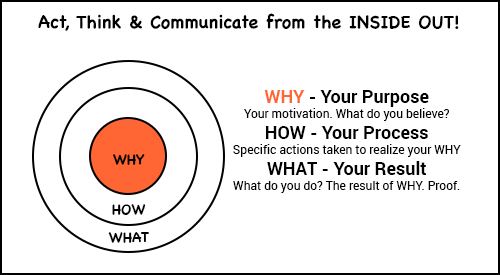 "Answering the 'why' moves us beyond providing exemplary member service," explains Thorne. "It motivates us to be our members' trusted advisors. These statements also deliberately stress the word our; they reflect our accountability and our ownership of the process."

Thorne notes that his role as CEO is to inspire and motivate staff so they can understand and embrace LCU's vision, mission and values. "I'm here to help them appreciate how the execution of their daily activities provides financial opportunity, choice and lifelong value."  
 
Priorities Become Actions
"We're here to provide trusted advice and exceptional service to every member, every time," reiterates Thorne, "and to actively grow our business, so our members can share profits and invest in our communities. This includes efficiencies and innovation in our business processes, so each experience is better than the last time. Finally, it's about our people; to attract, develop and retain employees who are committed to a career of delivering trusted advice and exceptional service."

These strategic priorities have become part of the CU's overall value proposition. "It captures the promises we've made to our members, our communities and each other," says Thorne. "It stresses corporate-wide accountability."

Thorne's team is currently developing a balanced scorecard and finalizing key performance indicators. The scorecard will track goals and monitor accountability. Metrics will include financial and member growth, innovation and processes and employee development. 
 
#ourpeople
To provide leadership training, Lakeland CU hired Vital Smarts, a consulting firm in Provo, Utah. "They explained there are 'crucial conversations' and that, as trusted advisors, we have the opportunity to identify what 'vital behavior' needs to happen within that moment," says Thorne. "For example, when we sit with a member and listen to their needs, this is our opportunity to become their trusted advisor."

Consultant Lydia Johnson also assisted staff in developing their personal "whys. While the corporate why captures the value proposition for the credit union, "the personal why captures the credibility statement of our employees as a trusted advisor," Thorne says. "Another way of saying this is (that the personal why is) how our employees describe the value they add to their member when asked what they do."

Lakeland CU is implementing a coaching and mentoring program in 2018 as well, which will focus on providing regular performance feedback and recognition.

"The journey will take time, maybe three to five years," concludes Thorne, "but even then, we will still be evolving and learning. No cultural evolution is ever complete." 

Stephanie Schwenn Sebring established and managed the marketing departments for three CUs and served in mentorship roles before launching her business. As owner of Fab Prose & Professional Writing, she assists CUs, industry suppliers, and any company wanting great content and a clear brand voice. Follow her on Twitter @fabprose.