6 minutes
Canadian CUs find leadership and the credit union philosophy are universal.
As credit unions throughout the world celebrate International Credit Union Day® on Oct. 18, the global spirit of the event reminds us that a common bond exists among financial cooperatives. No matter what country they are located in, they share a mission of helping their members and communities achieve financial health. 
In keeping with that spirit, Canadian credit unions from British Columbia to Ontario have lent a helping hand to their international counterparts by participating in the Women's Mentorship Program. Launched in 2002, the program is run by the Co-operative Development Foundation of Canada. 
"CDF Canada's Women's Mentorship Program is an annual program that provides women credit union managers of overseas financial cooperatives with a unique opportunity for professional development," says Benoit André, CDF Canada executive director. "It is also a mutual learning opportunity for Canadian and international co-operators."
Since its inception, the Women's Mentorship Program has hosted nearly 239 women from 21 countries with more than 100 Canadian credit unions taking part. "Program participants are matched up with credit unions across Canada and become immersed in the credit union and community," André explains. 
2018 Participants
The 2018 program featured 12 participants from eight countries—Ghana, Kenya, Philippines, Mongolia, Nepal, Nigerian, Rwanda and Uganda. Among the Canadian CUs that participated—both this year and in past years—was $4.5 billion Prospera Credit Union in Abbotsford, B.C.
"We started our mentorship in 2012, and since then, we've had the privilege of hosting four women as part of the program," says CUES member Jayne Taylor, Prospera CU's VP/governance and corporate affairs. "What we've learned is that leadership is not defined by geography. The leadership needs in Africa or Asia are the same as in North America. Leadership is truly universal, and we are proud to work with these women and help foster a strong community of female leaders."
This year, Prospera CU hosted Amarjagal Bayanjargal from Ulaanbaatar, Mongolia. In past years, it hosted a woman from Malawi and two from Ghana. All were mentored on such topics as lending, marketing, communications, branch operations and leadership, and went home with solid ideas on how to improve their organizations' financial performance, support the development of their employees and engage with their communities in even more meaningful ways. As an example, Taylor reports that one of the women—Obenbwaa Yeboah from Ghana—used what she learned to adjust the amortization periods for small loans, which helped her cooperative drastically reduce the number of delinquencies it experiences. 
Another multi-year participant in the program is $3.3 billion Coastal Community Credit Union, based in Nanaimo, British Columbia. This year, CCCU hosted two leaders from Africa—Chantal Uwamariya from Muhanga, Rwanda, and Nwamaka Peter from Abuja, Nigeria. In past years, the CU hosted leaders from Mongolia, Philippines and South Africa. 
"The program provides us with a valuable opportunity to connect with people who believe the same things we believe," reports CUES member Adrian Legin, president/CEO of Coastal Community CU. "Some of them are at a different place in their business model, but strategically we are all on the same journey—to improve the financial health of the people we serve."
Cindy Koutecky, manager of the CU's Bowen Road branch, participated in the mentorship extensively and found that the women had several objectives they wanted to fulfill. "For Nwamaka, it was about helping people with their savings and with micro-loans," she explains. "She wanted to know how we do what we do, so she could use that knowledge to help her organization's clients build their businesses, community and financial health."
Technological Aspirations
These Canadian CUs have found more similarities than differences between themselves and the financial cooperatives they hosted. An important distinction is that the participating cooperatives typically are not as advanced technologically as their Canadian counterparts, particularly in such areas as mobile banking. "They do not have the resources, either dollars and expertise, for the investment and deployment of technology," Taylor reports.
Koutecky received feedback from Peter that she would like to explore the development of mobile banking apps, since many people in her home country of Nigeria already are using mobile communications. "Everyone there has cell phones," she says. "There are no landlines or hardlines. They use WiFi and mobile phones a lot."
In the meantime, many of these cooperatives have to reach members and potential members where they live and work. As Peter explained to Koutecky, "We go to our customers—they don't come to us." 
This is consistent with what Taylor discovered from the leaders who visited Prospera CU. "Particularly in Ghana, they have people who go out and collect deposits from their members, because these members are working—in markets, etc.—and don't have the ability to come to the credit union with their daily proceeds to make the deposits," Taylor says. "So, their method of outreach is feet on the ground."
Many members of these cooperatives lack private transportation, which means they have to take a bus and/or walk several miles to visit a branch office. "In some cases, it's a full day trip to do some simple banking," Legin reports. "That's why several of the leaders we have spoken to are looking to leverage mobile capabilities. They're aware of the inconveniences or hardships that occur in getting to a branch, so they want to find better ways to enable that (mobile) technology."
A Common Bond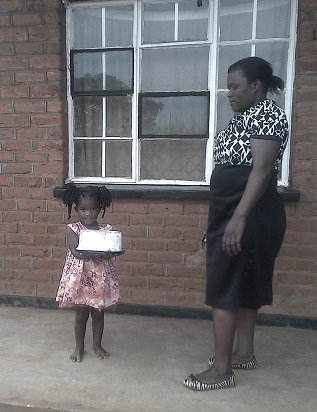 During the mentorship, the bonds between the visiting women and their hosts can become personal as well as professional. They not only spend working hours together, but evening hours and weekends together as well.
Taylor recalls the bond she created with one woman, Eveness Mbokola, who had a baby shortly after she returned to her home country of Malawi. "Eve gave me the special honor of choosing the name for her baby girl," says Taylor. After doing considerable research for a name that would be meaningful to the woman's family and her culture, Taylor chose the name Neima. 
The bond between mentors and mentees is deepened by their mutual dedication to the cooperative movement. As Legin observes, "There's a synergistic energy that's created when you connect with people who are on the same journey and sharing the same purpose."
"It's a very rewarding experience to interact with someone from another country who is doing something similar to what we are doing in this country," Koutecky concurs. "It's a way to stay connected to the big picture."
"Being a credit union extends beyond your market boundaries," Taylor concludes. "Credit unions are a global cooperative, and the sixth principle is cooperation among cooperatives. International Credit Union Day tugs at my heartstrings because that's exactly what we're doing here at Prospera."
Diane Franklin is a freelance writer based in Missouri.