11 minutes
Reclaim the 'why' of credit unions by deeply embedding social purpose in all your activities.
Most modern credit unions significantly under-leverage their cooperative model. A key reason for this is the way the leaders of most credit unions conceive of "success."
Our thinking a few years ago was that the perspective of all CU leaders about success fell somewhere along a spectrum we could define (see graphic).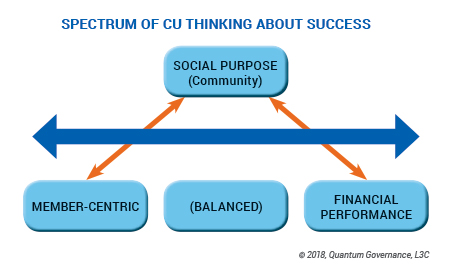 On one end of this spectrum, CU leaders were very "member-centric" in their approach. "After all," they would say, "credit unions exist for their members. Success is providing member services and benefits that improve people's lives—sometimes at the expense of better financial results or ratios." These CUs' cause was to—first and foremost—benefit the member. They did so while prudently ensuring the ongoing viability of CU operations.
On the other end of the spectrum, CU leaders were strongly focused on their CUs' "financial performance"—fundamentally oriented toward financial success, growth and sustainability. "You can't help members if you don't exist" was a perspective such credit unions often shared. They did not ignore their members by any means, but ultimately, success for credit unions on this end of the spectrum was primarily based on classic financial measures, sometimes at the expense of rewarding members first. Their "cause" was to ensure the ongoing financial health of the credit union so that it might, in turn, offer products and services to members and their families.
Still other CUs were in the middle of our success spectrum and took a "balanced approach." These CUs did all they could to thoughtfully harmonize the member-centric and CU-centric approaches. They saw the essence of their success as an ongoing balance of excellent service and strong financial results. Sometimes service was paramount in their thinking. Sometimes financial strength had to be the priority. Overall, however, the careful balancing between the two would lead to true success. These CUs' "cause" was twofold: to benefit members and craft a strong financial cooperative.
More recently, as we have talked to other CUs about ways they could take greater advantage of their cooperative model (and what it truly means to be a CU today), we learned that a few were thinking in a new way about success.
These CUs reported that the essence of their approach was to include their relationship to their communities in their thinking about every one of their programs. These CUs have a new cause orientation and new success metrics. After talking with these CUs, did we need to revise the entire spectrum? The answer was a resounding yes and no. We'll explain.
'Revising' the Spectrum
The much more robust and comprehensive "community focus" that these CUs were taking didn't seem to fit well on our initial spectrum. On the other hand, this new approach remained closely related to the fundamental CU ideas of member service and financial strength.
What we ultimately learned is that by adding a third focal point—community —to the member-centric and financial performance focal points, a new way of framing success for credit unions emerged, one that is a direct descendant from the movement's foundational principle of people helping people.
At this point, some of you may be thinking, "Hey, maybe we are already a social purpose credit union. We already do lots of good things in the community." You are not alone in suggesting this, but the social purpose approach goes much farther than nearly all of the community engagement efforts we have seen to date.
As Coro Strandberg, former chair of $21.7 billion Vancity, Vancouver, British Columbia, and a corporate social responsibility pioneer, explains, "It is not uncommon for credit unions to find that they are not as far along toward becoming a social purpose organization as they think they are. It is because they already have the philosophy built into their DNA. [But, because of that,] they think they are doing more than they actually are!"
The Social Purpose Model
The social purpose approach—fully executed—means integrating social purpose into everything a CU does. It has a direct connection to the values and underlying principles that propelled the CU movement many years ago.
In this model, the CU commits "a substantial portion of its assets to social finance projects rather than having social investment as an ancillary corporate social responsibility plan," wrote Sean Geoby and Olaf Weber in a 2013 article in the Journal of Sustainable Finance and Investment. In other words, the focus on community impact becomes the driving vision of the CU, which then embeds social purpose values into all aspects of its governance, strategy and operational efforts.
This does not mean that a CU should abandon its members nor the credit union's financial health. Rather, to really serve members and substantially grow the credit union's financial strengths, shifting to a broader focus on community can help rally many more people and organizations to the "cause" of the credit union.
To do this, Strandberg advises, "As a board and management team, you need to determine what your purpose is. Why are you here?" The answer, she suggests, should not be to just meet member financial needs, but to go beyond such needs and—in a targeted manner—address some of the broader societal issues negatively impacting members and their families. And yes, this may mean helping others in the community who are not yet connected with the CU.
As Simon Sinek challenges us all in his book, Start With Why: How Great Leaders Inspire Everyone To Take Action, organizations need to both examine and reclaim their "Why?" CUs should certainly serve their members and their families with excellent products and services—what Sinek terms the "what." They should also effectively execute their cooperative business model and maintain strong and sustainable financial fundamentals—which Sinek calls the "how." But they should also think deeply about their core societal purpose—the "why"—a  societal purpose that embraces members' needs, but also extends far beyond just members in its ultimate reach and impact. This helps to transform the entity from one that simply provides a service or a commodity—like so many others in the marketplace—into a social movement. A cause!
When helping the community becomes part of your core product line, and you think about it that way and it's part of what you are doing, focused on it on a daily basis, you are starting to arrive.
Social Purpose CUs
Vancity: Chief Governance Officer and Corporate Secretary Karen Hoffman says the CU defines success as "building healthy communities and increasing and preserving the well-being of our members." Under this vision, the CU has achieved 25 percent market share in one of Canada's most sophisticated and international financial cities.
Vancity does not focus on community simply because it has the "luxury to do so" due to its large asset base. It is so large today—and has gained such a passionate and loyal membership—due to its courageous decision to improve the Vancouver community. The CU has succeeded in transforming itself into a cause to improve Vancouver—a cause that many people in the city and its surrounding areas can truly believe in and actively seek to be a part of.
For example, one of the CU's most important efforts is its high-impact community investment loan that supports affordable housing; social purpose real estate; local, natural and organic food; the environment and energy efficiency; as well as social enterprises and social ventures. The CU's social finance portfolio dwarves traditional corporate social responsibility efforts at many institutions.
Vancity's journey toward the social purpose model was sometimes two steps forward and one step back. The CU's leaders had to experiment to see what would work. Other CUs can learn from its experience and take inspiration from its success.
University Federal Credit Union, Austin, Texas: Under the banner of "When Our Community Is Strong, We Are Strong," $2.3 billion University FCU has elevated its already strong community efforts to a new level. "This demonstrates where the heart of UFCU is—with our members and our community," says Heather McKissick, VP/community impact and a CUES member. "In only its first year, our DO GOOD program has rallied our employees' efforts around our community partners and made a real impact on the people they serve."
The credit union's CEO, Tony Budet, understands that the model has its challenges. "We needed to attract new leaders to our board who were from within the community and had an interest in it, and it was a culture clash at first," the CUES member says. "It's difficult to go through that. A lot of credit unions will have this challenge if you don't have an anchor or a group of people on the board who are part of the community you serve. It needs to be board-driven."
Lake Trust Credit Union, Brighton, Michigan: David Snodgrass, CCE, CEO and a CUES member, says: "We were talking about our strategy, culture and our business plan and we were wrestling with answering the question, 'Why?' We started reflecting on, 'Why we are here?' and 'What is our purpose beyond just the traditional banking services we offer?' It is still a journey we are on today."
$1.8 billion Lake Trust CU pursued a number of avenues, including forming a 501(c)(3) foundation to encourage charitable participation in some of its community endeavors, pursuing a grant from the U.S. Treasury's Community Development Financial Institutions Fund.
"Our CDFI grant request is to help seed a micro loan fund for small businesses in rural communities across the state of Michigan and to help us to take more risk than we would otherwise in our standard business practice—take a chance on a single mom who wants to open a hair salon, a young man who wants to open a pizza shop, in an effort to breathe economic opportunities into our smaller communities across the state," Snodgrass says.
Like Budet, Snodgrass also emphasizes that a social purpose model needs to be driven at the board level. Lake Trust CU has recently added four new board members and two associate directors from the non-profit sector with very deep roots in the community.
"The contributions of our new board members have been multiple," he explains. "It has invigorated the leadership team … to think even bigger about where we can go. They have opened up their networks to us and connected us to other thought leaders or other social purpose enterprises. That has been priceless. Having partners is part of this—we can't do it all ourselves."
Redwood Credit Union, Santa Rosa, California: Sometimes pressing circumstances demand new approaches. Last year $4.3 billion Redwood CU found itself at ground zero in one of the most destructive wildfires in California history. CUES member Brett Martinez, CEO, says that the CU's historic response was a result of having reacted to earlier fires in 2015 and 2016 and the recognition that the CU was able to react in an emergency to meet its communities' needs.
Because of its already deep relationships, Redwood CU was able to raise $32 million from 41,000 donors and help ensure the funds got to the right hands. "The state senator knew the areas, what the needs are, and the newspaper helped to communicate, get the word out and manage the communication, and that helped us being able to take in and distribute the money," Martinez says.
"Affordable housing is a huge issue," he adds. "We didn't do construction loans. We didn't do agriculture lending either. There were other people doing that, and there wasn't a need. Now, we are doing them, and we intend to keep doing them, even after recovery is completed. When helping the community becomes part of your core product line, and you think about it that way and it is part of what you are doing, focused on it on a daily basis, you are starting to arrive."
Redwood CU's response to the disastrous fires has helped to propel it to a whole new level. Its leaders acknowledge they will never be the same after this experience. Future plans include more fully integrating the lessons learned—a hallmark of a maturing social purpose model.
Pursuing the Model
Snodgrass acknowledges that really understanding community needs and developing authentic relationships with community partners can be challenging.
"Deciding to do this requires a degree of humility," he says. "It's not about you—all of your energy is directed to others. We were meeting with a social purpose organization in downtown Detroit. They are doing some amazing things: employing homeless women, designing jewelry, creating products. We wanted to understand how we would could add value and support them. We were met with a degree of skepticism. When you start engaging in community organizations, they don't expect that somebody really cares. They expect that this is some sort of propaganda play."
Much work remains to be done to fulfill the promise of CUs' social purpose model, which offers a blend of classic CU principles, an innovative community-centered approach and the promise of re-energizing the "why" of CUs in a way that appeals to young people.
The approach also appears quite flexible and allows for both incremental development and a broad reach. It also stimulates innovation and a renewed passion from credit union leadership in how they design the credit union to be a meaningful cause—a cause that genuinely invites others to collectively reclaim the "why" of a credit union and create positive impact for members, their families and communities.  
Michael Daigneault, CCD, is CEO and founder of Quantum Governance L3C, in Vienna, Va., CUES' strategic provider of governance and board assessment services. Daigneault has more than 30 years of experience in the field of governance, management, strategy, planning and facilitation.
Caitlin Curran Hatch is senior consultant for Quantum Governance, supporting the firm's clients with more than 25 years of experience in the business and legal sectors. The organization fields more engagements in the CU community than in any other, a total of 40 percent of its work.