3 minutes
Leaders that model integrity, follow-through and clarity of language inspire better organizational results.
I believe most employees want to do a good job. They want clarity on how to be successful and what is expected of them, so they can deliver results. Yet, many leaders don't communicate in a way that brings out the best performance in their employees.
In many organizations, "accountability" has a negative connotation. Many leaders look outside themselves for the source of a problem and focus on blaming when things go wrong. These managers talk about "holding people accountable" and implement disciplinary action to force improvements. This approach often fails, because it leaves employees feeling disengaged and unmotivated. 
Accountability is really about taking responsibility for your own actions. You can't control someone else, but you can control your choices and behaviors.
This is my favorite definition of accountability, from Roger Connors and Tom Smith:
"A personal choice to rise above one's circumstances and demonstrate the ownership necessary for achieving desired results—to see it, own it, solve it, and do it."
Accountability is an attitude. It is a key characteristic of success and a very powerful tool. 
One of the most important ways we can instill accountability in our teams is to model it ourselves. People don't follow what you say; they follow what you do.
The small things we do every day can either create trust and strengthen relationships or chip away at trust and damage relationships. The trust you build can strengthen your integrity and credibility in the eyes of others, and lack of trust can damage it.
Accountability looks like...
•    follow-through,
•    doing what you say you are going to do,
•    showing up on time,
•    asking for help,
•    doing something, even if it's not your job, and
•    asking for clarity.
Every interaction you have with another person impacts that relationship in either a positive or negative way. When you have positive experiences (you do what you say, show up on time, and follow through), you create a positive connection. When you cause negative experiences (you don't follow through and show up late), you create a negative connection. These interactions impact the individual relationship as well your relationship with the team.
Another way leaders can instill accountability is to create clarity for employees. This means using language that is specific and clear rather than vague and confusing. 
In the workplace, we use vague and weak language every day. Words and phrases like "ASAP," "soon," "right away" and "should" get in the way of clarity and results. To get better results in life and in your work, use positive and specific language.
When assigning or discussing specific tasks or projects, make sure you are communicating all the information necessary for employees to be successful. Most leaders focus on what needs to be done and neglect to communicate why it needs to be done and by when it needs to be done.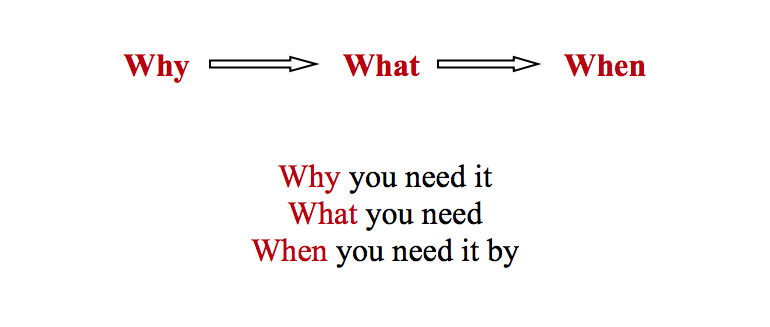 If you want your team to produce better results, reflect on how you are communicating. Shift to using clear and specific language, and model ownership and accountability yourself to promote a positive sense of ownership and  accountability within your team.
Laurie Maddalena, MBA, CPCC, PHR, is a certified executive coach, leadership consultant and founder of Envision Excellence, LLC in the Washington, D.C., area. Her mission is to create exceptional cultures by teaching leaders how to be exceptional. Maddalena facilitates management and executive training programs and team-building sessions and speaks at leadership events. Prior to starting her business, she was an HR executive at a $450 million credit union. Contact her at 240.605.7940 or lmaddalena@envisionexcellence.net.