5 minutes
Supervisory committee member Sharon Dunbar strives to support institutions that help people improve their lives and the lives of their children—whether by serving in the military or at a credit union.
First as a career military officer and now as a credit union volunteer, Sharon Dunbar has dedicated herself to organizations that help people find a pathway to a better future.
Dunbar had a superlative 32 years in the United States Air Force, reaching the rank of major general before retiring from the military in 2014. She was the first woman to serve as commander of the Air Force District of Washington, a role in which she was responsible for homeland security, national special security events and civil support operations in the nation's capital.
That was the capstone of a career that included such noteworthy assignments as working in legislative affairs in the U.S. Senate for Sen. Dan Coats (current director of national intelligence); serving as a senior leader in the Department of Defense in the areas of personnel management and readiness; and holding several other key positions related to human resources, political-military affairs, contracting and senior levels of command.
"It was a whirlwind," says Dunbar, who currently works in the private sector as VP/federal systems at General Dynamics Mission Systems in Fairfax, Virginia.  
Parallels with Credit Unions
With so many exemplary achievements, it's interesting that Dunbar cites the opportunity to command basic training as "probably the most professionally and personally rewarding assignment" in her military career.
"It allowed me to see the caliber of young men and women who come from all walks of life and look to the military as an opportunity for social mobility," she says. "For those who come from small towns or the inner city where economically they might not have [otherwise] had much of a chance, the military provided it to them."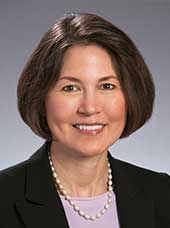 Because credit unions are not-for-profit, they give back and are more attuned with the people they serve. From an institutional trust perspective, just like the American public has great trust in the military, the American public also has great trust in credit unions.
In this respect, Dunbar sees parallels between the military and the CU movement: Both help lift up people who aspire to improve their stations in life.
Perhaps that is why Dunbar was drawn to become a credit union volunteer. When she was in her early to mid-20s, she served on the board of a credit union while stationed at an Air Force base in Phoenix. Decades later, she's serving as a CU volunteer again—this time for $1.8 billion Andrews Federal Credit Union, Suitland, Maryland, where she is completing her term on the supervisory committee and now moving onto the asset-liability committee.
"Because credit unions are not-for-profit, they give back and are more attuned with the people they serve," Dunbar says. "From an institutional trust perspective, just like the American public has great trust in the military, the American public also has great trust in credit unions."
Patriotic Parentage
Dunbar's parents greatly influenced her decision to join the military. "My mother immigrated from Korea to get her graduate degree in the United States, where she met my father, who was the son of German immigrants," Dunbar reports. "They were very patriotic for the opportunities that America provided for their families."
The family settled in Bloomington, Illinois, where Dunbar's parents stressed to their two children the importance of going to college. Her brother, John, set his sights on West Point, and when the family dropped him off for his freshman year, her parents were thrilled to see female cadets. This was in the mid-1970s, shortly after all federal service academies had authorized the admission of women.
"The whole way home in the Oldsmobile Cutlass Supreme, from New York to Illinois, my parents were telling me I needed to apply to West Point," Dunbar recalls.
Instead, Dunbar opted to attend the U.S. Air Force Academy. She was a member of the third class to include women and admits that there were challenges in overcoming gender stereotypes at the predominantly male school. She prevailed by working hard to make the dean's and  military honors lists and wore the insignia associated with these honors on her uniform. 
"Wearing of those insignia back then was a visible reminder that female cadets have what it takes to excel at the highest levels," she explains.
The Air Force Academy proved a life-changing experience in more ways than one. Not only did it prepare Dunbar for her future career, but it's also where she met her future husband, Doug, who went on to a successful career as an Air Force fighter pilot and now flies for American Airlines. Married for 34 years, the Dunbars have two children, Dustin and Alesa.
Affinity for Service
In her post-military career, Dunbar continues to have an indefatigable desire to serve. In addition to her CU volunteerism, she serves on the board of trustees at Union Institute & University, a non-profit research university, and on the board for the Armed Services YMCA.
"I think when you've been in the military as long as I was, you feel the need to continue giving back," Dunbar says. 
Also driving her service is her instinct to defend the underdog. This stems in large part from her experiences as a child, seeing her mother overcome the discrimination she faced as an immigrant as well as her parents' determination to build a better life for their family.
"I continue to have great respect for immigrants who come to the United States legally to seek a better life," Dunbar says. "I also relate to the grit and determination that I saw in my working-class parents to provide for their children. That's why I think it's important to support those trustworthy institutions that are there to help people in their quest to improve their lives and the lives of their children. That's a noble pursuit—whether you're trying to accomplish it by serving in the military or by serving in a credit union."cues icon
Diane Franklin is a longtime contributor to Credit Union Management based in Missouri.