4 minutes
If your credit union can deliver quality loans and/or service, it can stand out in a crowded market. 
In addition to being a lending geek, I'm also a bit of an armchair economist. Like an armchair quarterback, an armchair economist has never actually been an economist, but I think I have a good working knowledge of economics and am qualified to opine on the topic.
What does this little glimpse into the workings of my mind have anything to do with lending or, better yet, pizza? It all started about a year ago when a go-to, locally owned pizza place in Colorado Springs closed all of its locations. When it had opened a decade earlier, the restaurant provided an opportunity to exit the veritable pizza wasteland that Colorado Springs had previously been. I was born and raised in New York, and of the many topics New Yorkers can get snobby about, pizza is close to the top of the list. Before their opening, I only had the chains to choose from: Pizza Hut, Dominos, and Little Caesar's. No one made authentic New York pizza.
For several years, "B's" pizza (let's keep them anonymous in their failure) offered the real thing: good, foldable-crust New York pizza. However, B's opened several additional stores over a five-year period, which to a certain extent forced its hand and ultimately caused their demise. To build the business, B's felt it had to go head to head with the chains on price. Up to this point, they offered high-quality pizza for what some consumers would consider to be a premium price. Those consumers just wanted cheap pizza because they didn't know better.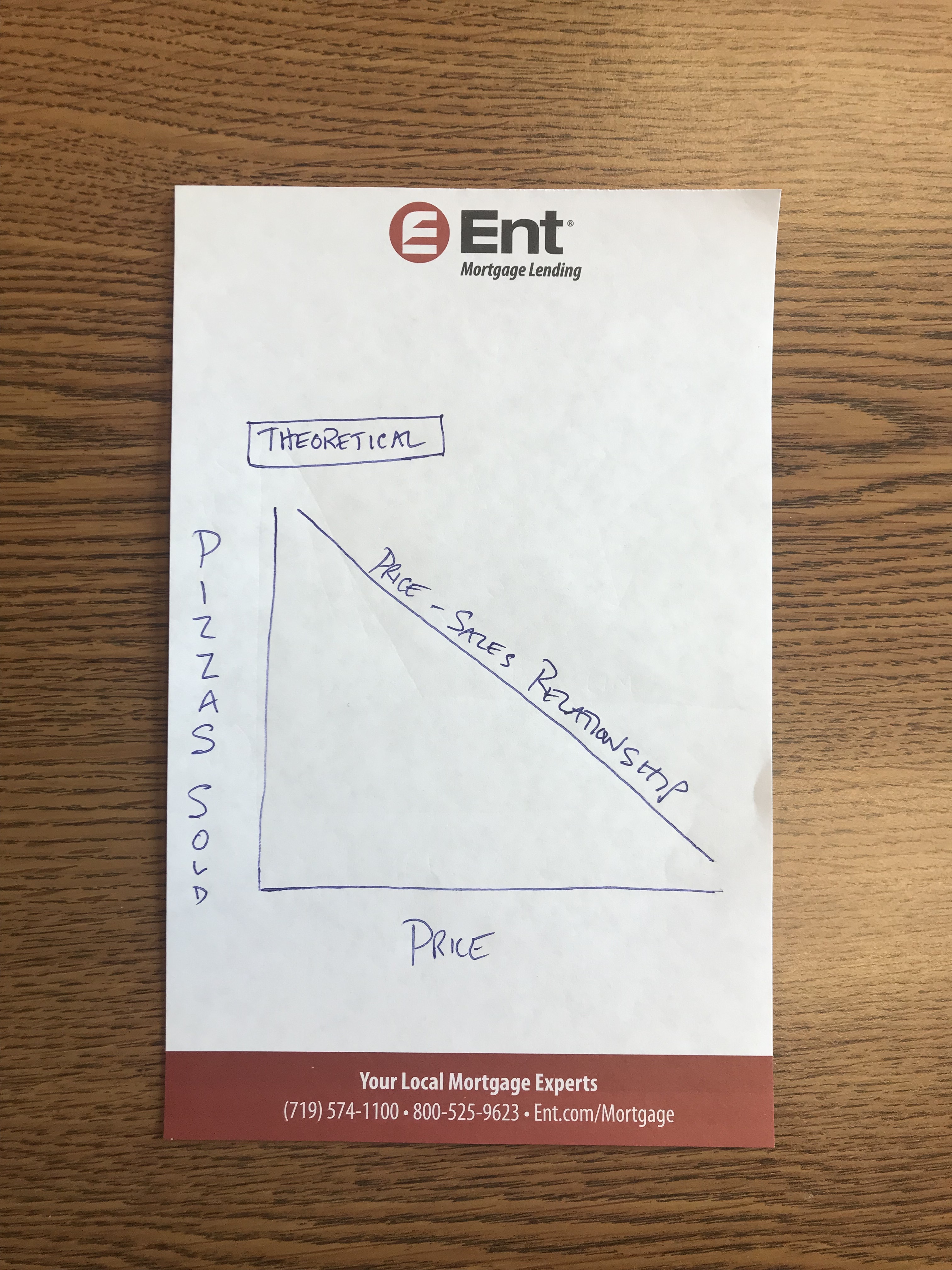 The first problem with going down market was that B's couldn't compete head to head with the chains on price; they were always a bit more expensive. The second problem was that with those price-conscious consumers, price is huge. It doesn't matter if your pizza is a little bit better, the price/sales relationship is not a straight line. See my hand-drawn graph of a straight-line relationship between pizzas sold and price. This clearly was not the real world that B's operated in. 
The third problem was B's lost loyal customers when it lowered quality along with the price. We didn't want pizza a little more expensive than the chains that was also only marginally better. Personally, there are other foods I'd rather eat than mediocre pizza. Thus, the demand for B's pizza fell off dramatically once it was a little more expensive than the chains, but didn't deliver the quality pizza snobs demand. Here's my graph of the real world of pizza.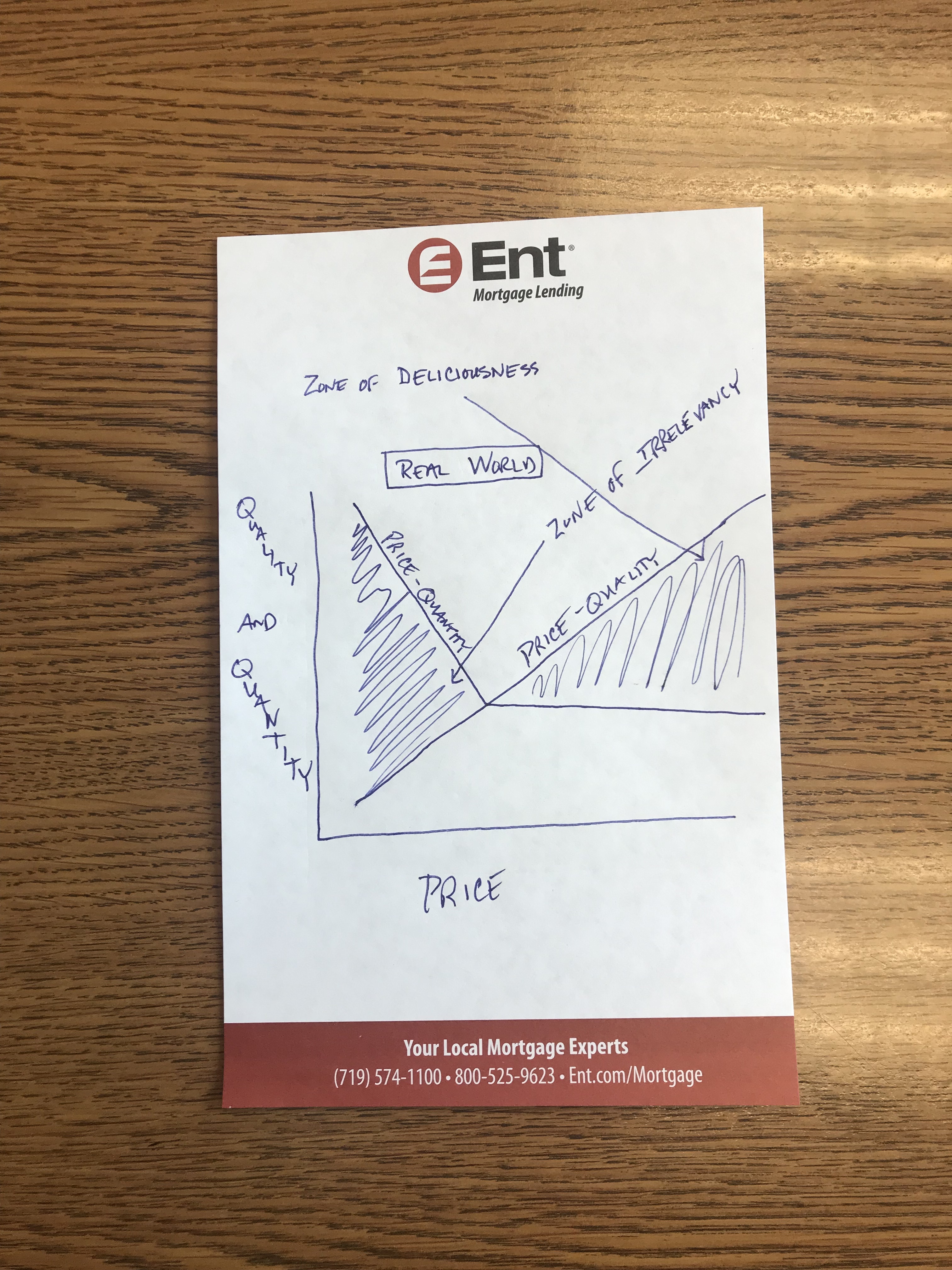 As you can see with the crooked line, once the price of pizza goes up a little bit from the national chains, quantity sold drops like a rock. Yet, at some point in time, that demand line flattens once the price of pizza rises enough to offer a quality pie. You can also see the price-quality line; higher prices allow for higher quality. Notice the shaded area to the left—that's what I'd call the zone of irrelevancy. Low-price pizza, but not low enough—lower quality; not good enough to attract enough customers. Now, notice the shaded area to the right; I like to call this the zone of deliciousness. The pizza is higher quality, and there are enough people who will buy it.
OK, I'll ask the question again: What does this have to do with lending? The price-quality relationship line can apply to the lending business. Are credit unions just offering loans akin to cheap pizza? If we offer the cheapest loans day-in and day-out, we'll do well. But if we're not the cheapest loans, and we don't offer significantly higher quality service to go along with the rates, will consumers even notice us? Will we wind up in the zone of irrelevancy? Whether the demand line for loans looks exactly like my view of the world of pizza is not that important. If your credit union can provide real quality, whether that's speed of delivery, sound financial advice, or a very high level of service after the loan is made, you'll stand out in a crowded market. 
A final note: In case you personally haven't noticed, I'm sensing a shift in the technology focus for a lot of our competitors. For several years, technology spending was focused on improving the user interface or improving the speed of loan delivery. I see a lot of lenders focused now on improving loan servicing. Lots of things happen after a loan is made. Consumers move. They have accidents. Their homes have storm damage. They become delinquent. They might need a due date change. In general, over the years credit unions have offered better post-loan service than our competitors. But if you can't digitize the ability for members to address these life events on a device, you'll run the risk of losing not only your most loyal members, but also younger consumers that have the ability to make or break us in the future. 
From the consumer's point of view, life is too short to waste time dealing with all of these ancillary events, not to mention waste calories on bad pizza.
CUES member Bill Vogeney is chief revenue officer and self-professed lending geek for $5.9 billion Ent Credit Union in Colorado Springs, Colorado.