5 minutes
President/CEO Kathy Conway helms a far-flung credit union, making communication and relationship-building critical for keeping everyone heading toward the same objectives.
CUES member Kathy Conway has been with $2.6 billion Interior Savings Credit Union, Kelowna, British Columbia, since 2002, and became president/CEO in 2012. As CEO, she is tasked with ensuring the credit union meets its strategic goals, providing direction, coordination, planning and—most importantly—leadership.
Among other questions, we asked Conway what qualities she thinks are necessary for effective leadership, how she has found her own leadership style and how others trying to do the same can find theirs. Here is what she told us:
How do you define leadership? What qualities do you think are most important?
To me, leadership is really about vision and purpose—setting the direction and having everyone understand why they come to work each day. Such qualities as caring and support, curiosity (which includes listening, asking questions and learning), courage, team-building and authenticity are really important. In the end, it's all about relationships.
How do you share this vision and purpose?
It's important to regularly talk with staff, so I make sure I am in each of our branches annually. Visits with departments and other areas, such as our Member Service Centre, are also important in order to talk about what is happening in our industry, what that means for us and where we're heading. Our geographic dispersion can be challenging at times, so we make sure that videos, articles and visits by other members of the executive team add to the discussion.
How have mentors helped you grow as a leader? What was some of the best advice they gave you?
I always say the mentors in my life have believed in me more than I sometimes believed in myself, and so they pushed me to try new roles or opportunities. As far as the best advice, it was that at the end of the day, I had to answer to myself first, that I should be able to look in the mirror and be proud of my decisions and who I am.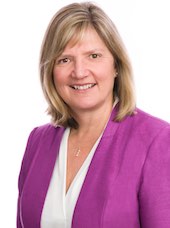 Interior Savings Credit Union
It isn't always easy to find your leadership style—it's easy to fall into trying to be like others. Spend some time thinking about how you want to be defined as a leader.
What other advice do you have for aspiring female leaders?
I think it's essential that they are comfortable with being themselves as they get leadership opportunities. It isn't always easy to find your leadership style—it's easy to fall into trying to be like others. Spend some time thinking about how you want to be defined as a leader.
How did you find your own leadership style?
It required some time and some experiences to learn from. Focusing on doing the right thing, living our credit union's values, and of course being able to answer to my own voice were all important aspects.
What leadership moments have made you the proudest? And, what have been some of your biggest leadership challenges?
I'm most proud when I've seen my direct reports excel and succeed in their careers. And I always hope I have in some way been a part of their success. As for challenges, the one that comes to mind was early on in my CEO career, when I was trying to push change through too fast without clarity of the destination.
What happened?
I was an internal successor for the CEO role. Prior to 2012, we had been talking for some time about a new delivery model. I felt we hadn't moved fast enough on it. In fact, speed of implementation around sales and service delivery had been part of my final interview with the board of directors. We chose to announce the introduction of the new model across the organization pretty much at one time and had no strong change-management program in place.
Consequently, a number of people, including managers, were impacted with no awareness or personal desire to be part of this change. We had lots of one-on-one work to do with our staff to put things in place. Looking back a year later, it was obvious we were off track right from the start. In 2020, we're implementing a core banking system change and we most certainly have a strong organizational change-management program in place.
How can credit unions and industry organizations help develop future leaders, whether male or female?
Give future leaders opportunities in the organization to step up or step out of their comfort zones. Organizations can also support outside activities—such as nonprofit board memberships—for leadership development. Or, they can select young leaders for attendance at conferences, programs, etc., where the opportunity to attend often goes to existing or seasoned managers.