5 minutes
We need 110% from everyone.
As a strategist, I prefer clarity in our objective before taking action. Strategy is simple. It is the process of clarifying 1) what we want to achieve (i.e., our objective) and 2) how we plan to achieve it (i.e., our strategy). For example, two people may have the same objective: They both want to lose 20 pounds, but the first person has decided to train for a marathon, while the other will join a gym. They have the same "what" but different "hows." They have different strategies.
I consider diversity, equity and inclusion to be a strategy. More specifically, a talent strategy.
What is the objective of DEI?
The objective is to get 110% from everyone on the team. The credit union movement is in a battle to be tomorrow's financial partner of choice for American consumers. We are battling the technology investments of larger institutions, the innovation of Silicon Valley and the growing consumer expectations for convenience. I believe we need 110% from every person in the movement to meet this challenge. We need them to feel inspired every day, looking for ways to improve service, and finding creative solutions to complex issues. We need their full engagement.
Gallup says only 38% of U.S. workers are engaged, meaning they are enthusiastic and committed to their work. Because we're a movement created on the concept of "people helping people," I know we can do better than that, and believe employee engagement is the path to being tomorrow's preferred financial service provider—highly engaged employees that understand our members and are focused on doing what is best for their financial well-being. I believe DEI helps us achieve this objective.
How does DEI help us achieve this objective?
Diversity. The value-add of diversity is well documented. It is correlated with increased innovation, improved decision making, and financial performance, according studies by such groups as McKinsey, Harvard and others cited in this article. Diversity is good for business, but it is increasingly becoming a service imperative.
Every day our great nation becomes more diverse. This can be seen in the number of generations in the workplace, the demographic projections and income disparity trends. Diversity simply means difference. Some of these differences are visible while others are not.
These differences can affect a person's relationship with money and how they experience our economy. For example, millennials are less likely to buy a home than baby boomers and Generation X at the same age. How will this influence the mortgage products they expect and their housing decisions?
To answer questions like this, we must return to the purpose of our movement. Our movement was created to empower people to come together to serve their common financial interests. The only way we can serve the American consumers of tomorrow is for our workforce to reflect their diversity. This enables us to have the honest dialogue needed to understand our members and ensure their perspectives are present when making decisions about new products and services. But diversity is only the start.
Inclusion. "Diversity is being invited to the dance. Inclusion is being asked to dance." Once we have the perspectives in the room, we must welcome and encourage the sharing of those perspectives. One of the characteristics of employee engagement is feeling like your opinion matters. Imagine hiring military veterans because you respect their discipline and structured approach to problem-solving, but then dismiss or ignore their contributions and recommendations. How long before they stop sharing their perspective, or worse, leave?
Creating an inclusive environment is a true test of leadership. The leader of yesterday had all the answers and made all the decisions. In an environment where multiple perspectives are welcome, the leader must be more inquisitive and seek different perspectives. The decision may still reside with the leader, but the process to make that decision includes a platform where employees feel included and heard.
Equity. The best way to describe equity is in comparison to equality. My friend Angela Russell, CUNA Mutual's VP/diversity, equity and inclusion, describes the difference as equality focuses on input, while equity focuses on output. Equality is about treating everyone the same (i.e., equal input). Equity is about ensuring everyone can contribute and participate (i.e., equal output).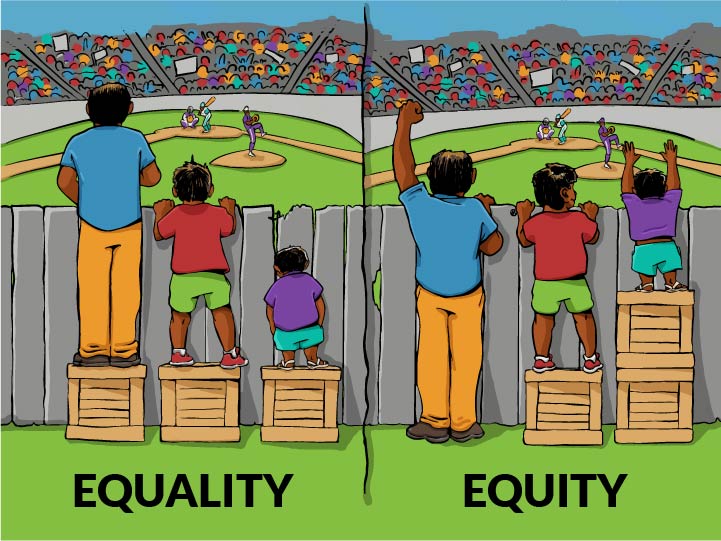 What is most important here is to remember our objective, we want to get 110% from everyone on the team. As leaders, we must ask ourselves, "Is treating everyone the same going to get everyone to perform at 110%?" For example, suppose you have a single parent on your team, a team that periodically stays late for various projects. If you place pressure on them to stay in the office like others versus allowing them to work from home later that evening, will you get the best from them, or will they be worried about childcare?
I'm convinced that focusing on equity will lead to higher levels of employee engagement. I admit it is harder to manage—there is no way around that, but it's not as hard as managing higher turnover, which is a result of low employee engagement.  
The DEI talent strategy is about better serving tomorrow's consumer, being innovative and inclusive in the design of our products and services, and having a team that is enthusiastic about coming to work every day, ready to give 110%. Is everyone on your team fully engaged? Are they giving 110%? If not, what do they need? What can you do, as a leader, to get them to 110%?
Fun example:
Employee engagement leads to member engagement. Emojis used to just be yellow faces and hands that were used occasionally. Now emojis are more representative of the consumers that use them. These consumers have different skin tones, hairstyles and textures, genders, ages, hobbies and personalities. Ask a few people if they have created their own emoji (known as a "me"moji) and if they use emojis more now than when it was just yellow faces or hands. Customer engagement, in this case utilization, went up when the they saw themselves more represented. What is more likely?
Scenario A: This memoji idea was developed by a group of homogeneous thinkers
Scenario B: This idea was developed by a group of diverse perspectives and experiences
CUES member Kevin Martin is SVP/organizational performance & strategic planning at $16.7 billion SchoolsFirst Federal Credit Union, Santa Ana, California.