8 minutes
Lauren Kirkley has found success by seeking challenges, expanding her knowledge of operations and looking for ways to combine her natural skills with the right role.
As chief operating officer at CUES Supplier member Harland Clarke, San Antonio, Lauren Kirkley works with all the teams responsible for delivering and supporting the company's products. This includes manufacturing, engineering and the contact centers. It also includes marketing solutions centered on expanding clients' lending and deposit acquisition, direct mail and email services. She oversees key programs, the project management team and business continuity as well.
"Business continuity has been a big part of my job over the last few months given the fluid business environment we're in," she notes. "It's been challenging, but I am so proud of the work we have done and how the organization has been able to respond."
When asked about her current role Kirkley says, "I love this job. I feel like leading operations is where I am meant to be." But as so often happens in a person's career, "it's not where I originally started off or where I thought I would end up," she adds.
Out of college, Kirkley began her career as an internal auditor, where she built her business acumen by learning about the many functional areas of a business.
Over the course of her career, she has continually looked for the next opportunity or challenge. The John H. Harland Company was one of her audit clients before she took a job there as an internal auditor, ultimately leading that function for about 10 years.
"I continued to have really good opportunities to learn more," she says, including working through the changes that came about from the Sarbanes-Oxley Act. "I had great mentors back then who exposed me to a variety of business challenges, which helped build my confidence and allowed me to expand my skill set."
Kirkley continued her career in a different industry at a company that was just starting its risk management and audit functions. "I came in to launch an audit and risk management strategy and department, and then ultimately transitioned into other roles that were more operational in nature. That gave me a chance to take direct ownership of business outcomes, as up until that point in my career, I had been serving in more of an advisory role," she recalls.
There she tackled quality and project management, strategic capital investment programs and even had responsibility for HR, which took her a bit further from her past direct experience and out of her comfort zone. At the time, the biggest pain point in HR was improving and integrating processes and systems. "I was fortunate to have a team of people who were HR experts. I was able to learn from them while contributing my project management and control experience" to solve the problems in that area, she says.
Kirkley came back to Harland Clarke in 2018 as SVP/business optimization, moving into her current role a few months later. "You don't necessarily know what your path will look like in the months and years ahead. But there is always something to learn from the roles and experiences we have today," she adds. "I look back and realize that all of it prepared me for where I am today at Harland Clarke."
Proud Moments and Overcoming Challenges
"I think the last few months are some of the proudest for me," Kirkley says.
During the COVID-19 pandemic, her team has had to find ways to keep safe the employees whose production and contact center roles require them to continue reporting to work onsite, as well as engage employees who are working from home, all while running the business and making hard decisions on managing costs. "And making sure we deliver excellent service and products to our clients! We have managed to do all of those things," she says. "We've met and, in many cases, exceeded our quality goals over the past few months. I attribute that to the awesome people that we have.
"I don't think there is any challenge or opportunity that is too big for the Harland Clarke team to handle. Once everybody gets their mind around it, we're going to figure it out. That attitude has allowed us to be successful over the last few months. I couldn't be prouder of our teams and the manner in which they have rallied together to support not only our clients, but also one another," she says.
"It's my job to lead teams to develop strategies, create plans, anticipate and execute flawlessly, so when a major challenge arises, especially one that isn't anticipated, like COVID-19, it can be very difficult. But at the same time, it is the only way that we learn to stretch and discover what our potential is. I appreciate the perspectives that I gain from each [challenge]. If I can lead through that, if I can bring a team together to rise through that, then certainly when the next issue comes along, we can get through it too," she acknowledges.
Mentoring and Networks
Throughout her career, Kirkley has benefited from strong mentor relationships.
"Early on at Harland, I had a couple of different mentors, formally and informally, who were pretty senior at the organization. They were great about including me and inviting me to participate in meetings I wouldn't have otherwise been involved in," she explains. "It was eye-opening to see those strategic conversations and observe how executives at that level operated. That was so incredibly valuable to me.
"I've found it helpful to have mentors who have had different kinds of strengths so that we challenge each other," she adds.
Another mentor encouraged Kirkley to take on new roles before she would have considered it—or felt ready, she says. "She would encourage me and say, 'You may not have done that exact job in the past, but you have the relevant skills to be successful and a fresh perspective to lend. You surround yourself with really good people who complement you.'"
Kirkley has been involved in both formal mentor programs and relationships that emerged more organically. And now she also serves as a mentor at Harland Clarke herself. "I get a ton of benefit from it, seeing things through another lens."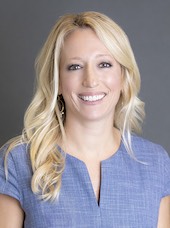 You don't necessarily know what your path will look like in the months and years ahead. But there is always something to learn from the roles and experiences we have today.
When she was younger, Kirkley says she didn't understand how a woman could balance a family and a high-level career. But her advice to young women is that it can be done. 
"A lot of the time, it is about taking that leap to the first management level." Then, "it's about surrounding yourself with great people. That makes a huge difference. I certainly think differently now," she notes. "I have a daughter who is 11, and I make it a point to do the important things, like going to her softball games and being present for the significant moments in her life."
Another piece of Kirkley's advice: "I have found that it is very beneficial to understand what your strengths are. Try to find the right roles that align well to your natural strengths."
Finding a network is also important, she says. "Right now we find ourselves in such an unusual environment where we don't have the same in-person networking opportunities and events. Finding ways to virtually come together and open up that dialogue and make those connections is so much more important now than ever."
Harland Clarke has a Women's Network for employees that includes a mentor program with both men and women. "It has grown over the last few years. They create amazing opportunities for networking, learning and both internal and external engagement."
The Women's Network has nearly 600 members (both women and men) and includes five areas of focus:
EDUCATION: The Education Team provides tools to help prepare women for growth and new career opportunities, as well as a structure to enrich their leadership skills. Educational programming includes a virtual book club, a monthly "Women in Action" series that features online learning courses, podcasts and videos, guest speaker sessions, and various training opportunities like social media and financial acumen.
MENTORING: The Mentoring Team leads a formal mentorship program focused on increasing employee engagement with emerging and future leaders, building an environment of trust and increasing the dialogue around professional challenges. Mentors and mentees are paired up early in the year and set their own cadence for regular touchpoints and ongoing engagement throughout the year.
NETWORKING: The Networking Team is focused on facilitating a positive, trusting environment for all members to enhance their connections across the organization. Networking events, including executive lunches and "TED Talk"-like events, are hosted regularly.
COMMUNITY OUTREACH: The Community Outreach team is focused on providing opportunities for members to expand their reach outside of Harland Clarke by supporting their local communities through various volunteer activities and charitable causes throughout the year.
COMMUNICATION: The Women's Network keeps members informed and shares content from its events through its quarterly newsletter and on Harland Clarke's intranet. It also publishes an annual report at the end of each calendar year.
"There is so much that we are all going through not only with the pandemic, but also with social and cultural issues. If I could pass along anything, it would just be encouragement," Kirkley concludes. "We'll get through this and be stronger as a result, so take each day as an opportunity to learn and channel that into something positive. I am optimistic about the future." cues icon
Theresa Witham is managing editor/publisher at CUES.