4 minutes
CUNA Mutual Group has taken key steps to delivering on this priority.
With 61% of new credit union member growth coming from multicultural consumers, building a diverse and inclusive culture is an imperative to meeting the changing needs of members. Diverse teams make stronger business decisions. If we are truly committed to meeting the needs of all members, then using an equity lens in recruitment, hiring and development is essential.
That means growing the talent pipeline and particularly growing the diversity of that pipeline.  If your pipeline isn't full of diverse talent, it's not because that talent doesn't exist.
It does mean that you may need to pause and consider a new strategy. A great place to start this work is in your recruiting practices.
At CUNA Mutual Group, we believe it must be a priority to continue to feed the talent pipeline, and we've developed key strategies to do so.
Internship Program
The first strategy is our ongoing internship program. The purpose of our internship program is to inspire diversity by casting our net to a broad talent pool. It helps us be more innovative, more inclusive–and demonstrate who we are as a company. This program started a little over 30 years ago and has recently evolved into a very robust, intentional program where we offer opportunities to over 90 interns.
Every year, we welcome a diverse range of new talent to our company and work to give them not just a job, but valuable learning and preparation for their careers. Even during the pandemic, this program has thrived.
When COVID-19 first hit, we were expecting more than 55 interns to join us on June 1. Our HR Recruiting Team quickly convened and developed an approach that would accommodate all 2020 interns. While there was much unknown, and we weren't experienced in running an all-virtual program, we believed it was the right thing to keep the internship program alive.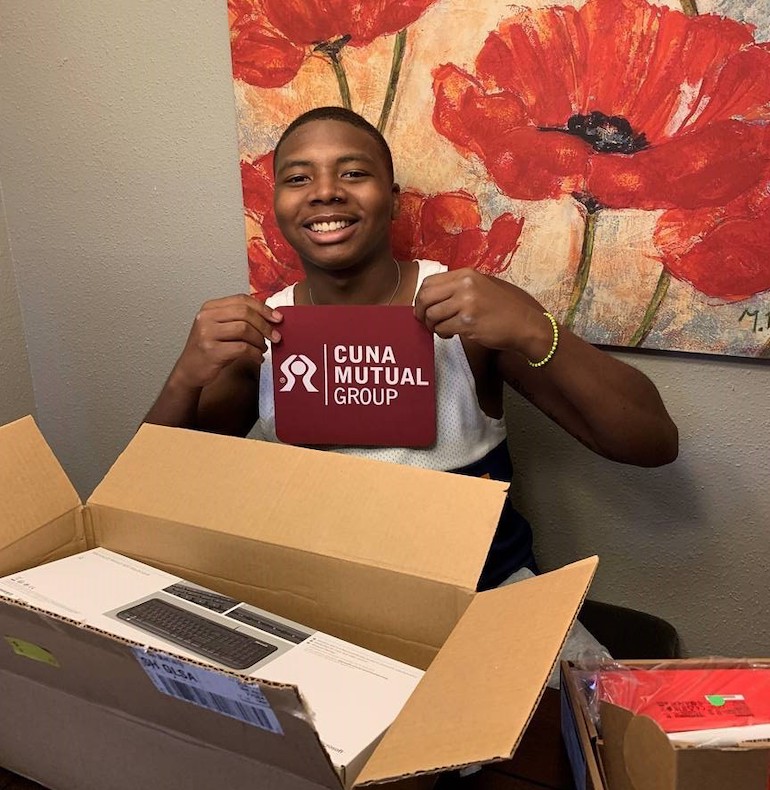 We were able to keep 95% of our intern roles last year, and our interns ranked their 2020 experience 4.63/5, up from a 4/5 rating in 2019. This summer, we will welcome more than 85 new interns.
As we look forward, we continue to look for thoughtful ways to add to the program. The newest addition to our summer internship program, the Multicultural Financial Services Intern, helps multicultural students jump-start their careers. These interns will work directly with credit unions and be exposed to the financial advisory industry.
Recruiting Partnerships
Another key strategy to feed our talent pipeline is recruiting with historically Black colleges and universities and Hispanic-serving institutions. About five years ago, we started partnerships with more than 10 HBCUs and HSIs and believe that through these partnerships, we can reach a broader diversified pipeline of students.
Through these relationships, we are able to recruit talented interns for our summer program and our new Multicultural Financial Services Intern opportunity. In fact, by utilizing these recruitment partnerships, we increased our internship program diversity by 8% compared to the 2019 program.
Developing Talent
Identifying talent and feeding the pipeline is one important step. Just as important is the next step—providing opportunities for growth and development within your organization.
Our internship program has created the opportunity for real career development. We spark connections through our mentorship program, inspire through our Inspirational Thursdays with executive leaders and develop through our resume building workshop hosted by a recruiter.
We also consider career path and growth opportunities. For example, our paid internships are designed as a pathway to experience real career development. Through our unique program, we provide experiential learning, access to senior leadership and engagement opportunities, including our Engagement Resource Groups, which help drive business results by providing key cultural insights that help attract and retain diverse talent through connection and a sense of belonging.
It's all our responsibility to keep the talent pipeline strong, to create opportunities for diverse talent in our industry—so we can better serve our members. Whether it's through targeted recruitment, internship programs or other strategies, it's our responsibility to feed the pipeline and to show diverse talent why we are an employer of choice.
Alicia S. Chaney, CHRM, is manager of campus recruiting & retention at CUESolutions Platinum provider CUNA Mutual Group, Madison, Wisconsin.
Earn an Executive Certificate in Human Resources!
Build your analytical acumen, and fine tune your evaluative, presentation, and communication skills.
Register now for the online Strategic Human Resources Leadership Cornell Certificate Program, running March 17-May 11, 2021.


Register now.