4 minutes
Here's how a small town in New Mexico is living the sixth cooperative principle.
Today many credit unions don't think it even matters that they are financial cooperatives. Sure, they may put something like this on their website: "We are a not-for-profit financial institution owned and operated by our members with a volunteer board of directors … blah blah blah," but that doesn't really tell the story or describe a differentiator.
Back in 2012, when I was the VP/marketing for $849 million Del Norte Credit Union in Santa Fe, we had proof that our cooperative structure mattered to our members. We regularly surveyed them using the Net Promoter Score, which asks the ultimate question: "How likely are you to recommend the credit union to a co-worker, friend or family member?" And then the powerful open-ended question, "What is the primary reason you gave that score?"
At DNCU the No. 1 answer was always service. No. 2 was the fact that we were not a bank but locally owned—in short, that we were a financial cooperative. The members got it.
Remember back in the day when you could grab your co-workers and get into a room with a big blank white board and just brainstorm? And there was almost always sugar involved? Well, that's what I did with my team. I told them that we couldn't ignore this data. But what were we to do with it?
Our graphic designer immediately came up with the phrase, "Keep It Co-Op" and sketched out a cool logo. (That's the complete opposite of what a good marketing plan looks like, but what the heck.) Then, just for fun, we put "co-ops in New Mexico" into the Google machine. We had no idea that there were already three other co-ops in Los Alamos, New Mexico, which just happened to also be the birthplace of Del Norte CU, originally founded by the Los Alamos National Laboratory Employees back in 1954.
The first co-op we turned up in our search was Little Forest Playschool, founded in 1951 by the wives of the "Los Alamos labbers." At the time we did the search, Los Alamos Co-Op Market had recently opened, and we heard there was a group of people starting a beer co-op! Add to that two more credit unions in Los Alamos, $23 million Los Alamos School Employees Credit Union and $176 million Zia Credit Union (founded by the independent contractors of the labs), and suddenly we had a movement.
Implementing the Idea
It took all of one phone call and one meeting at a local coffee shop to gain these co-ops' support for the idea. What idea? How can we help each other? How can we show the community the important role that cooperatives play? On that day, the Keep It Co-Op! Movement was born.
For the past eight years, these co-ops have been working together, investing in their communities and serving their members.
Working Together
Then last year, Matt Schmidt, CEO of Los Alamos School Employees CU was in the process of moving his tiny branch (with no windows) to a brand-new building. He had a prime location in the middle of town with plenty of parking. Too much parking, actually. So, he reached out to the local co-ops and asked them if they had any ideas about what could be jointly done on this property. The Co-Op Market mentioned a community garden and then the brewery, Bathtub Row, or "The Tub" as locals call it, thought it would be cool to have a stage for hosting local talent and a beer garden. The Keep It Co-Op Park was conceived.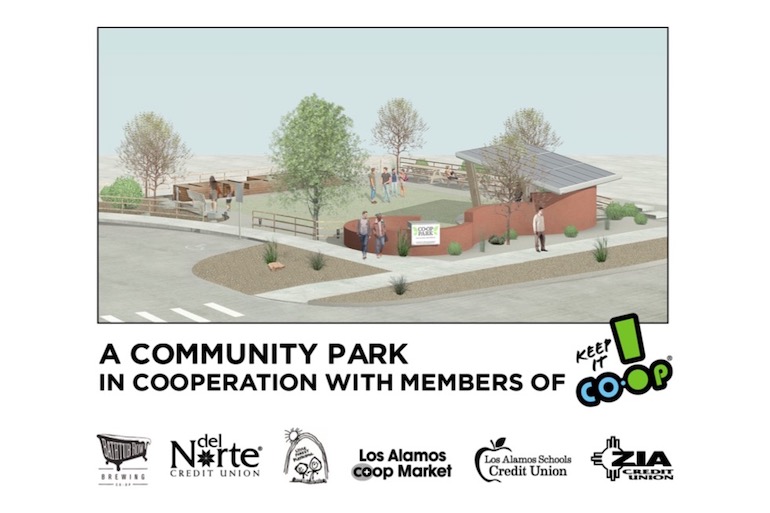 Today the park is in phase one of construction. It will include raised beds for a community garden; a large, covered stage; a spot for a local food truck; and an outdoor youth education station for the play school. The park offers a sense of community. It's a place where kids can safely gather. Importantly, it creates additional green space in downtown Los Alamos. Plus, it's a physical reminder of what it means to be a cooperative. These co-ops are truly living the sixth cooperative principle: Cooperation among cooperatives.
If you would like to make a donation to help with phase two of the park, to show your support of the cooperative principles click here. A $100 donation will get your name (or the name of your credit union) engraved on a bronze leaf that will be part of an art installation across the back of the stage. Think of it as going back to your roots as a credit union and being part of the cooperative family tree.
Denise Wymore is membership & advocacy development director at NACUSO.