13 minutes
As Canadian credit unions react to recent extreme weather, they prepare for the next disaster.
Credit union leader David Lanphear lives on a hill in Abbotsford, British Columbia, in the Fraser Valley, 70 kilometres southeast of Vancouver, not far from the American border.
Last November, Lanphear, the president of Envision Financial, was working from home when severe weather hit. The region was hit by five atmospheric rivers: blustery, warm, saturated bands of air hundreds of kilometres long and wide. The five were followed by a sixth atmospheric river of breathtaking intensity and longevity. For 48 hours—from Nov. 13 to15—the heavens opened and the waters rose.  
"I looked down and you could see the water levels coming up in the farms and the fields," Lanphear says. "As it worsened, my mind shifted to preparedness, and I suggested to my wife that we may need to stock up on some basic necessities and fill up the car.  It spiralled from there—clearly this was more than just a big rainstorm."
Soon, about 200 square kilometres of the Fraser Valley's low-lying, fertile Sumas Prairie were flooded. In other parts of the province, bridges collapsed, highways were engulfed by mudslides, and houses were swept away by swollen rivers. About 15,000 people were forced to evacuate. At least 628,000 chickens, 420 cows and 12,000 pigs drowned.
Lanphear's initial thoughts were for the safety of Envision's staff, who live throughout the Fraser Valley, a region that begins near Hope and stretches 150 kilometres to Vancouver. Some were trapped outside the flood zone, unable to return to their homes due to blocked or destroyed roadways, says Lanphear, whose credit union is a division of $15.5 billion/250,000-member First West Credit Union, Langley, British Columbia.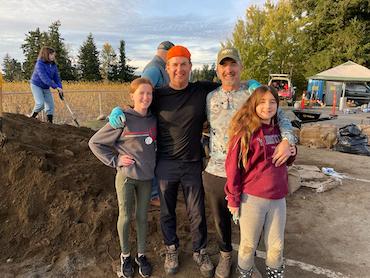 After pinpointing the whereabouts of staff and ensuring their well-being, thoughts turned to members. Susan Coulson, director of special accounts at First West CU, says that the credit union identified more than 1,100 members with property in the flood zone. Staff connected with the members to ask how they could help. Out of those members, 86 were referred to Coulson's special accounts team for support. Some people were stranded outside the flood area. Other members' workplaces were shut down. Many had flooded houses. "We were talking to members who were standing in homes that had two feet of water," says Coulson.
For nearly a week, the focus was on rescuing people and animals. When the water began to recede, the focus shifted to assessing damages. Homeowners were met with fetid detritus from backed-up sewers, farm manure, contaminants, and basements littered with rat, mice and rabbit carcasses. Since the Sumas Prairie is a floodplain, many members didn't have flood insurance because it was too expensive or unavailable.
Coulson helps administer First West's Back on Track program, which was started in 2010 to help members going through financial and life hardships. The 86 members heavily impacted by flood waters received relief through reduced or deferred payments on mortgages or loans, while others were offered remediation funds, she says.
Envision Financial extended a helping hand to the wider community, donating $100,000 to flood relief efforts, dividing it equally among the Canadian Red Cross, Abbotsford Community Foundation, Food Banks BC and the B.C. Agriculture Council. The credit union will donate additional money as the protracted construction, cleanup, remediation and restoration efforts continue, says Lanphear.
Credit unions across the country also lent a helping hand to BC residents, donating to local aid organizations or contributing to Central 1 Credit Union's campaign that raised $286,545 for the Canadian Red Cross.