13 minutes
2022 CUES Outstanding Chief Executive Linda Hoover, CCE, believes in hands-on leadership.
When Linda Hoover took a part-time teller job at Educators Credit Union in 1987, she could have never imagined that 30 years later she would be named the institution's CEO. Nevertheless, in her five-plus years as chief executive, Hoover, a CUES member, has repeatedly proven her effectiveness as a credit union leader. She navigated the Racine, Wisconsin-based organization to $3.19 billion in assets—remarkable when you consider that its assets were just $30 million when Hoover first stood at a teller window 35 years ago.
Since becoming CEO, Hoover has called upon her teller skills to help Educators weather the most disruptive days of the COVID-19 pandemic. On several occasions, she would bring a team to a branch that was short-staffed and work a drive-up teller station. It was a tangible way to show the credit union's 590 employees that they could get through even the toughest challenges by working together.
"One of my philosophies is you have to lead by example," says Hoover, whose achievements have earned her the title of CUES 2022 Outstanding Chief Executive. "I would never ask anybody to do anything that I would not be willing to do myself."
Hoover's journey from teller to CEO took her through many facets and functional areas of the credit union. After going full-time in her teller job, she moved into member services, mortgages, collections and eventually lending. Promotions elevated her to VP/lending, chief operations officer and finally president/CEO in 2017. In all of these roles, Hoover has been guided by a central principle of doing whatever is best for the member. 
"If there is one thing that all of the employees know about Linda, it's the members first—always," says CUES member Mary Lueneburg, board chair at Educators. "She is focused, focused, focused, and always ready to learn about new products and new ways of doing things."
Hoover has found that this member-centric approach is the best way to set priorities. "With every project we do, we ask ourselves: What does it bring to the members?" Hoover reports. "Does it save them time? Does it create efficiencies? How does it enhance the member experience? That's the thing we hang our hat on—never losing focus on the member."
The satisfaction that Hoover derives from helping members is what compelled her to stay at Educators. "When I started as a teller, I had no thoughts of staying at the credit union," she says. "This wasn't going to be my career. I had other aspirations. But I just fell in love with the job. I love the people. I love the philosophy—the whole idea of people helping people. I still run into people whom I helped get their first home or first vehicle. Just seeing the difference you can make in people's lives made me love what I do."
When something needs to get done, Linda will do it. She'll get on the phone to help the call center. She'll fill in as a teller. The only thing I think she hasn't done is sweep the floors, and I'm not even sure about that. She has an incredible work ethic and is absolutely a leader by example.
 

Strategy With a Heart

Hoover's strong but empathetic leadership has earned the widespread respect of her colleagues at Educators. Among them is Chief Experience Officer Shannon Huot, CCM, who has worked with Hoover for 20 years. 

"What I've always admired about Linda is that she's very strategic and business-minded, but she also has the heart behind the strategy—whether it's helping people reach their financial goals or working with staff to ensure they are successful," Huot says. "That's something that has never wavered in her. Regardless of her responsibilities, she makes it a priority to take care of others while also taking care of the credit union."

Huot, a CUES member and participant in the 2021 CUES Emerge program, was particularly impressed with Hoover's leadership during the pandemic. "Linda was in the trenches every day, supporting the staff and making sure we were able to serve the membership and the community. She was tellering, she was answering phones, she was helping out with loans, she was making cards. There was no job too big or too small."

Lueneburg likewise gives Hoover kudos for going above and beyond during the pandemic. She cites one example from early on, when Hoover was notified of a bottleneck at one of the drive-ups. "Linda went to that facility and moved the pylons herself so that the traffic would flow better," Lueneburg recalls. "When something needs to get done, Linda will do it. She'll get on the phone to help the call center. She'll fill in as a teller. The only thing I think she hasn't done is sweep the floors, and I'm not even sure about that. She has an incredible work ethic and is absolutely a leader by example."

Hoover is quick to point out that the pandemic required a major effort on the part of all employees. "I think my team and I did an excellent job of thriving through COVID," she says. "We were able to have some of our best financial years during COVID. We had real teamwork, and we're very proud of the fact that no one was laid off. We continued to give our members the best possible service. They had access to all of our products and services, even while our lobbies were closed."
Child of an Educator
Hoover's first experience with Educators came not as a teller but as the child of an educator. "My dad was a high school history teacher and a member of the credit union, so my parents opened up a bank account for me when I was just three years old," Hoover says. "I'm one of the few four-digit account numbers still at the credit union. I grew up knowing about the credit union and knowing the people at the credit union."
Founded in 1937, the institution began as Racine Teachers Credit Union but eventually expanded to encompass government workers and healthcare professionals. Today, membership is open to anyone who lives or works in 11 counties in southeast Wisconsin and four counties in Illinois. That expansion enabled the CU to grow to over 220,000 members serviced by 24 offices (all in Wisconsin). "About 75% of our membership growth comes from word-of-mouth referrals, with people referring their friends and their family," Hoover reports.
Before she began working at Educators, Hoover had attended classes at the University of Wisconsin-Green Bay. As she advanced in her career, she carved out time in her schedule to attend to the unfinished business of completing her degree. 
"I knew that it was something I needed to further my career," she says. "So I went to the University of Phoenix, where I obtained my degree in business."
Hoover also focused on furthering her industry-specific education by completing CUES CEO Institute I: Strategic Planning; CEO Institute II: Organizational Effectiveness; and CEO Institute III: Strategic Leadership Development, thereby earning her CCE (Certified Chief Executive) designation. 
As CEO, Hoover has emphasized a hands-on leadership style—not just during the pandemic but as an ongoing way of doing business. Being hands-on allows her to see firsthand various processes throughout the credit union. "You can add a lot of efficiencies that way," she observes. "When you ask someone why a job is done a certain way, the answer may be, 'Well, we've always done it this way.' But when it's not your role, you can look at it with fresh eyes and come up with ways to optimize the process."
Hoover finds value in job shadowing for that reason. As an example, she requires staff who are VP level and above to shadow the call center annually. The objective, she says, is two-fold: "First of all, so they can understand that this is a stressful position. By putting themselves in someone else's shoes, they can come to appreciate how valuable the role really is. Second, to identify deficiencies and ways we can better serve the member. If there are 10 people calling with the same problem, it gives you the knowledge to say, 'This is an issue that we need to address.'"
Giving employees the opportunity to offer suggestions also is a way to improve efficiencies. Educators' team has facilitated the ability for employees to give their input by introducing Innovation Station, a social web platform that its developer describes as "a suggestion box on steroids" . Many of the suggestions focus on ways to speed up processes that will save time for staff and/or members, such as automating the teller currency transaction reporting process or adding an online option to print receipts without a balance when members request them. 
"We started that program about a year ago, and to date, we have implemented over 25 suggestions, with about 20 more in the works," Hoover says. "Our staff is really engaged with it."
Another major enhancement that occurred under Hoover's leadership was implementation of a video banking platform. Members can access the platform, called Educators Connect Cam, online or by downloading an app. "They can open an account, deposit a check, apply for a loan, speak to a member finance representative—all through a video call rather than by visiting a branch," Hoover reports.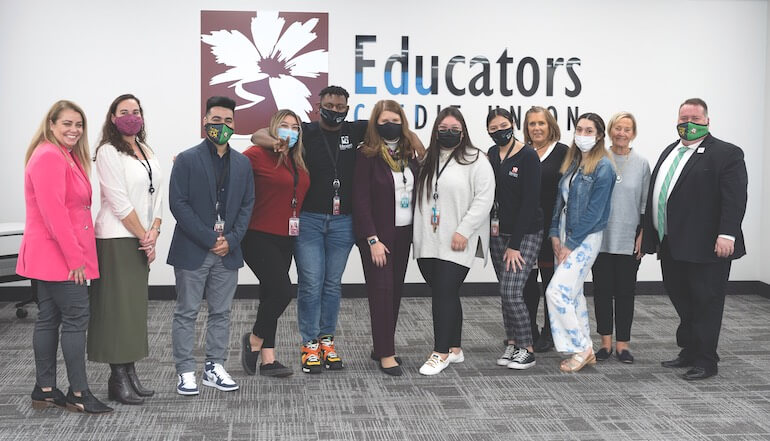 Prioritizing Financial Education
With a name like Educators Credit Union, it should come as no surprise that the institution has made financial education a priority. "We're dedicated to financial literacy and giving back to our communities," Hoover says. "We can't grow if we don't help our communities by providing financial education."
The CU focuses much of its financial education around area schools. "We have high school branches that teach students about financial literacy," Hoover says. "We sponsor Reality Check Days to help students understand how to manage their finances when they get out into the real world. We also provide 35 $2,000 scholarships annually."
A new initiative that is in the works is a youth apprenticeship program, which will give young people an additional opportunity to build their financial literacy. "Shannon Huot is working with a local college to make it a certified program," Hoover says. "We're hoping to roll that out sometime next year."
Staff education also is a priority under Hoover's leadership. Shortly after becoming CEO, she introduced a leadership education program. "The purpose is to grow new leaders, not only people who want to go into management or supervisory roles, but those who want to be leaders in their current roles," she says. 
Employees apply to participate in the program, which features a nine-month curriculum. Classes cover such topics as effective business communications, emotional intelligence, time management, understanding financials and dealing with change. Instruction is provided by leaders within the organization as well as from outside experts. To graduate from the program, each participant is required to collaborate on a project.
"Last year, we had two projects," Hoover reports. "One focused on employee engagement, and the other on employee recognition. Employees had to present their project to the leadership team, get their buy-in by defining the cost and time commitment, and once the project was approved, they had to complete it as a requirement to graduate from the program."
Beyond the leadership program, Educators also offers all-employee training once or twice a year. Typically there is an annual learning day, which focuses on educating staff about the CU's latest products and services. A separate training session centers around discussion of community involvement and how staff members can be good community stewards. 
Hoover realizes that education is a two-way street, which is why she puts herself in a position to interact with employees as much as possible. "In this role, you continue to learn, and who best to learn from than your own staff?" she says. 
For that reason, Hoover and Huot both make it a point to visit every branch at least once a quarter. "We talk to staff, find out how things are going and ask what we can do to make their jobs easier," Hoover says. 
But staff members don't have to wait for those quarterly visits to have a conversation with the CEO. "They can call me any time they want," Hoover reports. "I have an open-door policy. Anybody at any point can reach out to me with their comments or concerns."
Lueneburg gives Hoover high marks for her interactions with the staff. "She's very approachable. People can talk to her. If someone needs something, she is there to help out. She's very serious, but she's also very kind. She's a leader who provides unbounded leadership."
Regardless of her responsibilities, she makes it a priority to take care of others while also taking care of the credit union.
Member and Community Outreach
As important as it is for Hoover to cultivate high satisfaction among employees, the ultimate goal is to ensure satisfaction among the members. Educators pays close attention to Net Promoter Scores to ensure that member loyalty remains high. "We continue to have real high scores, which is great," Hoover says. "However, the score isn't really the gift. The gift is the comments from members. Those comments, along with the feedback we get from our front-line staff, help us understand what members want. You can't sit in an office and concentrate on just the financials and compliance. You have to get out and listen to what others have to say."
Educators also has a program called Member Loyalty that has helped strengthen bonds with members. The program rewards members for various activities, such as the number of services they use, how often they use their cards, their loan balances, saving balances, etc.
"Last year, we paid out about $5 million," Hoover reports. "Members love the program, and we continue to grow and enhance it."
Serving members well also means serving the communities in which they live. As part of that effort, Educators gives back 12% of its income to charitable and civic groups every year. The CU also participates in various community activities, such as holding annual shred days, partnering with Milwaukee Public Schools on an annual back-to-school backpack drive and sponsoring local semi-pro sports teams. "We like to be there for the community because the community has been there for us," Hoover says.  
Hoover is personally involved in the community as well. She has served on the boards of several organizations, including the United Way, Racine County Food Bank and FOCUS on Racine. She recently graduated from Leadership Racine, a nine-month program designed to prepare leaders for positions of public influence in the Racine community. This is in addition to the credit union's support of Leadership Kenosha and Leadership Milwaukee. Hoover's community contributions recently brought her recognition from the Milwaukee Business Journal as a 2022 Woman of Influence.
Among her industry activities, Hoover participates in the Wisconsin Credit Union League and CUNA Councils. She also interacts with other credit union leaders through Members Development Company, a group of credit unions that focuses on collaborative research and innovation. "We joined the ownership about a year ago and have found it to be very beneficial, especially the networking," Hoover says.
When she is not working, Hoover enjoys hiking, biking, rollerblading, travel and spending time with family. She has two daughters, both of whom are teachers, and a son who plans to be a firefighter. An animal lover, she also has two dogs.
Though Hoover has reached the height of her profession, she will always be grateful for the start she got as a teller—and for her reintroduction to that role during the pandemic. "I welcomed the opportunity to go back to the teller line," she says. "I think it's important to remain humble. No matter where you go in life, you should never forget where you came from."  cues icon 
Based in Missouri, Diane Franklin is a longtime contributor to Credit Union Management.