5 minutes
At Sandia Laboratory FCU, the aim is to make diversity the norm.
When your credit union has 12 branches spread across New Mexico—a state that is culturally and ethnically diverse—and another in California serving a completely different population, diversity, equity and inclusion must become the norm.
In New Mexico, Sandia Laboratory Federal Credit Union has branches in the Albuquerque area, which has a population that is more that 50% Hispanic, and the Farmington area, which has a Native American population of nearly 43%. In Livermore, California, SLFCU serves a community with an Asian American population of more than 13%.
Many of the communities where SLFCU provides financial services are traditionally underserved. For example, a major national bank pulled up stakes in Farmington.
Add these factors together, and you recognize how important it is to embrace DEI in delivering services and products.
That is why I was promoted to the newly created position of SLFCU's chief diversity and impact officer in October 2022. The new executive management of our credit union and our board recognized the need to focus on growing and retaining diverse, talented staff who can effectively serve our diverse membership, including those who joined SLFCU through our 2022 merger with Animas Credit Union in Farmington.
SLFCU has done a good job of fostering DEI, and I am committed to doing even better. My goal is to make our credit union the best place and top choice to work for qualified employees in each community we serve. I want to demonstrate the ROI of effective DEI through a turnover rate that is below the industry benchmark and make it easier to recruit, grow and retain key employees.
I also want to focus on building a strong, inclusive culture of respect among our members, vendors, partners and the communities where our branches are located.
I have been with SLFCU since 2014, previously serving as SVP/organizational effectiveness. Before that, I had a successful career as HR director for Sandia National Laboratories, where I oversaw staffing, workforce planning, corporate training and development, employee and labor relations, Equal Employment Opportunity/Affirmative Action, and diversity. I also directed SNL's human capital Strategies program.
Over the years, I've developed a passion for developing and promoting diversity and inclusivity and being open and approachable, always with the goals of maximizing employee growth and retention while productively engaging existing and new communities. I'm excited to bring this passion to my new position.
Internal Road Map
Some DEI professionals use a "balanced scorecard" approach to track outcomes against goals. I'm building a two-part road map to improve SLFCU's DEI—an internal one, and an external one.
The road map identifies where we are now and what is working, plus where we want to be and how we can get there. Initially, my colleagues on SLFCU's executive team and I are generating a lot of conversations and doing a lot of listening.
Internally, we are looking at our recruitment, training and communications processes to determine what is working well and how we can better support our current and future employees. It encourages me that our new executive team includes professionals who are new to New Mexico and bring fresh perspectives to the credit union, while our longer-term executives are steeped in the nuances of New Mexico and Livermore.
Because the available workforce in New Mexico can be somewhat limited, I'm hoping our DEI focus will enable us to recruit individuals for key positions regionally or even nationally going forward.
Internally, we are asking employees if they feel we are truly receptive to listening to their feedback and ideas. We are making sure their concerns and/or complaints are handled fairly and respectfully. We are also confirming whether we are recognizing the needs and concerns of various employee groups—not only based on their ethnicity but also on how they self-identify.
External Road Map
Externally, we are looking at our vendors and partners because our goal is to be the economic engine that moves our members and communities forward. We are having conversations to determine whether we are creating access to capital and financial services that are right for each community. We also want to make sure we are working with a diverse group of vendors who not only provide up-to-date, competitive products and services but who also share our commitment to the locations we serve. 
Finally, we are exploring ways to serve our members better. We recognize it's vitally important to have physical locations as well as provide online financial services. We want to make sure our branches are welcoming. We are looking at to what extent we need to provide services and assistance in multiple languages such as Spanish and Diné (Navajo).
New Mexico is mainly comprised of small and medium-sized businesses. We want to make sure our products meet their needs to help them grow and prosper, so in turn they can help their own communities grow and prosper.
We know we must measure our progress. We will look at success through a DEI lens in terms of our employee engagements, our members' experiences with us, our financial results and our operational effectiveness.  
My goal is not to apply a DEI formula to specific departments, areas or functions of SLFCU, but to embed it in every single aspect of our credit union.  
As a recent example, we created a business-card-sized "Vision 2035" handout for employees that outlines our strategy, values and key performance indicators. It serves as a handy reminder to guide every conversation and every interaction within the credit union and with our members, partners, and vendors.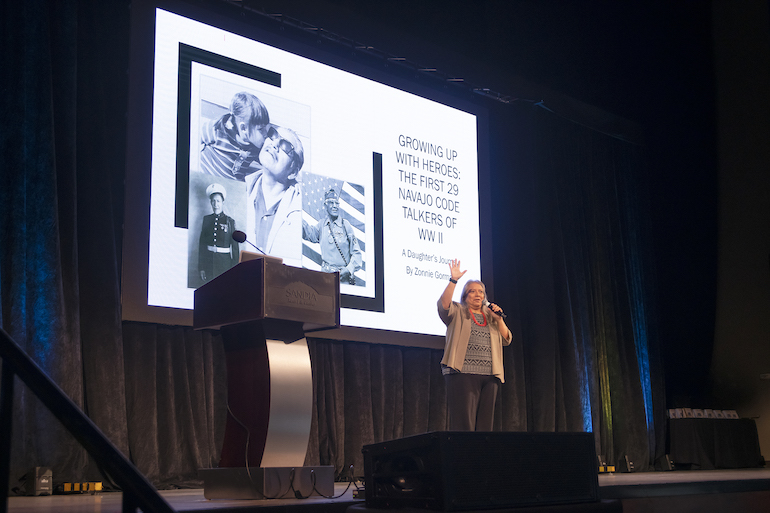 Vision 2035 was shared at an all-employee meeting and celebration on Indigenous Peoples' Day last October. Zonnie Gorman, the foremost expert in the contribution of the Marine Navajo Code Talkers during World War II, gave an inspirational keynote address at the event.
At SLFCU, we know we will be stronger, more resilient, and more successful when every member of our staff, every member we serve and every community where we reside and serve are recognized and respected.
Barbara "BJ" Jones is chief diversity and impact officer of Sandia Laboratory Federal Credit Union, Albuquerque. She joined the credit union in 2014 after a successful career in human resources, organizational development and project management with Sandia National Laboratories. She is a graduate of Stanford University with a Master of Business Administration and a Bachelor of Science in medical microbiology. Jones has volunteered for and served on the boards of numerous business, nonprofit and charitable organizations and was honored with a New Mexico Distinguished Public Service Award in 2008.
Attend a Related Learning Event
Over the course of 3.5 months, 4 course, and 2 live-taught sessions, Diversity, Equity, and Inclusion Cornell Certificate Program will balance academic research regarding employee engagement and identifying interventions surrounding unconscious bias with practical, specific, diversity and inclusion strategies.

The program runs March 15-June 20, 2023.
Register now!