4 minutes
Even while leveraging AI, contests and partnerships, LAFCU hasn't forgotten how it started or who it serves.
The path to successful marketing lies in understanding your identity and the people you serve. $1 billion LAFCU, Lansing, Michigan, has earned national recognition for its ability to discern this. Yet the trust the credit union has built within its community is far greater than any kudos given by industry peers, setting it apart from the competition.
Stay True to Your Mission
"Identifying marketing trends and expanding technologies is important, as they offer fresh insights into changing member behaviors and desires," says CUES member Kelli Ellsworth Etchison, LAFCU's CMO and chief diversity officer. "However, remaining authentic is crucial amidst technology adoption. By staying true to yourself, you can positively impact others while adapting to new possibilities."
This deep understanding lies at the heart of the credit union's marketing. "We were founded by a group of automakers in 1936," reflects Ellsworth Etchison. "Our roots are deeply blue-collar, and much of our membership remains middle-class. Knowing who created LAFCU and recognizing whom we serve means we can market products and services that address our members' needs. Conversely, trying to be everything to everybody can be counterproductive and hurt your brand."
While LAFCU employs traditional marketing tactics such as radio, TV, outdoor, social media and other digital marketing channels, its primary focus is relationship marketing. "We strive to connect with our members personally, understanding their identities and meeting them where they are," Ellsworth Etchison says. "This may include offering an online financial education course for adults or a financial reality fair for high schoolers, but the key is understanding each person's unique financial journey.
"While the larger banks focus on wealth management, we stress financial literacy and helping the unbanked," she adds. "Knowing who we are and what defines us (our first loan was to buy a cow) and prioritizing member needs has been integral to our success."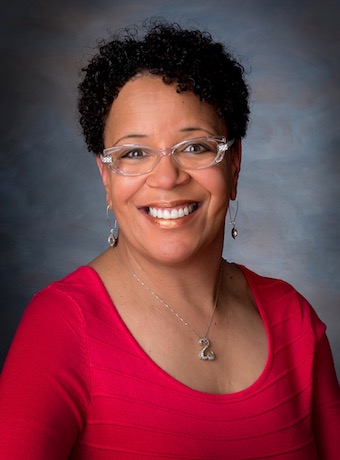 Chief Marketing Officer/Chief Diversity Officer
By staying true to yourself, you can positively impact others while adapting to new possibilities.
Community Partnerships Make a Difference
In 2021, LAFCU established a unique ATM partnership with Lansing-based Quality Dairy, a convenience store chain serving lower socioeconomic areas. Both organizations originated in 1936 with a common "cow" history, and their "Spot the Savings" ATM campaign was born from these origins.
"Three in-store events drove participation and promoted the newly available ATMs," says Ellsworth Etchison. "We marketed the promotion via live radio remotes, a ribbon-cutting ceremony, digital billboards, social media posts, ATM-generated coupons and e-blasts. News releases were also distributed to media, elected officials and chambers of commerce."
The partnership has achieved unprecedented success by uniting two of the area's most well-known brands and nearly tripling LAFCU's ATM footprint to 74. More people have financial access, with added convenience for members and Quality Dairy customers.
Service Remains Top of Mind
LAFCU conducts initiatives to meet members on their financial journeys as part of its mission. From interactive financial reality fairs in local high schools to a comprehensive, 8-month personal financial course, "Pathway to Financial Transformation," the credit union empowers members and non-members through free financial education. Participants can recognize financial behaviors and patterns and actively improve their financial standing.
Recent Pathway graduates shared the impact of their newfound knowledge during graduation: They saw credit rating boosts, successful debt repayment, and the establishment of savings accounts while overall feeling more financially secure.
"The most rewarding aspect is witnessing those lightbulb moments when participants realize the significance of certain financial decisions and the advantages of saving for a rainy day," says Ellsworth Etchison.
Promotions Energize Members
LAFCU also uses contests to create financial awareness and help members manage unexpected expenses. "Many lack deep pockets and may not always have funds when the unexpected happens," notes Ellsworth Etchison. "The rationale in contest development is understanding that we're in a position to transform our members' lives financially."
For example, a tax refund contest encouraged members to deposit IRS tax refunds directly into their LAFCU accounts, at which point they would be entered into a random drawing. Ellsworth Etchison explains that because a tax refund is a lump sum, it can feel like winning the lottery to some. "Ideally, the money should be used to build a rainy-day fund or pay a big-ticket bill. Our top winner was awarded $2,000 and used the money to pay down debt."
Another member, who won a contest celebrating the grand re-opening of LAFCU's renovated headquarters in spring 2023, "donated funds to their favorite animal rescue charity," says Ellsworth Etchison. "Both [contests] validated the premise that our members could use a little boost."
Understanding that members work hard for their money, LAFCU also launched an aggressive 5.0% APR CD initiative in 2023. Utilizing social media and digital marketing tools from mid-December 2022 through January 31, 2023, the credit union was able to surpass its annual deposit goal by 3% in just six weeks. Ellsworth Etchison believes the promotion resonated because of specific financial goals members are trying to achieve, such as saving for a down payment on a home, funding education, retirement or any other long-term expense. A higher CD interest rate helps them reach these goals faster.
Stay Human in a Digital World
LAFCU remains committed to the human component of member service, even as artificial intelligence and related technology evolves. The credit union is currently preparing to softly launch a new chat product named "Cole," named after one of LAFCU's founding members. Cole is an AI-powered service tool designed to provide members with an interactive and convenient way to ask questions and receive information related to their banking and financial needs.
The key, notes Ellsworth Etchison, is to preserve empathy and personality while leveraging AI, keeping a human-like element in these interactions. As the tools evolve, LAFCU's commitment to authentic engagement, community partnerships, personal growth and member empowerment remains. cues icon
Owner of Fab Prose & Professional Writing, Stephanie Schwenn Sebring assists credit unions, industry suppliers and any company wanting great content and a clear brand voice. Follow her on Twitter @fabprose.