17 minutes
Five CEOs tell the story of their climb to the top.
Each person who becomes CEO has a story to tell … of succession planning, of learning, of building relationships with colleagues and board members—even a twist or turn along the way. We talked with four about the pathway that led them to the top job at their credit union. 
Succession With a Twist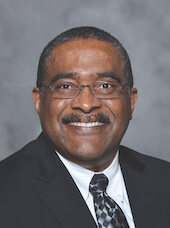 Kent Lugrand, President/CEO 
$1 billion​​​​​​ ​InTouch Credit Union
Plano Texas
Timeline
President/CEO, InTouch CU, February 2005 to present 
EVP, Addition Financial CU, January 2002 to February 2005 
INOVA Federal, CFO, August 1992 to February 2002 
Pathway to CEO
InTouch CU CEO Kent Lugrand has been on both sides of the succession planning arc. In 2002, he joined Addition Financial Credit Union, Lake Mary, Florida, as EVP, a newly created position. He served under then-CEO Joseph Melbourne Jr., who he considers a pioneer in succession planning. 
"I had the opportunity to serve as the EVP under Joe for a three-year period, which gave me a chance to get to know the board and the intricacies of the CEO position," reflects Lugrand, a CUES member. "While I wasn't guaranteed the future CEO position, the EVP position was the first piece in the credit union's newly formed CEO succession plan." 
But things changed. "Approaching retirement age, Joe decided he wasn't ready to retire," Lugrand says. "Despite Joe being one of my most trusted mentors—and with his blessing—I applied for the position of CEO at InTouch Credit Union."
After landing the job, Lugrand's first priority was to create a succession plan. At this juncture, he fully understood how impactful the views and skills of the board could impact a credit union's approach. "Our board at the time was comprised of mainly EDS employees … and most board members couldn't relate to not having numerous backups for a particular role" as is commonplace in such a large organization, he explains. "My goal was to explain the nuances of smaller credit union operations and formulate a plan—not only for my role but the entire C-suite, so there would always be an able person ready to step into a critical position."
Today, a cross-trained, self-directed group in the C-suite is the backbone of InTouch CU's succession plan. 
"As a credit union, we must operate in perpetuity, recognizing that we're stewards in the process until the next person comes along," says Lugrand. "Think of it as a chess game, preparing for and anticipating the next several moves ahead on the chessboard, knowing that all the pieces can move in various ways. Create a structure so that when the environment shifts, the credit union has a plan that allows for success."
As a CU, we must operate in perpetuity, recognizing that we're stewards in the process until the next person comes along.
Relevant Insight
Delegate as much as possible. "Cross-train your senior leaders; make sure they understand the responsibilities of various positions, the scope of each position and what is important for that role," advises Lugrand. "Discover the value metrics of each position and strive to maintain those metrics."
Provide staff with the tools they need for success—education, experiences and a safe environment in which to take risks. "Let your C-suite temporarily exchange responsibilities periodically—have them learn about cybersecurity, HR, marketing, lending and risk management," he adds. 
Identify the rising stars in your organization. Lugrand suggests finding out who in the organization has interest in being a CEO role. Then ensure those people have opportunities to learn. "Find that cool customer who works well under adversity," he says. "Recognize gaps in their experience and provide what they need to close these gaps."
Remember that everyone is learning, and employees should have the chance to fail. "Give them enough rope to be successful yet feel protected because freedom can cause anxiety," Lugrand continues. "Embrace cross-training, group discussions and collaboration. Nurture internal CEO candidates (and [candidates] for any C-suite position); however, be careful not to create a competitive environment at the expense of teamwork."
Create a succession plan for every AVP position and above. "Have your managers do this for their own teams," adds Lugrand, "and be confident that no matter what happens, your credit union won't skip a beat."
Succeeding With Heart
Tansley Stearns, CME, CSE, President/CEO
$1.5 billion Community Financial Credit Union
Plymouth, Michigan
Timeline 
President/CEO, Community Financial CU, June 2022 to present
COO, Canvas Credit Union, January 2022 to June 2022
Chief People/Strategy Officer, Canvas Credit Union, August 2018 to January 2002
Chief Marketing/Strategy Officer, Public Services CU, March 2018 to August 2018
Chief Impact Officer, Filene Research Institute, February 2014 to March 2018
Director of Innovation/Applied Research, Filene Research Institute, October 2012 to February 2014
AVP/Corporate Strategy/Government Relations, Bethpage Federal Credit Union, October 2011 to October 2012 
VP/Sales/Service, Connex Credit Union, October 2007 to November 2011
VP/Sales/Service (last title), BestSource Credit Union, September 1998 to September 2007
Pathway to CEO 
CUES member Tansley Stearns has always believed in putting people first. Celebrating her first anniversary as CEO of Community Financial CU in Plymouth, Michigan, in June, Stearns says her views on succession planning have been shaped by her experiences of transforming credit unions from the inside out and shaping them from the outside in. As a credit union and industry executive, her desire for greatness for herself and those around her has fueled the most impossible of dreams. 
"I've been lucky enough to meet some brilliant and incredible people on my journey," Stearns says. "Bringing out the best in them has always been something that matters deeply to me. I am just one person, and by focusing on developing our collective leadership, we create connections between our work and magnify the impact we can make." 
Before Tansley joined Community Financial CU as CEO, she served as COO at $3.8 billion Canvas Credit Union, where she led her teams with a bright fire and quest for excellence, amplifying the credit union's ability to change lives and working with the entire leadership team toward its largest phase of growth in its 84-year history. And that's no surprise, after playing a pivotal role as the Filene Research Institute's chief impact officer, where she spent much of her time inside credit unions ensuring they engaged with world-class, action-ready research and working hand in hand with them to advance their strategies and succession plans. 
"Throughout my tenure in our movement, I have experienced inspired and innovative learning organizations," Stearns reflects. "I was fortunate to have people in front of me committed to growing those across the organization. Succession is so much more than a commitment to finding a CEO replacement. It truly cascades throughout. While succession often defaults to the prescribed plan for emergencies, a true succession strategy inspires a mindset of leadership and learning for all—and demands that leaders surround themselves with exceptional humans."
Tansley Stearns, CME, CSE
Community Financial Credit Union
While succession often defaults to the prescribed plan for emergencies, a true succession strategy inspires a mindset of leadership and learning for all—and demands that leaders surround themselves with exceptional humans.
Relevant Insight 
Bring your heart. According to Stearns, there's no replacement for the genuine care and feeding of those on your team. Succession planning isn't just about putting people into slots. "It's about understanding what motivates them and what's in their hearts and dreams and walking with them toward those inspired outcomes."
Feed their brains. When Stearns first came to CFCU, it was apparent that the CU's teams were hungry to learn. "We regularly bring in speakers, seek outside stimulation and challenge what we know to be true," she says. "We must commit to lifelong learning in a world that is moving this quickly."
Always be stretching. Giving teammates new projects and new responsibilities helps identify untapped talent and capabilities, too. "Along the way, I regularly check in to ensure they have what they need and what roadblocks I might remove," she explains.
Make time to connect. Stearns ensures that leadership team members intentionally spend time together to build their relationships. This helps build trust and means that when it comes time to have those difficult conversations and have healthy debates, team members can be vulnerable with one another and come out of difficult times even stronger.
Consider complementary skill sets. As you envision a succession plan and a team, it is not about one individual but how a group of individuals comes together to maximize positive impact, Stearns says. Understanding the unique strengths and opportunities and how those complement one another can ensure succession thrives well into the future.
Lift up and acknowledge rock stars. One of CFCU's values is "huzzah." "We commit to celebrating successes," Stearns details. "If someone is overachieving, I quickly acknowledge it and lift it for others to see. They serve as examples of what success looks like at CFCU. I've found that incredibly important as we work to shape the culture for greatness here."
Value differences. "When I came to CFCU, we played a much quieter melody, and I needed to turn up the volume and round out our talented leadership team with different skill sets and approaches. All the players are even stronger today as we perform, with a leadership charter keeping us unified.
Put succession in action before anything officially changes. "When my leadership team is out of the office, we practice succession planning. When I take a vacation, I appoint a successor to my role that day," Stearns says. "The same is true for our entire leadership team. We often rotate among our direct reports to give everyone a sense of what that feels like."
Ask: "What do you need from me?" Stearns says she ends every conversation with her team members with this question. "I need to know what people need to feel supported," she says. "It builds trust between one another and in groups. It expresses very clearly what leadership looks like at CFCU. We are humans in service to one another."
 

Building Up to a Successful Handoff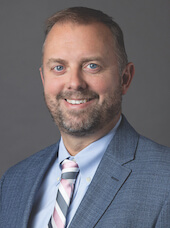 Matt Jernigan, President/CEO
$4 billion Ascend Federal Credit Union
Tullahoma, Tennessee
Timeline
President/CEO, Ascend FCU, April 2023 to present
EVP, Ascend FCU, 2017 to March 2023
SVP/COO, Ascend FCU, 2014 to 2017
VP/operations, Ascend FCU, 2009 to 2014
Internal auditor, Ascend FCU, 2005 to 2009
Pathway to CEO
Caren Gabriel, the former CEO of Ascend Federal Credit Union, says she was fortunate to be part of the succession planning process early in her venerable career. Her journey started as a staff attorney in 1985. She transitioned to EVP in 1989 and ultimately served as CEO for 19 years. 
"After my appointment to CEO in 2004, we brought the auditing function in-house, which served as a precursor to developing a formal succession plan," she explains. "Matt (Jernigan), one of my first hires, came on board as an auditor in 2005. Our goal with the plan was to minimize organizational risk and develop a strong talent pipeline."
Formulating the succession plan began with internal evaluations and identifying emerging leaders in each department. It also included a SWOT analysis, with senior leaders reviewing and revising the plan annually. 
"We wanted to create a formal path aspiring candidates could follow," notes Gabriel. "Specifics we evaluated were strategic thinking, professionalism, problem-solving and interests. 
"When Matt (Jernigan) transitioned to COO in 2014, we knew he was special and could be a serious contender for CEO," she continues. "Here, he gained added responsibility and knowledge while interacting more with the board. As part of his path, Matt also graduated from the CEO Connect Executive Learning Program (at Lipscomb University) in 2018."
As time progressed—and the CEO selection process became official—the credit union hired consultant C. Alan Peppers, founder of CAP Advisory Services (capadvisor.net), in September 2020. 
"We didn't want to be tied to an outside search, but we did want the consultant to provide a 360-degree-overview of operations, to evaluate strengths and weaknesses, and work with potential candidates."
This review process proved highly valuable. "Several executives were in consideration, and all of us went through leadership training to assist with our preparation," says Jernigan, a CUES member. "It was extremely beneficial for the entire team in preparation for the future."
Relevant Insight
Take time with your succession plan and for a CEO search. It might be an 18- to 24-month process. Also, have an external consultant provide evaluations and identify potential internal and external candidates—and areas they can bolster their experience. 
"By conducting a thorough evaluation of internal and external candidates, we instilled confidence throughout the organization," Gabriel adds. "The process was thorough and fair and completely transparent. There were no hiccups when I departed, enhanced by staff and public communications."
Take care with announcements about the handoff. In January of 2023, Gabriel and Jernigan announced the decision jointly to the senior leadership team. Several communications were prepared with managers directly informing their staff. Following the staff announcement, the credit union released a public statement to the media and shared the news with the membership. Gabriel and Jernigan also made a list of people to call personally as a warm hand-off before any public announcement.
As time progressed, Gabriel began to attend fewer meetings and voice fewer opinions. She reflects that it was a little awkward during this period but a natural part of the process. "However, I was extremely pleased to know my successor was ready to take the reins and that our cultural strength and strategic goals would continue without interruption. It can be hard to see something you've led handed over to someone else, but the plan is critical to organizational success."  
Make business continuity the goal of succession planning. Today, Ascend FCU's succession plan encompasses all levels of the organization. 
Help high potentials get to know board members and the work of governance. "Part of the plan includes keeping the board apprised of emerging talent and getting them in front of the board regularly," explains Jernigan. "Managers attend board meetings to present on various topics so the board can see the person differently."
Ascend Federal Credit Union
Employees are encouraged to attend other conferences and vendor meetings for insight into new areas of the organization. This career development boosts morale and improves member service, but also creates a pathway for new people to enter positions as opportunities arise.
Senior staff also rotate attending Credit Union National Association's Governmental Affairs Conference, which allows them to spend one-on-one time with the board. "Employees are encouraged to attend other conferences and vendor meetings for insight into new areas of the organization," Jernigan continues. "This career development boosts morale and improves member service, but also creates a pathway for new people to enter positions as opportunities arise."
This transparency with the board, senior leaders and the entire team has created a collaborative, trusting environment essential to succession planning. It also assists the board in fulfilling their fiduciary responsibility—protecting member assets and lessening the risk to the organization.
A Formal Succession Plan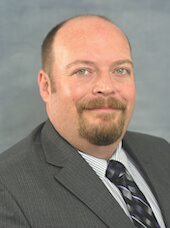 Michael Lebanowski, President/CEO
$146 million Coastline Federal Credit Union
Jacksonville, Florida
Timeline
President/CEO, Coastline FCU, April 2023 to present 
Interim President/CEO, Coastline FCU, October 2022 - March 2023  
Information Technology Director, Coastline FCU, March 2020 - October 2022 
Operations Director, Coastline FCU, February 2016 - March 2020 
Accounting Manager, Coastline FCU, October 2009 - February 2016  
Pathway to CEO
Michael Lebanowski, CEO of Coastline FCU, has held many roles during his tenure, each of which helped him prepare to be CEO. His role as operations director was a turning point when his predecessor, then-CEO Donna M. Johnson, identified Lebanowski as a potential successor. "In this role, I was able to touch every part of the organization and work closely with the CEO daily," explains Lebanowski. 
"We had a tremendous working relationship; I participated in all meetings, reviewed all operations, and it was during this step that we identified areas I needed to strengthen if my expertise was to align with the responsibilities of CEO," Lebanowski notes. "I needed to gain experience on the lending side, which led me to spend significant one-on-one training with the CEO. Here I learned more about lending practices and financial analysis, ensuring I had the tools to take on a broader role. We had numerous conversations, and it was up to me to ask questions, take the initiative, and get more training and expertise—which I did." 
Relevant Insight
Effecting a solid succession plan is a process, reflects Lebanowski. "We're currently working on a written plan for all C-suite positions, starting with a SWOT (strengths, weaknesses, opportunities, and threats) analysis, identifying potential opportunities throughout the organization. This exercise has helped us as a team while strengthening our collaborative practices. We've pinpointed weaknesses in our talent pipeline and what we need to do to prepare our team for future positions."
Coastline Federal Credit Union
This [SWOT] exercise has helped us as a team while strengthening our collaborative practices. We've pinpointed weaknesses in our talent pipeline and what we need to do to prepare our team for future positions.
There have also been unexpected advantages, notably the transparency succession planning offers the staff and board. Lebanowski explains that employees understand what will happen—and feel confident there is a plan for the future. 
"By identifying our high-performers, we've also gained clarity and can implement training plans to develop skills for high-demand positions."
Coastline FCU aims to have a full succession plan in place by 2024. 
"It's a priority for us—and it should be a priority for all organizations," Lebanowski says. "It reduces organizational risk, fosters a channel of up-and-coming employees, boosts morale and strengthens your position with auditors and the NCUA (National Credit Union Administration)." (See NCUA's succession planning rule.) 
'Stepped' Succession Strategy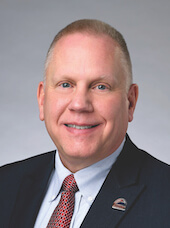 Kevin Brauer, President/CEO
$4.6 billion Affinity Federal Credit Union
Basking Ridge, New Jersey
Timeline
President/CEO Affinity FCU, January 2023 to present
Chief Administration and Financial Officer, 2018-December 2022
CFO, Affinity FCU, 2015-2018
Pathway to CEO
For Affinity FCU, having a formal succession plan has long been a priority. It began when former CEO John Fenton and the board prepared a plan for the C-suite. Having been the CEO for 27 years, Fenton realized a thorough, thoughtful method for succession—one that was transparent to staff and board—would be vital in supporting the credit union's value proposition and cultural strengths.
Fenton hired Kevin Brauer in 2015 as CFO. In this role, Brauer learned about every area of the credit union and, working under Fenton, gain insight into the many aspects of the top leadership role while increasing his responsibilities to assume the chief administration and financial officer role in 2018. Brauer was also instrumental in developing the credit union's succession plan through his oversight of the people and culture functions of the organization.
Driving the credit union's value proposition to members, Brauer excelled in this role for seven years, working closely with Fenton but also the board, senior leaders and various teams across the credit union. It also reaffirmed Fenton's belief that Brauer could assist in building on the organization's success.
Throughout the process, Brauer worked with existing team members to identify developmental needs for the credit union, which meant analyzing current critical positions and roles needed for future success. "We wanted to be positioned for success and assure the team that there were opportunities for them," says Brauer, a CUES member.
The process helped not only Brauer but also the entire leadership team. "We pinpointed the people integral to current operations—and outlined new positions that would help us thrive in the future," Brauer explains. And as Fenton neared retirement, Brauer was ready to transition smoothly into the role of president/CEO in January 2023.
Affinity Federal Credit Union
Employees feel valued, knowing they have a formal career path here, and we believe it supports lower attrition levels. ... We've also nurtured a psychologically safe culture, where we value the diversity of thought among all employees.
Relevant Insight
Consider "stepped" succession. The credit union has had a long-established succession plan for C-level roles, and in 2018, moved that plan down a level to encompass senior vice presidents. And this year, it is on track to execute the program at the manager level. Piloting pieces of the program and then taking the next steps to create career pathways for people deeper and deeper into the organization has real value, according to Brauer.
"We've gained buy-in from the entire organization, and everyone involved learned the value of succession planning and employee development," Brauer adds. "The stepped succession formula has also allowed us to test, learn and adjust so that it's a natural part of our core process."
Pay attention to succession planning details. "These include identifying metrics for success, essential leadership roles and departments, and tailoring learning opportunities to make leaders stronger and more adept as we grow," Brauer says, including how many ready now successors a role has, how many ready soon successors a role has, how many roles were filled internally, how many caretakers do we have for each role and how many employees have true development plans.
 
Metrics matter. Gathering staffing data can help your credit union see how it's doing with succession planning. For example, Affinity FCU knew it was doing something right because it experienced much lower turnover rates during The Great Resignation than other organizations. The CU also looks at internal promotion rates, percentage of ready-now successors and engagement survey results.  
"Employees feel valued, knowing they have a formal career path here, and we believe it supports lower attrition levels," Brauer explains. "We do a lot as an organization to show employees they're valued, including career pathing and development opportunities, excellent benefits, recognition programs, volunteer opportunities, tuition reimbursement and more. We've also nurtured a psychologically safe culture, where we value the diversity of thought among all employees." cues icon
Owner of Fab Prose & Professional Writing, Stephanie Schwenn Sebring assists credit unions, industry suppliers and any company wanting great content and a clear brand voice. Follow her on Twitter @fabprose.