4 minutes
Inspired by CUES Emerge, this four-week program provides opportunities for staff development through innovation.
When CUES member Shannon Huot, CCM, applied for the 2021 cohort of CUES Emerge, she never imagined all she would gain. Huot is the chief experience officer at $3.1 billion Educators Credit Union, Mt. Pleasant, Wisconsin, and applied for the program after a recommendation from CUES member Linda Hoover, CEO/president of Educators CU. 
"I love to ideate, and I love meeting new people," Huot says. "I also like to take risks and see how we can create something better. So, it felt like CUES Emerge was the best of both worlds."
When the program concluded, Huot had gained connections across the U.S. and Canada, solutions on how to overcome some obstacles in the industry, an even greater appreciation for the credit union movement, and an idea to launch an internal program that would leave a permanent mark on Educators CU. 
"It really was a collaboration between me and Linda," Huot says. "One day, I was talking through what I learned at CUES Emerge, and we both thought it would be great to bring something like that back to Educators." 
This conversation further inspired the implementation of Educators Credit Union's newest program—ECU Level Up. Hoover's support was a vital part of bringing ECU Level Up to fruition. Huot notes that this program would not have been possible without Hoover's leadership, encouragement and collaboration.  
Implementing ECU Level Up
ECU Level Up is a four-week program designed to help Educators CU staff members grow their leadership skills and develop an innovative idea in a fun and engaging environment. While most of the internal programs at Educators Credit Union are geared towards managers and to those who want to become managers, ECU Level Up encourages employees who are not currently in a leadership role to apply. 
"I loved the idea of empowering credit union employees to think outside the box and challenge them to be risk-takers and problem-solvers and to work together as a united front to overcome barriers," Huot says. 
At the end of the first ECU Level Up program, which ran from Jan. 4 to Feb. 1, the 11 participants were to present their pitch to the senior management team. The sky was the limit for the pitches. The idea could have been about efficiencies, compliance, or anything else that came to mind.
"I challenged them to think about a pain point they have encountered or pain points that they often hear from colleagues and then apply that to their idea," Huot says. "I wanted them to feel empowered to come up with a solution that was different from how we've always done it."
Each week, classroom resources added on an additional layer to help participants think about an idea and build their presentation in a way that would influence the judges. Professionals in the community joined the classes and coached participants through problem-solving, branding, innovation, leadership skills and effective communication.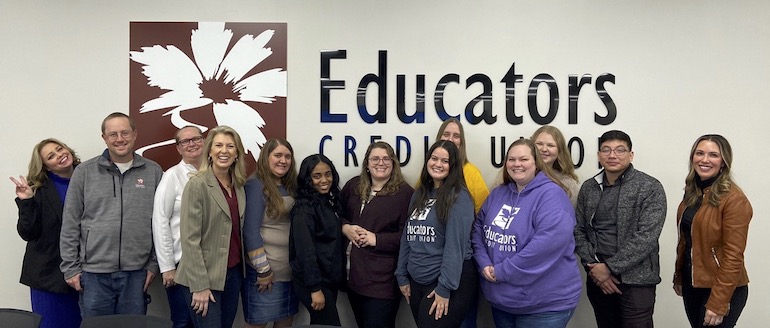 Public Speaking Presents a Problem
But there was just one problem. Many of the participants feared public speaking.
"It really was important that I helped the team learn to overcome that fear," Huot says. "I wanted them to know that they were in a safe space to ask questions, step outside their comfort zone and try new things."
Member Finance Representative Kyrie Meinen participated in ECU Level up and enjoyed the opportunity to improve her public speaking skills. 
"I got so much out of each individual session that has really helped me take my speaking skills to an entirely new level," Meinen says. "I felt my growth throughout each week."
Looking back, Huot says seeing colleagues start out a little timid but being able to confidently articulate their pitch by the end was humbling and one of the best experiences of the program. 
"I feel like in that short period of time, they really blossomed," Huot said.
ECU Level Up Winner
The winning participant of ECU Level Up 2023 was Joe Knapton, senior core systems programmer at the CU. Knapton's first-place idea was to create a fundraising management system to help with automating the process of collecting money for internal raffle baskets and donations. In addition to a trophy, Knapton's prizes were to have the idea implemented and to be able apply to participate in CUES Emerge program. Knapton is part of the 2023 CUES Emerge cohort.
"I am extremely thankful to have been selected for the program, and I really do feel like we all got a lot out of it," Knapton says. "I also very consciously applied what I learned during the sessions to make my presentation as good as I could possibly make it."
Knapton's idea was ultimately chosen based on relevance and the immediate impact it would have. A project team was created to bring this winning pitch to life, and it will be implemented before fall 2023.
"Investing back into employees is monumental and will give a return back to members, back to colleagues and back to the credit union," Huot says, noting that the program is being refreshed and will be offered again. "I hope ECU Level Up encourages other credit unions, regardless of their size, resources and assets, to think about implementing a program like this."
Jimese Harkley, JD, CCE, CUDE, is VP/membership for CUES.
Learn more about CUES Emerge