5 minutes
Highlights from CEO/Executive Team Network
As I write this column, I'm just back from CEO/Executive Team Network in Amelia Island, Florida, bursting with inspiration, good intentions and story ideas to share with you, our CUES members.
We started the conference with an energizing session about teamwork with a former National Basketball Association player turned speaker, business coach and author, Walter Bond. His core message: "You're not in the financial services business; you're in the business of people."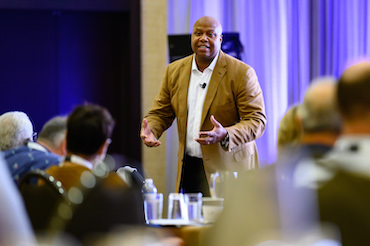 Bond also said: "If you are a great coach, players want to play for you. If you are a great coach, players want to run through a wall for you."
In the NBA, it was all about teamwork, he said. Then, "when I left [basketball] and went into business, it was all about leadership, leadership, leadership. Nobody talked about teamwork. That was baffling to me because a leader's job is to build a high-performing team."
Bond shared an example of a credit union client that he works with where the CEO knows the names of each of the CU's 400 employees, plus the names of each employee's spouse and children! "He understood he's not in the financial services business—he's in the business of people," Bond said. "Successful credit unions understand you are a training and development organization masquerading as a credit union."
At a breakout session the next day, Jennifer Stangl, director of professional development at CUES, continued the discussion about the impact that senior leaders have on talent development.
Does your credit union have a talent development strategy? she asked. "Can your staff articulate it?"
Your talent development strategy shouldn't live only in the C-suite or the HR department, she explained. It needs to be part of the entire credit union. "That is how it becomes part of your culture," she said.
It's important to have talent development discussions because your credit union will need evolving skills to meet its strategic goals. "How confident are you with your current leadership bench strength?" Stangl asked attendees. Then she asked this follow-up question: Is this your bench strength for today's needs only or does it extend what you'll need to meet your three-year strategy?     
And finally, Stangl reminded us, career development doesn't only mean vertical movement and growth. For those employees who are reluctant to have career discussion because they like their jobs as they are and they "don't want to be the CEO!" it's important to remember that all positions change as the work changes.
"The more you develop yourself broadly or cross-functionally, the better you'll be set for your evolving job. Because your job will evolve and grow just as your credit union needs to evolve and grow," she said. Learn how Stangl can help your credit union develop a talent development strategy.
Trust is an important factor in building strong teams and attendees were treated to a session with Stephen M.R. Covey, author and co-founder of CoveyLink and the FranklinCovey Speed of Trust Practice. "It is not enough to be trustworthy," he said. "That is the starting point. But we also as leaders have to be trusting.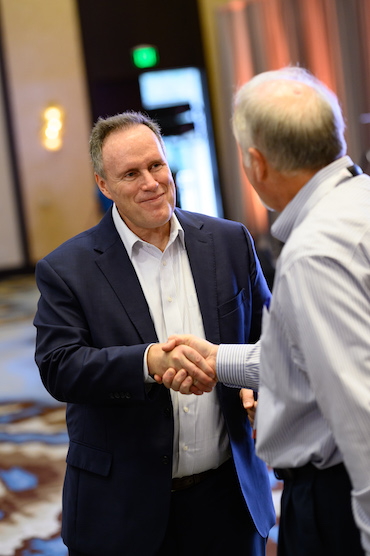 "Without trust you are not a team; you are a group of people working together. It is trust that turns a group into a team," Covey explained. "The old style of leadership was command and control, where you manage people and things. The new style of leadership is trust and inspire where you manage things and lead people."
Courage is another important trait for leaders. Courage at work is difficult because it is so often associated with career suicide, said speaker James R. Detert, associate dean of executive degree programs & leadership initiatives at the Darden Graduate School of Business Administration, University of Virginia, where CUES CEO Institute III is held. But we can practice being courageous by building a courage "ladder," he said.
"Think of the scariest thing you can imagine doing right now and put it at the top of your ladder," Detert explained. Then think of other things you are avoiding but that are not as scary and put them on lower rungs. Then start climbing from the bottom. Pick manageable tasks, he suggested. When you follow this process, "you're more likely to do it in the first place. Practice starts at the bottom, where we can develop competency."
Finally, Susanne Biro, executive coach and co-founder of Syntrina Leadership, closed the conference with a powerful message for credit union leaders. "The most important thing you will ever do is learn to think thoughts that make you feel good," she said.
"You are a CEO or executive leader making an impact in the communities in which you operate," she said. "What you do inside of yourself, you will do with others out there. If you can't acknowledge, validate and champion yourself, you can't do it with others. And it is extremely important for your work that you be able to acknowledge, validate and champion your team."
A good way to do this is to start each day by writing down all the all the inspiring, positive thoughts you want to happen. "Please don't think of this practice as Pollyanna-ish," she implored. "If you do this work, I promise it will work on you. There will always be a million and one problems, challenges and frustrations. But there will also always be a million and one things of wonder and positivity. At Syntrina, we believe in leading with love, but it has to start with the love we give ourselves."
Next year, CEO/Executive Team Network will be in Austin, Texas. It's not too early to sign up!
P.S. We also honored seven credit union leaders at CEO/Executive Team Network last month. Read about them here.