4 minutes
Thoughtful analysis is critical to an agile strategy and responsive member service during the pandemic.
The upended sense of normalcy caused by the COVID-19 global pandemic has generated dramatic changes in consumer spending behavior.
CU Rise Analytics conducted a member spend analysis that looked at year-over-year and month-over-month (February to March) spending changes. The analysis suggests that COVID-19 has already had significant impact on purchasing patterns.
Airline spending dropped 40% YoY and 27% MoM.
Auto rental and taxi services fell 70% YoY.
Hotel spending fell 20% YoY and 25% MoM.
Grocery spending spiked by 50% YoY and average transaction size grew 21% to $51.30 MoM.
Online retailers like Amazon saw increased spending of 24% YoY.
Online food ordering services grew 15% YoY, but spend and ticket size increased by more than 50% from February to March.
Utilities, which had no growth YoY, increased 9% MoM, possibly due to more time spent at home.
Overall MoM spend increased by 5.3%, which is expected to decline marginally over the next two weeks.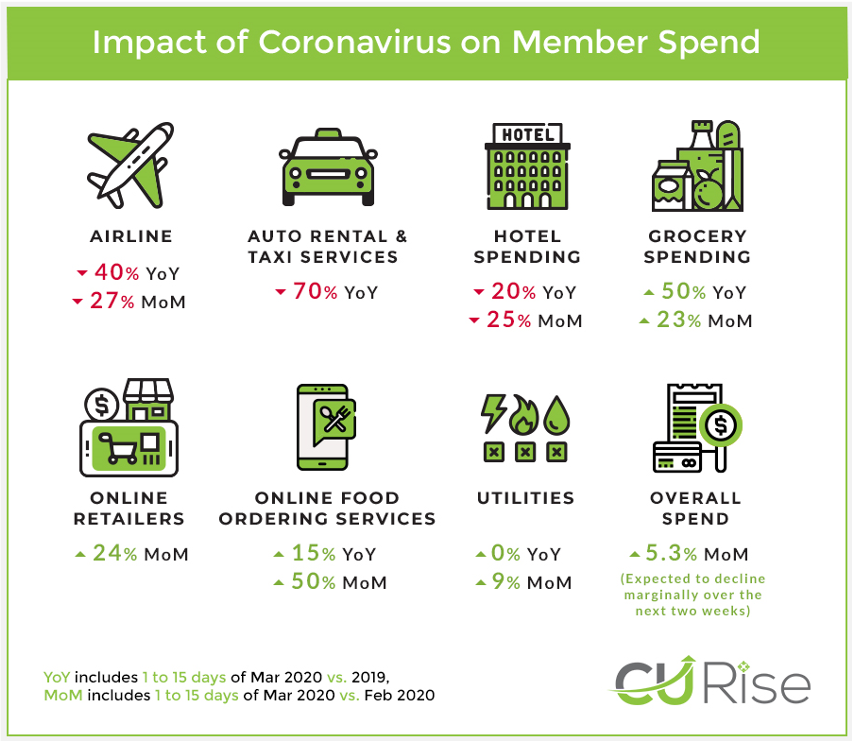 Beyond changes in spending, the revised economic outlook has created uncertainty among the American public. The warning signs of economic recession may already be showing up in credit union members' transactional data, in the form of lower incomes and tightened spending.
Though no one has a coronavirus playbook, history tells us that times of distress are often an opportunity for community-focused credit unions to shine among financial institutions.
What are the best ways for credit unions to help?
Your member data can provide the prescription for helping those in need. Data analytics offer insights into the areas of financial pain, allowing CUs to offer the right remedies for support before the situation becomes dire.
The following are just a few ways your credit union can extend a financial lifeline to struggling members.
Identify financially vulnerable members. These might be members with consistently low deposits, late payments or who have needed overdraft protection in the recent past. Consider offering "skip-a-pay" or other payment deferrals to help them conserve funds and boost confidence.
Look for downward trends in income. Certain industries, like service and travel, are being hit hard. Many states have prohibited the gathering of even small groups, forcing many service-focused businesses to temporarily close or change their mode of operation. During the historically peak spring break vacation time, travel and tourism are grinding to a halt.
Many service workers—particularly those who are paid hourly—are experiencing immediate drops in income. An analysis of deposits using ACH data can help spot members whose paychecks have decreased or stopped, and they can be offered hardship assistance.
Check for increased healthcare costs. Transactional data mining can reveal the major categories of spending at the aggregate and member level. Business intelligence tools will allow you to monitor overall behavioral trends and shifts in spending patterns from month to month. Drilling down into member-level transactional data can show which members are potentially directly impacted by the coronavirus by way of increased healthcare costs. Your credit union can then reach out to these members with such relevant offers as 0% promotional rates for medical and prescription transactions on credit cards.
Find red-flag ratios. Facing the likelihood of economic recession, credit unions can move quickly and proactively to mitigate risks in key member segments. For example, members with high debt-repayment and low deposits can be targeted with refinance offers that help to lower payments and hedge against the increased possibility of delinquency and default.
Be a source of regular, accurate and relevant communication. Though this one isn't driven by analytics, we feel it's worth mentioning. With members' mounting concerns about their financial security, credit unions can be a resource beyond account and service information. Offering educational and factual content that helps with smart financial decisions and making sense of turbulent markets can calm fears and provide a lot of value.
Mission-driven member service is always a win-win. During this constantly evolving and uncertain situation, thoughtful data analysis will be critical to a credit union's ability to recalibrate and deliver the truly responsive member service that will be remembered long after the pandemic is over.
Karan Bhalla is the CEO of CUES Supplier member CU Rise Analytics, Vienna, Virginia, a leading data analytics CUSO. CU Rise's team of skilled data scientists helps credit unions employ predictive models, business intelligence, and custom analytics strategy. Learn more at www.cu-rise.com.