5 minutes
Features, vendor updates and overall value must shape your credit union's online and mobile plans.
A new decade has begun. Although there has been a clear trend toward the use of digital tools in recent years, current events are highlighting the importance of a strong digital strategy. However, some credit unions may be struggling with how to improve their digital footprint and how much to invest in this time of turmoil.
Why Digital?
This may be stating the obvious, a robust digital strategy has become absolutely crucial for financial institutions in 2020. First and foremost, members like being able to access their accounts from anywhere and do basic financial tasks—pay bills, deposit checks, transfer funds, set alerts, etc. And today, with many members (and branch staff) hunkering down at home to avoid COVID-19 exposure, this growing member preference has become a universal need.
Digital banking is comprised of "mobile banking" and "online banking," although the terms "digital", "mobile" and "online" are often intermixed. Traditional "online banking" has been thought of as full access to the credit union's entire website and self-service tools using a PC, tablet or a laptop.  "Mobile banking" is typically used to describe functionality that can be easily accessed through a smartphone app or mobile website. These digital offerings are quickly merging, but in general, mobile banking is the newer of the technologies, and due to such limitations as screen size, it is generally limited to a few services—viewing account activity, mobile deposit, transferring funds, etc.
There are plenty of industry statistics available on growth trends, but perhaps the biggest reason your credit union should sit up and take notice of mobile banking in particular are the loyalty numbers associated with a satisfied mobile member. According to a recent survey of industry sources conducted by Remedy Consulting, a satisfied digital customer is reportedly worth between $50-$250 in additional credit union revenue per member per year.  
Admittedly, $50-$250 per member is a wide range, so you will need to make you own judgment on the value of a mobile member. We can tell you that those revenue estimates are centered around the fact that satisfied members purchase a wider variety of products from their credit union with less sensitivity to rates and fees. A satisfied digital member (a member who both enrolls and becomes a regular user of those tools) is also less likely to leave the credit union for another financial institution. It's also good to note that the largest financial institutions claim mobile adoption rates of just over 50% on average, according to statistics from data analytics provider FI Navigator, while their smaller counterparts are currently between 21-31% adoption on average.
So, let's look at the math. We can narrow that $50-$250-per-member estimate to a conservative value of $75 per mobile member. Leveraging our vendor management experience, we can also estimate that a credit union will spend $34-36 per member/year on software and support from its digital banking provider(s).  
Subtracting cost from value, that leaves roughly $40 net gain per year for each member that your credit union can successfully move over to mobile, or $40,000 per year for every 1,000 members that transition to using digital tools.
Easy enough math, but it's probably more important to remember that if you don't offer a decent digital experience, you may lose members to a competitor who can offer more convenient digital tools.
Whether you believe the revenue numbers associated with moving your members over to a mobile experience or not, one thing is clear: Younger users are much more likely to use mobile applications than their older counterparts. But in the recent health environment, there is a lot of motivation for older family members to migrate to remote tools as well.
Which mobile features maximize member engagement?
Let's look at some mobile application features that may be important as you choose an application provider.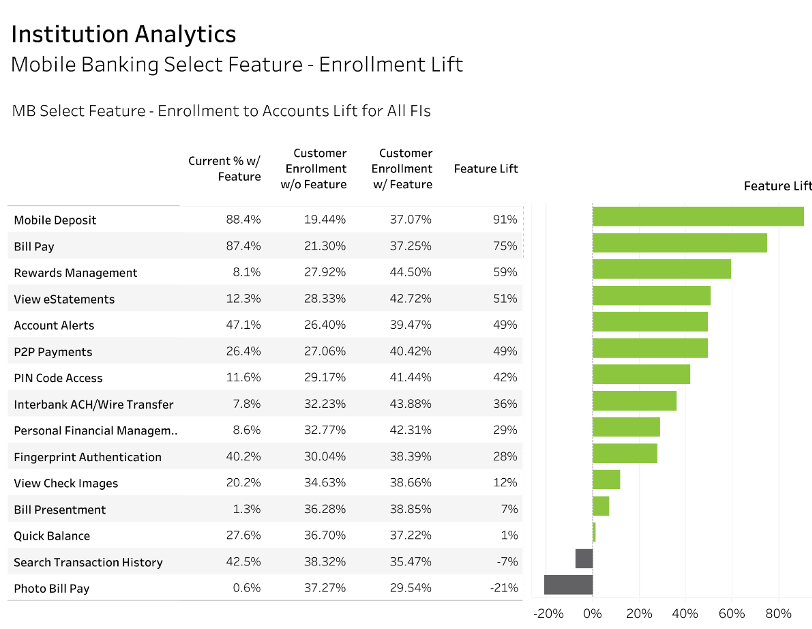 Two interesting results can be pulled from this chart. The first column shows the percentage of mobile applications on the market that include various features. Mobile deposits are offered by nearly every application provider, but bill presentment (the ability to receive and review bills digitally before paying) and wire transfers are offered by very few. As mobile applications mature, we'd expect that feature functionality will expand as well.
If your credit union is shopping for a mobile application or considering replacing your current application, the enrollment statistics in columns two and three of the above chart suggest that mobile deposit and account alerts are must-have features that drive member enrollment/engagement. Person-to-person payment is also in high demand.
As functionality is added to mobile apps, some features may require additional implementation steps for each credit union. What features are most critical for members today, when they may not be able to visit a branch for an extended period of time? Align your mobile strategy with the dates you feel your credit union and provider can implement the right feature for best results.
Some credit unions are recognizing a correlation between members' use of mobile deposits, members' satisfaction with their digital experience and having tellers train members on how to deposit a check via mobile app. This is just one example of a low-cost way your staff can help members become more digitally engaged, and it can be done remotely by proactive emails or short training videos offered on within the app or on your website.
What are you paying for?
A credit union should always ask if the application provider is the right partner to help it grow. One piece of information we recommend our clients review is how frequently providers update their code via app stores to bring new features and functionality to their credit union clients.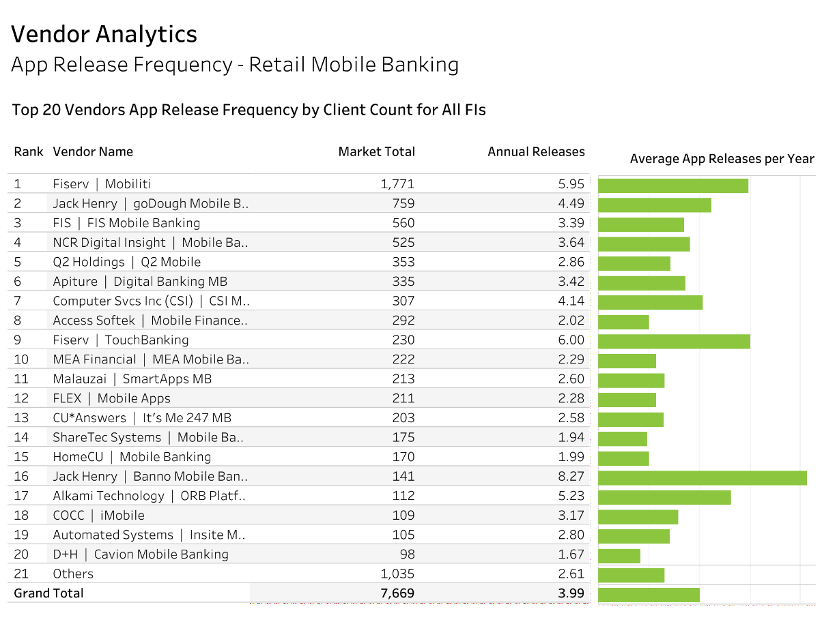 Less frequent code updates could point to a more stable application, which is a positive thing. But a less frequently maintained application more often has negative connotations—providers might be spending fewer resources than they should be on maintenance and enhancements or have less agile development processes.
In deciding on a strategic partner to provide applications for your financial institution, consider how often they update their code base, their current feature set, and also which features are on their roadmap for future upgrades. Are these the features that best align with your credit union's customer needs and the features that will best drive customers to use your products through your digital channel?
Charlie Kelly is a principal at Remedy Consulting, Northbrook, Illinois. Remedy provides advisory services in technology and contract management, digital and strategic planning. Mr. Kelly is a frequent contributor to bank and credit union trade publications and speaker at industry events. He can be reached at ckelly@remedyconsult.net or 312-270-3490.
To learn more about FI Navigator data used in this piece, visit fi-navigator.com.