4 minutes
Most credit unions saw a decrease in overall transaction volume this month, while some transaction amounts increased significantly.
During the month of April, the economic effects of the COVID-19 pandemic continued to intensify as the number of known cases rose rapidly and states increased restrictions to flatten the curve.
At the same time, the U.S. government implemented a massive stimulus plan to inject $2 trillion into the economy. Aid in the form of emergency business funding, expanded unemployment benefits and stimulus checks for most Americans have just started to filter into the system.
Based on data aggregated from credit union clients, CU Rise Analytics has analyzed member transactional behavior in this dynamic economic climate. Here's a look at how things played out during the first part of April.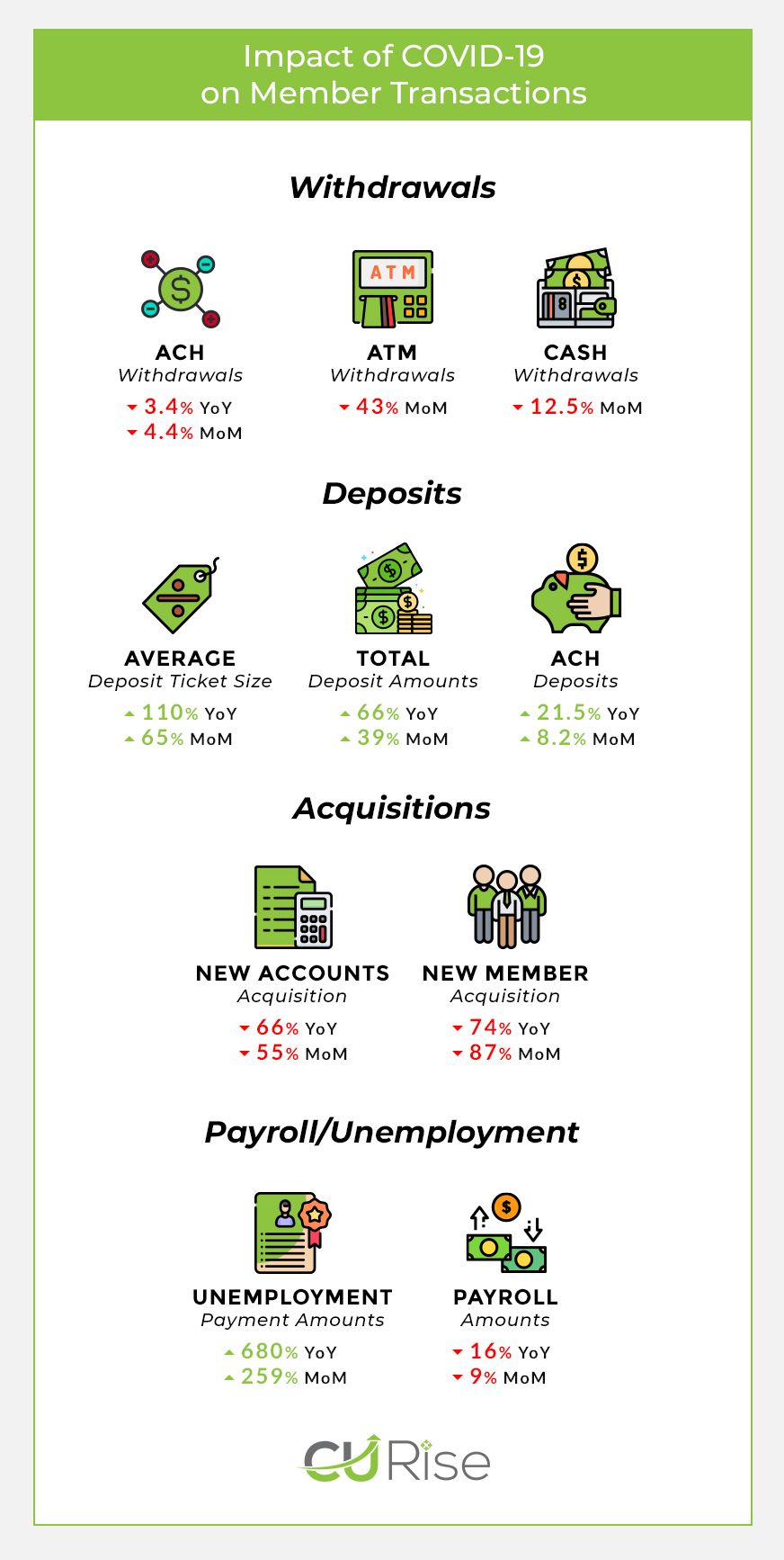 Withdrawals
Withdrawal behavior was a bit of a mixed bag. While the volume of at-location transactions decreased significantly as expected, ACH and ATM transaction amounts went up. Cash withdrawals decreased both in volume and transaction size.
The number of ACH withdrawals decreased by 3.4% year-over-year and 4.4% month-over-month. The average size of the withdrawals went up slightly, increasing 3.7% YoY and 5.3% MoM.
As members used ATMs less often, the volume of ATM withdrawals decreased significantly by almost 43% MoM, but the average amount of each transaction increased by nearly 11%.
Non-ATM cash and other withdrawals decreased in both volume and transaction size MoM, down 12.5% and 7.5% respectively.
Deposits
Surprisingly, total deposit amounts and average deposit size increased significantly in April, potentially indicating that members may be consolidating their funds to their primary institutions.
Average deposit ticket size increased by 65% MoM and 110% YoY.
Total deposit amounts increased by 39% MoM & 66% YoY.
ACH deposits increased 8.2% MoM and 21.5% YoY.
Acquisitions
At the aggregate level, both new credit union members and new accounts fell dramatically, but this wasn't a trend across the board for all credit unions. At the individual level, some credit unions saw increases in members and new accounts.
New accounts fell by 66% YoY and 55% MoM.
New member acquisition decreased by 74% YoY and 87% MoM.
Payroll/Unemployment
In this area, it is important to note that data was only available from a small sample of credit unions for the first half of the month. Within this limited data sample, significant increases in unemployment payments and decreases in payroll transactions were seen.
Unemployment payment amounts increased by 259% MoM and 680% YoY.
Payroll transaction amounts fell by 9% MoM and 16% YoY.
Recommendations
Based on our continued analysis of the situation, here are four key recommendations to help credit unions meet member needs during the current situation:
It almost goes without saying, but digitization of services is needed now more than ever. When members can't or don't feel comfortable visiting a branch, the banking experience should continue seamlessly online. As we look to the future, expect contactless payment options to become high in demand.
Continue to proactively offer education that promotes financial wellness. This might include information about unemployment eligibility and how to apply, or how to manage investments during market volatility.
The impact of COVID-19 varies widely by member. Some face devastating financial consequences, and others find their financial situation largely unchanged. The need to understand your members' individual circumstances has never been more important, so we encourage you to use data analytics to segment and reach members with relevant and pertinent information.
It's expected that the declines in acquisitions and loan and deposit balances combined with interest rate reductions will drastically lower credit unions' net interest income. But credit unions can still find opportunities in other areas of the portfolio. The strategic use of analytics can identify members who may benefit from mortgage refinances, home equity loans, auto loans or credit limit increases. And on the flip side, analytics can help to mitigate a variety of risks. As just one example, if you identify members withdrawing or transferring unusually large amounts, they may be consolidating funds at another financial institution. This presents the opportunity to remind those members of the value of their relationship with your credit union.
The financial climate during the COVID-19 public health emergency is volatile and uncertain. CU Rise will continue to watch the trends and provide credit unions with data-driven insights that enable the best decisions.
Karan Bhalla is the CEO of CUES Supplier member CU Rise Analytics, Vienna, Virginia, a leading data analytics CUSO. CU Rise's team of skilled data scientists helps credit unions employ predictive models, business intelligence and custom analytics strategy. Learn more at www.cu-rise.com.