5 minutes
Art can tell powerful stories about diversity and increase your credit union's visibility and impact. Here are some insights on choosing your project and sharing it at the right moment.
State Street, the pedestrian mall connecting the University of Wisconsin-Madison to Wisconsin's capitol, is not your average thoroughfare. It's a gathering place for protesters who have helped shape national attitudes about civil rights, gender equality and war. It's also home to a UW Credit Union branch that has taken the organization's diversity, equity and inclusion efforts to an exciting new place—with art.
The cash this branch dispenses is often spent at State Street businesses, which range from budget-friendly coffee shops to fancy clothing boutiques. But people don't just come to UW Credit Union for the ATMs or the coin counter. It's the employees they want to see.
On a typical day, our branches deliver financial services with a side of Wisconsin culture. The scent of locally roasted coffee wafts by as friendly tellers tend to members' needs, often in more than one language. Our employees earn trust by being honest and getting to know what matters to our members, whether it's a beloved pet or a favorite sports team. They're so neighborly that someone once asked if Mr. Rogers founded our 280,000-member financial institution. He didn't, though we like to think he could have.
But it's not a beautiful day in the neighborhood right now. We're living in difficult times that can feel dark, even hopeless. Silver linings exist, however: There are big opportunities for positive change if we know how to find them and are brave enough to act. Here's how UW CU has identified and leveraged a few of these opportunities.
Asking Difficult Questions
Back to our State Street story. On May 30, when protesters converged on State Street to remember George Floyd and condemn police brutality, it was eerily quiet. Local businesses could only operate at 25% capacity as the community tried to slow the spread of COVID-19, and many shoppers were afraid to venture out.
The first demonstration, led by a coalition of local nonprofits, was passionate yet peaceful. But after most of the original crowd went home, the vibe changed. Organized protest gave way to raw emotion and chaos. More than 75 State Street businesses suffered damage that night as looting and vandalism ensued. The rest of the city watched from their quarantine pods, devouring livestreams and news reports as they tried to make sense of it all.
Shops scrambled to board up their doors and windows for the nights of unrest that followed. Physically, our little branch was ready. Emotionally, things were much more complicated.
This tense moment pushed difficult questions to the surface. At UW CU, we take great pride in our core values, which include respect for all people and a commitment to acting in our members' best interests. We've also worked hard to boost cultural competency through employee resource groups and training. But are these ordinary measures enough in a world facing extraordinary problems like institutionalized racism?
Committing to Bold Actions
Before long, the National Guard arrived, and police started using tear gas on the crowds. The situation seemed more fraught than ever.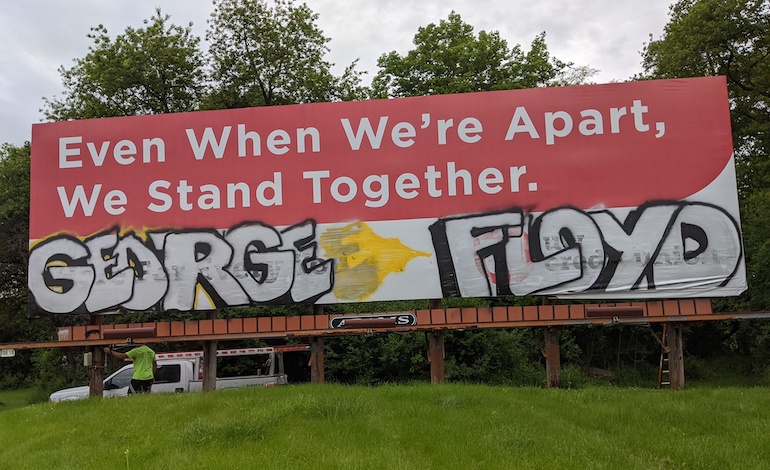 Anne Norman, UW CU's chief marketing officer, sensed that a bold public statement was in order. Recently, when a graffiti artist had painted George Floyd's name on a UW CU billboard about the pandemic, she'd decided to keep the sign up—and move it to a more prominent location in the city. Now there was an opportunity to stand up for social justice at one of the city's most recognizable branches. She and her team seized it, commissioning a mural about social justice on the branch's plywood barrier.
According to Norman, the billboard, which originally read "Even when we're apart, we stand together," seemed relevant to both racial justice and COVID-19. Her group soon settled on a similar theme for the State Street mural: unity.
"We knew some people might not agree with UW Credit Union taking a stand during the protests, but we also knew it was the right thing to do," she explains. "Saying that we respect people is wonderful, but it's not enough on its own. We need to speak up at the right moments, and our actions need to show that we truly mean what we say. Getting the tone and timing right is so important, and I think we did both with the unity mural."
Leading by Example
Choosing the right mural-maker was also essential. UW CU selected Mike Lroy, a young, Black artist known for his bold, graphic murals at coffeehouses, museums and other venues throughout southern Wisconsin. For the UW CU mural, he incorporated the organization's signature red hue with white accents, along with a fist graphic that signals solidarity.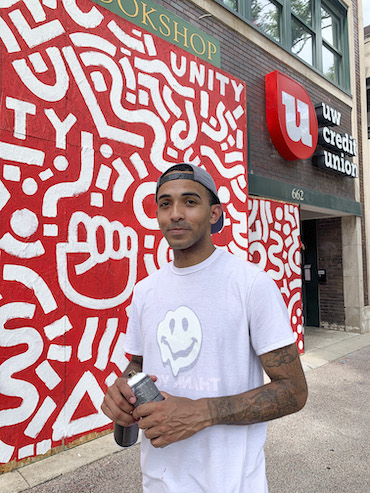 We've made sure that Lroy's design will live on beyond the State Street protests, just as our commitment to social justice will. It appears on a face mask each employee will receive in a forthcoming care package. Several groups have told us they're interested in displaying the billboard and the mural in an exhibition about Wisconsin history and the Black Lives Matters movement. Norman says UW CU is also considering other ways to preserve and share these powerful pieces.
More than anything, we hope these works of art will inspire others to become allies and speak up in support of friends, neighbors and co-workers from historically marginalized groups. We're fortunate to be able to lead by example—and to have others take notice. This experience has also challenged us to think about new ways we can use art to start conversations about diversity, equity, inclusion and social justice, not only within our own organization but with others in our community and industry.
Sheila Milton, ACC, CPC, ELI-MP, is director of diversity, equity and inclusion at UW Credit Union, Madison, Wisconsin.
Attend a related learning event
Our online Diversity, Equity, and Inclusion Cornell Certificate Program will take place February 17-April 13, 2021.
REGISTER NOW