5 minutes
Credit union development educators and high school teachers work together to promote positive changes.
While attending church one Sunday, David Mategwa, ADE, I-CUDE, board chair of Kenya National Police DT SACCO (credit union), saw a problem in his community. Students with physical disabilities from the nearby Don Bosco Special School in Likuyani were crawling on the ground due to a lack of wheelchairs.
An African Development Educator, Mategwa decided to do something about it. First, he became a benefactor of the school, donating wheelchairs and scholarship funds. And then, in 2017, he called in his international credit union network.
Fast-forward four years and the children who need wheelchairs not only have wheelchairs, but higher-quality ones. The school now has about 165 students and 18 teachers (including three student teachers), up from 57 students and seven teachers. Test scores and reading levels are also up—and students from the school are going on to secondary education much more often.
In addition, the dorms have new mattresses, and the ones that had been through years of bed-wetting have been removed. The kitchen has running water, and the dorms should have running water and flushing toilets by the time you read this. Replacing the outhouses with indoor plumbing will be great for all the students and especially for those who use wheelchairs! Jasco Foundation was the sole donor for both the kitchen and bathroom work.
In honor of International Credit Union Day 2021, here's an update on what credit union people have done for the Don Bosco Special School so far—and how you can help, if you wish.
North American Credit Union Leaders and School Teachers Go to Work
CUES member Brent Rempe, ADE, CUDE, I-CUDE, was one of 16 U.S. development educators who attended the first International Development Educator Workshop in Lake Naivasha, Kenya, offered in June 2017 by the African Confederation of Co-operative Savings and Credit Associations, the continental credit union trade association in Africa.
Rempe says he was drawn to the Don Bosco Special School project because he values equity and inclusion—"equity because Don Bosco was under-resourced (facilities, teachers, curriculum) compared to the other elementary school next door, inclusion by including students who are differently abled into a quality education."
Currently chief revenue officer for $363 million Allegiance Credit Union, Oklahoma City, Rempe has a background in education systems serving under-resourced students. His wife, Beth, is a math teacher at Mount St. Mary Catholic High School.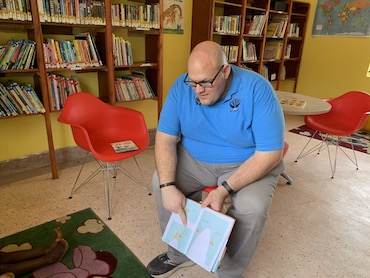 Rempe credits Mount St. Mary for enabling his first and his continuing efforts to help Don Bosco Special School. Mount St. Mary sent teachers to Kenya in 2018 to spend time with teachers and students at Don Bosco. With significant support from the credit union movement, Mount St. Mary and the African Cooperative Development Foundation completed a three-classroom addition at Don Bosco in June 2018.
A Cooperatively Built Community Center/Library, Too
With the success of the first building project, Mount St. Mary and the African Cooperative Development Foundation partnered with Connecticut-based non-profit American Friends of Kenya in 2019 to build, stock and sustain a community library at Don Bosco Special School. More than $25,000 was raised, mostly through crowdfunding. Both the CUNA Mutual and the Jasco foundations gave significant donations toward the library building.
In June 2019, Credit Union Development Educators from the U.S. and Canada joined the partners on a trip to Kenya to further upgrade the school. Together they:
painted the newly constructed library, the main building's façade, the interior of four classrooms, two residence halls and the dining hall.
sorted, catalogued and shelved more than 2,000 books.
replaced 23 beds and sheet sets in the residence halls.
handed out new uniforms for every student courtesy of $25 billion SchoolsFirst Federal Credit Union, Santa Ana, California.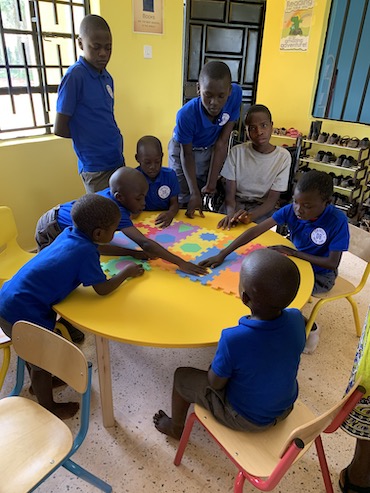 In a recent email to Credit Union Development Educators and other interested people, Lois Kitsch, I-CUDE, reported that the community center/library is now open six days a week and getting 800 to 1,000 visits each week.
"The kids love to come," wrote Kitsch, who had a long career with the National Credit Union Foundation and is a co-founder cu.difference and chairman of the African Cooperative Development Foundation. "They play games and read—and read and read.
"The exciting thing is the center is now also being frequented by adults who also want access to books," she continued. "The children are allowed to check out books but mostly prefer to read at the center. They also like to play games (though we need to increase the number available to them). Neighboring schools have library day and bring whole classes to the center at once. Those not close use the center on school holidays, many of them walking 5 kilometers or more to get there."
In addition, Kitsch detailed in her email, the community center will soon be starting to show outdoor movies using electronic equipment provided by Bo McDonald of Your Marketing Company.
"There is no place in the entire community to see a movie, and I am told this will be an appreciated new addition to the center's community activities," she wrote.
This video includes a segment about the school that starts at 2:34.
How You Can Help
According to Kitsch, there are several ways credit union people can support the Don Bosco Special School and Likuyani Community Center at present:
Sponsor a student going to secondary school. About 16 students a year will graduate from Don Bosco. So, 16 sponsors (eight for 2021 graduates and eight for 2022 graduates) are sought to cover their secondary school fees and expenses, about $400 a year for four years.
Donate used, functional laptops that can adapt to African electricity specifications (most can). You do not have to ship them to Africa!
Donate new and gently used books for all ages, including books in Swahili. Again, you do not have to ship them to Africa.
Donate new and gently used games for all ages.
Support the effort financially. The center needs about $10,000 annually, according to Kitsch, including $6,500 for the center directors' stipend and housing, supplies, maintenance and new curriculum.
To act, email Kitsch for more details.
Lisa Hochgraf is senior editor for CUES.