13 minutes
Tom Ryan's collaborative leadership style earns him recognition as CUES 2021 Outstanding Chief Executive.
When Tom Ryan, CCE, came to Langley Federal Credit Union as president/CEO in July 2012, he championed a leadership style built on collaboration and teamwork. He focused on creating a more effective organization by breaking down departmental silos and encouraging managers to take a more holistic view. As a result, the credit union, based in Newport News, Virginia, vastly improved its balance sheet and grew its assets from an already solid $1.7 billion to nearly $4 billion.
"I believe in a collaborative approach that encourages diversity of thought in building strategy, making decisions and executing our business plans," says Ryan, a CUES member whose visionary leadership has earned him the title of CUES 2021 Outstanding Chief Executive. 
Fortunately, Ryan was blessed with a strong leadership team that also saw the advantages of thinking more holistically. "Together, we have eliminated the silo mentality, giving leaders an opportunity to rotate and manage responsibilities outside of their area while maintaining their core function," he says. "My team knows I'm dedicated to investing in them, giving them opportunities, and committed to their achieving their career aspirations."
CUES member Ingo Huemer, CPA, is among the members of the executive team who has found tremendous value in Ryan's approach. "Tom believes that Langley's vision and teamwork drives Langley's success; it defines what we value and how we measure that success," says Huemer, who was VP/internal audit when Ryan arrived in 2012 and has since been elevated to SVP/CFO. "Tom brings his own leadership style to Langley by valuing engagement, decisive decision-making, inclusion of all stakeholders as well as challenging the norm and our own limits."
Huemer also admires Ryan's ability to create a positive working environment that brings the best out of Langley FCU's 600-plus employees. "Tom is eminently relatable, whether he is engaging with a teller, manager or any employee," Huemer says. "He truly wants to see people grow their career within or even outside Langley."
Langley Federal Credit Union
Whether you're an executive, a frontline employee in a branch or someone working behind the scenes in a support department, everybody is rowing in the same direction.
Improving Performance
Upon his arrival at Langley FCU nearly a decade ago, Ryan identified three strategic areas that needed immediate attention to improve the credit union's performance: the balance sheet, the credit union's governance model and the organizational culture.
In addressing the balance sheet, Ryan recognized that the 40% loan-to-share ratio, coupled with the low interest rate environment, was putting significant pressure on earnings. "On the positive side, the credit union was ripe for change and was highly capitalized, providing the opportunity to begin to change the CU's risk profile and to help more members by making loans," he recalls.
Because of the low loan-to-share ratio, Ryan's immediate concern was not to increase deposits or assets but rather to grow loans. "Langley had $600 million in loans when I arrived," he reports. "Today we have over $3 billion in loans under management. Over the last several years, we have been able to focus on growing both sides of our balance sheet and have been experiencing double-digit growth in deposits, loans and assets."
Board Chair Ted Henifin, CCD, appreciates Ryan's accomplishment in changing Langley FCU from a conservative "savings" institution to a lending organization dedicated to putting members' money to work helping other members.
"This transformation took strong, visionary leadership," says Henifin, a CUES member. "Just as great athletes envision a successful pass, shot or goal, Tom has the ability to envision what success at Langley will look like and help others see that vision. He sets aspirational but achievable goals for the entire team and celebrates success along the way. Everyone wants to be part of a winning team, and Tom has really created winning energy at Langley."
The governance changes likewise have had a positive effect. When Ryan arrived at Langley FCU, the board of directors acknowledged they had been drawn into operations even though they preferred a more strategic role. With Ryan's input, the board adopted a policy governance model that has better defined its role and that of the chief executive.
"The new governance model has empowered me and my team to be more effective in developing the results called for in our strategic plan," Ryan reports. "The board/CEO relationship is built on respect, trust and transparency, and [it] has allowed the board to be highly engaged fulfilling their fiduciary and strategic role and hands-off operationally. This relationship is one of our key success factors at Langley."
Henifin has found the new governance model to be an effective change and gives kudos to Ryan for enhancing the relationship between senior management and the board. "He works to ensure the senior management team has significant interaction with the board and highlights other employees' contributions, allowing them to present new concepts and programs directly to the board," Henifin says. 
Ryan also has worked to create an organizational culture that is strongly aligned with a well-defined vision statement and set of values. "We set strategic goals that cascade from our vision statement, which is to improve members' lives by helping them save, borrow and spend wisely," Ryan reports. 
The strategic goals are also compatible with the organization's values, which emphasize the importance of putting people first and doing the right thing while encouraging employees to innovate, deliver value and never forget that "together we make a difference."
"Our vision, values and strategic goals are visible throughout the credit union, which keeps everyone aligned toward the organization's success," Ryan observes. "I'm held accountable for achieving our strategic goals, but I share those goals with every employee. So, whether you're an executive, a front-line employee in a branch or someone working behind the scenes in a support department, everybody is rowing in the same direction."
Adherence to a vision and values also enables the credit union to weather unexpected events, such as the challenges faced during the COVID-19 pandemic. "At Langley, I believe we have endured and even thrived throughout the pandemic by leaning heavily on our values and staying true to our vision," Ryan says. "In a time where the pandemic forced us physically apart, we drew closer as a team. While there are times every CEO has to make a tough decision, I've never felt alone because of the group of leaders I work beside. I'm also fortunate to have an incredible network of industry friends that I can count on when needed as a sounding board or to provide a piece of advice."
Honing His Knowledge
Before arriving at Langley FCU, Ryan honed his credit union knowledge at another organization—$9.9 billion Digital Federal Credit Union in Marlborough, Massachusetts. He took a technology position at DCU in 1986, never guessing he would stay with the organization for 26 years.
"When I took my first job at a credit union, I had no idea it would turn into a career," he says, "so I guess I would say my career found me rather than it being part of some master plan."
Ryan came to DCU after earning a bachelor's degree in business management from Fitchburg State University in Fitchburg, Massachusetts, but he gained even more valuable credit union-specific education by attending the CUES CEO Institute early in his career, earning the Certified Chief Executive designation, and, later, the executive development program from Jim Cardwell (of Cardwell Group and Connections Online).
While working at DCU, Ryan was grateful to have not one, but two great mentors—successive CEOs Carlo Cestra and Jim Regan, both CUES members. Cestra is now a member of DCU's supervisory committee. During Cestra's tenure as DCU's CEO from 1995 to 2008, the credit union grew from $300 million to $4.5 billion in assets. One of his first decisions as CEO was to promote Ryan to a senior leadership position.
"Carlo was a phenomenal leader who had an incredible impact on many people, including me," Ryan recalls. "I think almost every leader can point to someone in their career who gave them a great opportunity, and for me, that person was Carlo. Perhaps he saw something more in me than I saw in myself."
Regan succeeded Cestra as CEO, overseeing DCU's growth to nearly $10 billion in assets. "Jim and I worked together for 20 years, including for several years after he succeeded Carlo as CEO in January 2009," Ryan reports. "I learned so much from his leadership, and he remains my best friend."
Ryan eventually rose to the position of EVP/COO at DCU. After 17 years in senior management, he considered himself ready to become a CEO. When the president/CEO slot became available at Langley FCU, he moved to the Hampton Roads area of Virginia to accept the role. 
"I think there was a certain professional drive that led me here," Ryan says. "I loved working at DCU, but I wanted to be able to make a difference as an organization's CEO. It turned out to be a great fit. I needed Langley, and I believe they needed someone like me who could come in from the outside and offer a fresh perspective and new leadership."
Langley Federal Credit Union
Everyone wants to be part of a winning team, and Tom has really created winning energy at Langley.
Serving Three Stakeholders
As president/CEO at Langley FCU, Ryan is mindful of serving three distinct groups of stakeholders: members, employees and the community. Meeting the needs of over 300,000 members is paramount to the success of the organization.
"We have a diverse membership, so we put a lot of focus on developing products and services to meet the needs of people at various economic positions and life stages," Ryan reports. "We work hard to make a difference in in the lives of our members, each and every day."
As a means of serving members better, Langley FCU also focuses on meeting the needs of its employees. "We have a simple business model: Take great care of our employees, and they'll take great care of our members," Ryan says. "This philosophy fuels the financial engine that allows us to do great things in our community."
To provide employees with opportunities to grow within the organization, Langley FCU invests significantly in professional development. Every year, the organization sets aside Columbus Day for a professional development event called the Langley U Summit. Because of the COVID-19 pandemic, the last in-person event occurred in October 2019 at the Hampton Roads Convention Center. The agenda included several guest speakers and breakout sessions covering such topics as time management, team empowerment, stress in the workplace, and even self-improvement topics like personal budgeting and finance. Perhaps surprisingly, there were also sessions on how to write a resume and improve job interview skills.
"It may seem counterintuitive to provide our employees with the skills to find a job elsewhere, but we realize that it's rare for an employee to stay with one employer for 26 years like I did," Ryan says. "We at Langley embrace that notion, asking employees to do a great job while they're here while preparing them to be successful even if it means moving beyond Langley."
This sentiment was the impetus for changing Langley FCU's tuition reimbursement policy to tuition assistance, which provides advance payment to employees for classes and books. At one point, tuition payments were limited to fields of study related to the employee's job, but that policy has been changed as well.
"We decided to let our employees dream," Ryan explains. "Returning to school should be about their aspirations, not ours. So, we changed the policy to let them study whatever they wanted to study."
Based on that change in policy, one employee recently was able to complete a nursing degree. "Obviously, her aspirations are to leave us someday to become a nurse," Ryan acknowledges, "but when that happens, I hope she'll always think fondly of how we helped her achieve her dream."
In serving the community, Ryan leads by example in giving of his time to worthwhile organizations. He serves on boards for two community organizations, the Virginia Peninsula Chamber of Commerce and Boys & Girls Club of the Virginia Peninsula, and also serves on an industry board for Callahan & Associates. He encourages others at Langley FCU to give of their time as well.
"When I arrived at Langley, I wanted to make an institutional impact by having all of our leaders serve on nonprofit boards," Ryan reports, "and so today, every member of our senior management team as well as many other leaders at the credit union are serving on nonprofit boards. This has allowed us to institutionalize our impact beyond any one leader."
As a result, Langley FCU has gained a reputation as a great corporate citizen, giving back to the community both in time and philanthropically. An affiliated organization, the Langley for Families Foundation, gives generously to the community as well. 
"During the year with COVID, where so many companies had to take a step back from some of their charitable giving, we actually stepped forward and had our biggest year ever," Ryan reports. "Between the foundation and the credit union, we donated $1.4 million into the Hampton Roads community, which is the region that we serve and where our employees live and raise their families." (See details)
In addition to having a strong affinity for community, Ryan is also devoted to his family. He and his wife, Lisa, have been married for 37 years. They have two children, Stephanie and Christopher, a 2-year-old granddaughter, Amelia Mae, and are expecting the arrival of another grandchild before Thanksgiving. As a family, they enjoy spending time together at a beach in southern Maine, where Ryan hopes to retire someday.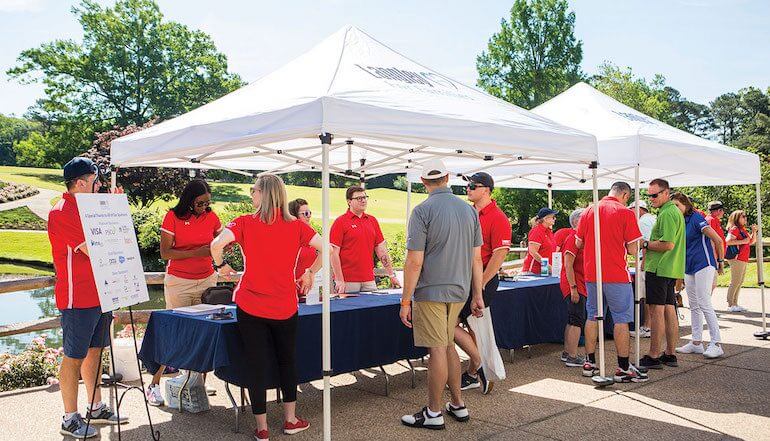 Langley Federal Credit Union
We have a simple business model: Take great care of our employees, and they'll take great care of our members. This philosophy fuels the financial engine that allows us to do great things in our community.
A Continuing Commitment
With retirement still several years away, Ryan remains focused on continuing to move Langley FCU in a positive direction. True to his collaborative leadership style, he knows he cannot do it alone. 
"As a leader, I think you need to surround yourself with great people who provide diversity of thought and are comfortable in working collaboratively to make decisions," Ryan says. "As a CEO, I realize the buck stops with me, but I also think it's important to take a team-based approach and hear a wide range of opinions."
Henifin applauds Ryan's egalitarian leadership style, noting that it has created a positive atmosphere at the credit union. "He is comfortable around people at all levels of the organization and has an uncanny ability to call them by name—with over 600 employees, that is quite a gift," he says.
But while Ryan maintains a casual, friendly demeanor with those around him, Henifin observes that he does not shy away from making tough decisions or taking hard actions that may be necessary to benefit the credit union. "Tom walks the talk, caring deeply about employees, members and the community we serve, and all have benefited significantly by having Tom as president/CEO," he says.
The bottom line for Ryan is the ability to make good on Langley FCU's commitment to serving its three key stakeholders. "At an operational level, I'm proud that we have built a winning team that has consistently delivered on our goals, resulting in solid growth driven by a value proposition benefiting our members," Ryan concludes. cues icon
Based in Missouri, Diane Franklin is a longtime contributor to Credit Union Management magazine.