3 minutes
Here are five steps to successfully attract and retain members as expectations evolve.
Amid the instability of the last two years—from rising inflation and market volatility to a looming recession, clogged supply chains and the pandemic—a chasm has formed between consumers and their financial institutions.  
According to CUES Supplier member Vericast's recent Financial Services TrendWatch survey, this gap was formed due to changes in privacy practices, consumer expectations for personalization, social changes and (a lack of) marketing innovation.
Concurrently, data shows that consumers are increasingly seeking financial guidance and advice from non-traditional sources. In fact, nearly half of consumers report that they seek financial advice from friends or family, while less than a third are seeking it from a bank, credit union or financial advisor. Further, 34% of Gen Z consumers obtain financial advice from TikTok and 33% get it from YouTube, while only 24% of this age group seek advice from financial advisors.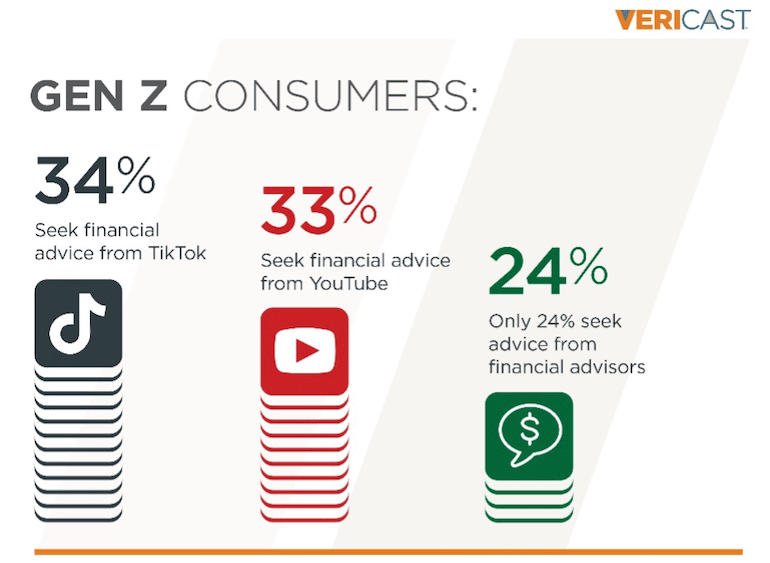 5 Steps to Attract and Retain Members    
With the gap between consumers and financial institutions seemingly only getting wider, how can credit unions repair this void and successfully engage with members, both current and prospective? Here are some steps to consider:
1. Leverage streaming and social channels as new account acquisition tools. Credit unions must stay up to date on the latest marketing channels and strategies for increasing account growth.
As noted, consumers are turning to social channels like TikTok and YouTube for financial advice rather than traditional advisors. Further, data from the TrendWatch survey found that connected TV is the least used marketing channel among financial institutions. (CTV is a device that connects to—or in the case of smart TVs, is embedded in—a television to allows video content streaming. Examples include gaming devices, Roku, Apple TV, etc.) In 2022 and beyond, credit unions must consider how to use these new channels for additional consumer touchpoints and engagement opportunities.
2. Accommodate new members with increased flexibility. There is an opportunity for credit unions to deliver on evolving expectations to acquire and retain members more effectively in the midst of market volatility. According to Vericast survey findings, consumers expect financial institutions to accommodate them during widespread financial hardships—like the increasing inflation we are experiencing today.
Seventy-nine percent of repspondents say they expect flexibility on rates and fees, such as waiving overdraft or late fees, while 66% say they expect it to be easier to obtain new lines of credit. An additional 69% of consumers said notifications about lines of credit available to them and promotions on special rate offers, such as low interest balance transfers, are also expected during times of financial instability. Credit unions should keep these expectations in mind when engaging with potential members.
3. Enhance mobile banking capabilities. To better serve members, credit unions must improve the mobile banking experience. More than half—61%—of consumers surveyed said mobile banking capabilities are one of the top factors influencing their choice to bank with a financial institution.
4. Update privacy practices and personalization strategies. As privacy standards continue to evolve and search engines increasingly eliminate third-party cookies, it's critical that credit unions are ready to deploy a cookie-less targeting strategy that still enables them to deliver the personalization consumers expect. However, data shows that fewer than one third of financial institutions are prepared for this new reality.
Consumers receive many offers from many different providers, so credit unions must determine how to use the data they have to personalize unique offers and recommendations.
5. Increase community and civic involvement. In the TrendWatch study, consumers ranked community/civic involvement and social responsibility high on their list of priorities and said they are more likely to partner with firms who match these values. Conversely, financial service marketers ranked these elements low. To better connect with modern consumers, financial marketers must start appealing to these values and promote their community efforts through social media channels.
Reimagine Approach to Reach Wider Audience   
Moving forward, there is a critical need to innovate quickly and reimagine marketing and service approaches to attract and retain members. Credit unions need to meet members where they are—not where they think they should be—and position themselves as a go-to, trusted resource. They should strive to strike a balance between providing education through traditional strategies and leveraging new channels and platforms to reach younger generations.
Stephenie Williams is VP/financial institution marketing product and strategy at Vericast, a leading marketing solutions company and CUES Supplier member. Williams specializes in consumer acquisition marketing optimization for the financial services industry, and her experience spans more than twenty-five years in the financial services, retail and automotive industries. Williams has worked with companies to inform marketing with data, ultimately helping clients achieve their key KPIs through the creation of business cases that facilitate the deployment of data-driven audience selection, creative messaging and measurement to fuel an ongoing agile channel optimized marketing program.