4 minutes
Four quick case studies from credit unions with CUES members
Back in May, CUES member Alexis Beuchert was wondering what other credit unions were doing in terms of forming and running diversity, equity and inclusion committees. Executive Assistant at $500 million NextMark Credit Union in Fairfax, Virginia, Beuchert posted the following message to CUESNet, the online community for CUES members.
I was wondering if anyone has experience with a DEI committee within their credit union? Any good resources or advice on getting a committee started and running the committee would be greatly appreciated. What outlines did your organization follow? This could be focused on employees from an HR perspective and/or focused on membership. Thanks so much in advance!
Driving Culture at USF FCU
Several CUES members replied, including Nicholas Curran, Director of Organizational Excellence at $1 billion USF Federal Credit Union, Tampa, Florida.
"We've had a DEI committee, called RISE, since June 2020, and it's been a great culture driver," Curran wrote. "It's completely run by employees with HR oversight.
"The committee consists of 10-15 employees, and they plan monthly discussion topics and the meeting, optional for all employees," he said, noting that although voluntary, more than 50% of staff consistently engage in the discussions. The committee members also "hold events, take on other initiatives, as well get involved in the community—volunteering in our local PRIDE events, improving our bilingual support, enhancing recruiting and hiring, and adding organizational DEI measures to our quarterly and annual key performance indicators."
Curran said the leaders of the CU's DEI committee had the opportunity to present at a 2021 event sponsored by the National Diversity Council. Curran suggested that there's a lot of information out there to support a credit union in formulating a DEI strategy, including Five Early Steps to Take on Your DEI Journey from CUmanagement.com.
"It's just a matter of pulling out what aligns and works for your organization," he wrote.
DEI Swag a Hit
CUES member Nicole Bacomo, Digital Strategist with $1 billion Tropical Financial Credit Union, Miramar, Florida, expressed gratitude for the May discussion as her credit union was early on in its DEI journey. During a follow up email exchange this summer, Bacomo said, "We did do a Juneteenth bracelet for the staff, which was a hit!"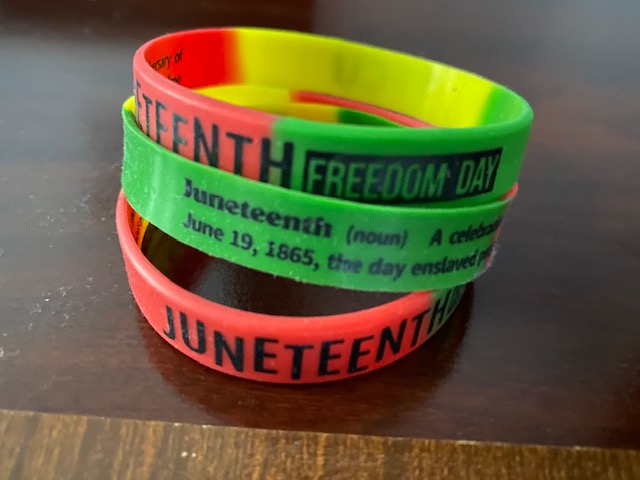 DEI Journey Ongoing
CUES member Tony Billmeier reported that his credit union, $271 million First Alliance Credit Union in Rochester, Minnesota, is in the second year of its DEI journey.
"We have a DEI committee that facilitates our bi-weekly DEI meetings," wrote Billmeier, Member Solutions Advisor. "We started out by working with a non-profit ethnic consulting firm in our area to help us get started. Now we facilitate and run our own bi-weekly meetings. We also bring in guest speakers to give their perspectives on subjects.
"We have had discussions on race, religion, sexual orientation, unconscious bias, black lives matter, LGBTQ+, and we do it in a way that is open for any employees to attend and discuss in a safe non-judgmental space," Billmeier added. "This journey is all about opening your mind and your thoughts to new things and being comfortable discussing uncomfortable topics with the goal to learn and understand.
"It has been a great journey for our credit union, and it has brought our employees closer together and (helped them be) more understanding of each other," he said. "It has given us valuable insights on how we can better interact with our members."
#AllTexans Initiative More Than Celebration of Holidays
CUES member Renee Otiende said back in May that she'd be glad to share the DEI story of $2.1 billion Texans Credit Union in Richardson, Texas. In follow up to the CUESNet conversation, Otiende, Training and Diversity Business Partner, explained that her CU's DEI journey began in earnest at the end of 2020 when key leaders throughout the organization were asked to join the DEI committee.
"We had three focus areas for the committee: training and leadership, cultural celebrations and cultivating an inclusive culture," Otiende said. "We also decided to name our DEI initiative #AllTexans."
"We learned mid-way through 2021 that our committee had to be more than a celebration of holidays to make an impact on our culture," she adds. "We also realized that we needed a strategic plan so that we were aligned in the future of our committee-it's a working document that we continue to fine-tune."
"Today, we have 28 committee members," she notes. "We publicly acknowledge and provide education on 17 cultural celebrations. We have conducted leader-specific training on creating inclusive environments. We also have team training on recognizing unconscious bias and how to interrupt it. We host our Texans Breakfast Club quarterly, where all Texans (employees) can come together for breakfast and get to know each other outside of work.
"Some of our future plans include additional senior-level DEI training and a monthly call for team members to submit DEI questions and have them answered," Otiende said. "We also are exploring our impact in the community and partnering with organizations that support underrepresented people groups."
Lisa Hochgraf is senior editor for CUES.