6 minutes
How to unlock it to meet your members' changing needs
Change is constant. It's important to understand that your members' needs may always be changing as they enter new stages of their lives. It's even more important that you continuously evolve and change to meet these needs. Staying one step ahead of your members could make or break their experience and the success of your credit union.
Having powerful data that tells consumer stories may allow you to stay informed and make better decisions that could help create solutions to meet your members' evolving needs.
An example of this is found in CUNA Mutual Group's recent What Matters Now™ report, where for the first time we collected powerful data regarding Native American, Native Alaskan and Indigenous consumers and their relationships with credit unions. In conducting our research, we found that Native American, Native Alaskan and Indigenous consumers are more likely than other races/ethnicities to have credit unions as their primary financial institution. Our research found that 21% of Native American, Native Alaskan and Indigenous communities use credit unions as their Primary Financial Institutions (PFIs) for banking.
According to the National Indian Council on Aging, the Native American and Native Alaskan population grew 27% from 2010 to 2020. During the same time, the number of people identifying as Native American and Native Alaskan in combination with one or more races grew 160%.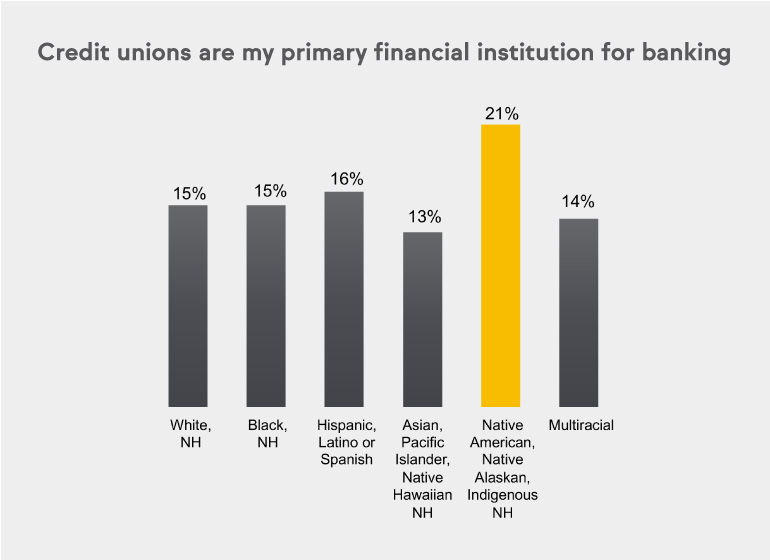 Try this actionable step to meet member needs: Credit unions should connect with such Native Community Development Financial Institution intermediaries as Oweesta, to better understand and develop financial products and services tailored to Native American communities.
Understand What the Data May Be Telling You About Your Members' Journey
Knowing who your current and potential members are is one thing; understanding what financial products and services they may need to help them achieve financial well-being is another.
You could engage with members and your communities for information to really connect and understand where they are in their financial journey. Understanding the varied financial needs of your community by demographic group should be a strong emphasis for credit unions as you begin your 2023 business planning.
A part of this connection is knowing where your members are in their lives and anticipating where they will be going.
For example, our research found that while auto loans, credit cards and mortgages continue to be the most demanded loan products, Black and Multiracial consumers expressed a higher interest in obtaining nearly all lending products (compared to other groups) in the next five years. Black and Multiracial Americans are also more interested than the other groups included in this study in obtaining small business and student loans.
In terms of generation, Gen Zers—the oldest of which are turning 25—were the group we studied that had the largest interest in borrowing, with the most acute desire for funds in the areas of home (29%) and used car (27%) purchases. Millennials were not too far behind, with 26% expecting to apply for a home mortgage and 25% anticipating obtaining a loan for a used car in the next five years.
A great example of the need to acquire a loan are small-business owners pursuing their entrepreneurial goals. Hear what a survey participant has to say about owning her own business, and the challenges she's faced so far.  
Here are some action steps your credit union could take to serve your members and meet them where they are in their life's journey:  
Review and update your lending products to ensure they fit your members and the communities your credit union serves. Make sure those products are visible to all consumers with inclusive and authentic marketing.
Understand what the significance of obtaining certain products and services may have for specific demographics and then position your products in a way that resonates.
Examine small-business products and services for relevance to Multiracial, Black, Gen Z and Millennial founders and entrepreneurs. Understand the changes they may be experiencing today, as well as where they will be in five years.
Know Where Your Members Are so You Can Meet Their Needs on Their Time
Being able to meet members where they are in life is a better way to serve them, so taking the time to create products or experiences for them is crucial. Today, most everyone is online, and for younger consumers, having access to products on their smart phones is a must.
Not surprisingly, our research shows many consumers are opting for mobile-first experiences with their financial institutions. This is especially true of Native American (36%), Hispanic (34%) and Multiracial (31%) groups, as well as Gen X (34%) and millennial (33%) consumers.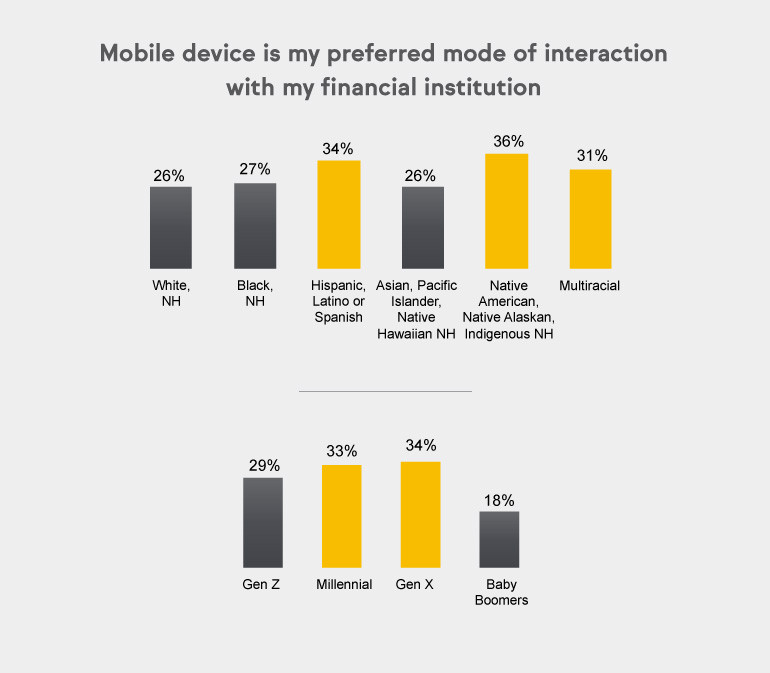 Although a mobile experience is also the preferred mode of interaction for many Gen Z consumers, our research shows this generation is less satisfied with their PFI's mobile app experience. Gen Zers surveyed are less satisfied with both the quantity and quality of information provided online, as well as navigation and load times.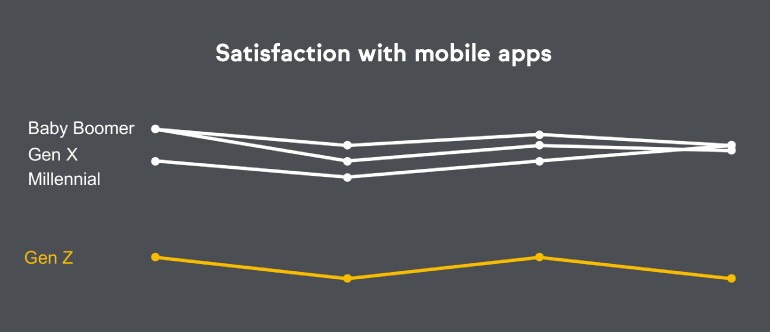 While most credit unions are meeting their younger consumers on mobile devices, there's plenty of room to improve. Re-analyzing users' mobile experience may provide insights on pain points in their journey. It is suggested that you have this analysis performed by people who represent the members you're trying to serve. Doing this may give you better visibility and results by having early insight from those who represent them.
Inclusion Is a Must for Your Business Strategy
Today, diversity is an essential piece of the pie, but diversity without inclusion is, quite frankly, useless. Without inclusion, individuals within your organization might not feel comfortable being transparent and sharing their experiences.  
Diversity, equity and inclusion practices matter, especially to young and Multicultural consumers, and there is always room for improvement. Take staff representation, for example. Whereas 80% of White consumers are satisfied in this area, only 58% of Asian consumers are satisfied that their PFI has staff representing their culture. Similar results appeared across the survey when we asked about products, service and marketing reflecting the culture of participants.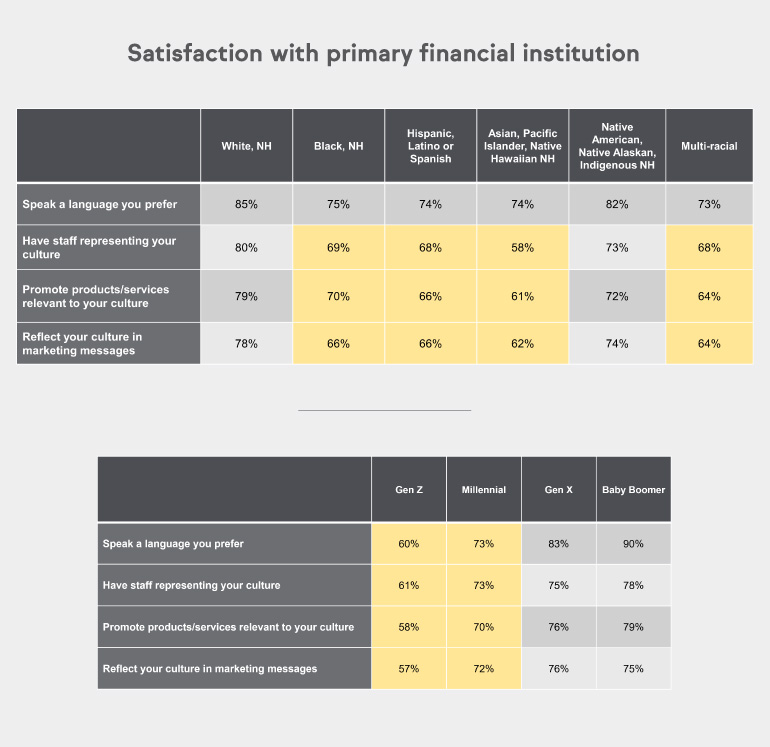 Ultimately, this survey data is just data. What makes it meaningful is creating actionable steps that unlock the power of the data so you may integrate the information into your business strategy. Remember, use data in an inclusive and intentional way to best meet the needs of your members and communities wherever they may be on their journey toward a brighter financial future.
Angela Russell is chief diversity officer for CUNA Mutual Group, Madison, Wisconsin. She is the recipient of the inaugural DEI Trailblazer Award from the African American Credit Union Coalition and was named one of the nation's most powerful diversity executives by Black Enterprise magazine.  
Unless otherwise indicated, all data in this article is sourced from CUNA Mutual Group's 2021-2022 What Matters NowTM quantitative and qualitative research, conducted in partnership with Ipsos and The Collage Group.
CUNA Mutual Group is the marketing name for CUNA Mutual Holding Company, a mutual insurance holding company, its subsidiaries and affiliates. TruStage® Insurance products and programs are made available through TruStage Insurance Agency, LLC and issued by CMFG Life Insurance Company and other leading insurance companies. Corporate headquarters: 5910 Mineral Point Road, Madison WI 53701.
CORP-5047496.1-1022-1124  © CUNA Mutual Group