2 minutes
Survey results show teachers love the tool and students are learning.
Sponsored by Stukent
In 2020, $6.7 billion Idaho Central Credit Union made the historic move to provide free financial literacy software to every high school in the state of Idaho for the next five years. 
Here's what Idaho Central CU CEO, Kent Oram, CSE, CCE, a CUES member, said about the Pocatello-based CU's decision to make the grant: 
"At ICCU, we know that the earlier we can help our members learn how to improve their financial situation, the better. That's why, when we had the opportunity to provide financial literacy to high school students in an engaging new way, we moved on it. Our five-year commitment will support offering this software to every high school in Idaho at no cost to the school."
CUES member Michael Watson, chief marketing officer at Idaho Central CU, explains more in this video.

Idaho Central CU's generous donation gives more than 400 schools the opportunity to use Stukent's Mimic Personal Finance.
"We are so excited about this partnership with ICCU," said Stukent founder and CEO, Stuart Draper. "Now every student in the state of Idaho can learn one of the most critical life skills: money management."
Mimic Personal Finance uses decision-theory learning to teach students the basic principles of financial literacy in a simple and powerful way. Rather than simply studying financial concepts, students actually practice financial decision-making. They are able to make decisions on how to spend their money in an ongoing role-playing simulation that has real in-class consequences.
Now that schools have completed one year of Mimic Personal Finance, both students and teachers are weighing in the benefits of ICCU's donation.
Lynne Hauser at Agawam High School says, "[My students] get the difference between stocks and mutual funds now. Budgeting is clear for them and so is online bill pay. ...They have told me they see how hard it might be for their parents to always stay on budget, especially during the pandemic. They are seeing why people need an 'emergency fund.'"
Stukent conducted a recent survey of more than 32 Idaho classrooms using the Mimic Personal Finance simulation thanks to Idaho Central CU's generous donation. Among teachers using Mimic Personal Finance in their classrooms, 96.9% rate their experience with the simulation as positive and said their students were learning more by using the simulation. What's more, 100% of the classrooms surveyed rated their students' experience as positive.
The charts below display additional statistics from a recent survey conducted by Stukent on 32 classrooms currently using the Mimic Personal Finance simulation thanks to Idaho Central CU's generous donation.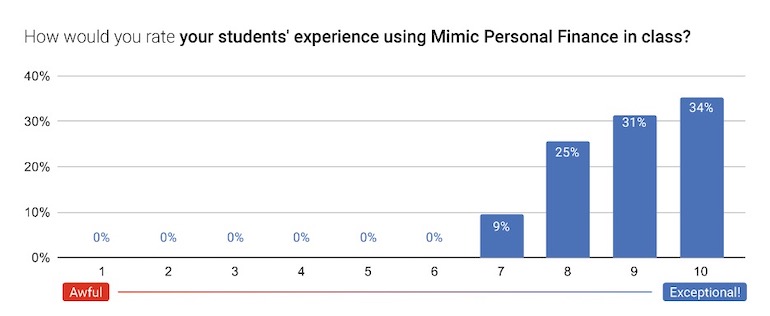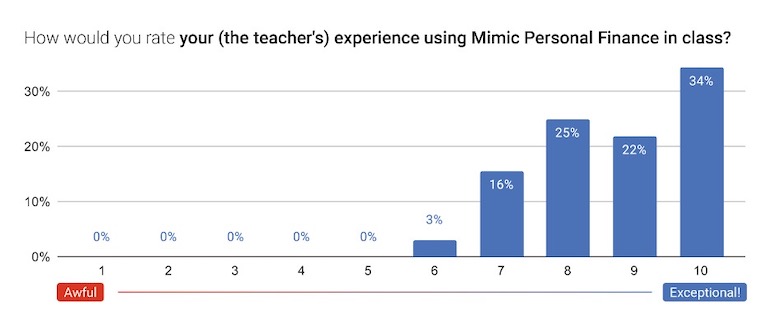 Rachelle Maceno is director of content at CUES Supplier member Stukent Inc., Idaho Falls, Idaho, an ed-tech company that is changing the way personal finance is taught to high school students across the country. Maceno has taught at Brigham Young University, Utah Valley University and Brigham Young University-Idaho as an adjunct faculty member. She is passionate about education and helping students go beyond theory to real-life application. Learn more about Mimic Personal Finance and how you can help schools in your state improve financial literacy education.