2 minutes
Survey of retirement plan participants shows more financial confidence among those who use holistic financial fitness program
Offering a retirement savings plan is no longer a competitive advantage for recruiting and retaining the best available talent. It's simply part of the basic benefits package employees expect. But a 2021 survey of retirement plan participants suggests that a more comprehensive financial wellness program can help employees become more confident and less stressed about their financial futures.
In February and March 2021, Cuna Mutual Group surveyed more than 15,000 participants of its defined contribution retirement savings plans. The survey measured employees' attitudes and preferences regarding their employer's retirement/financial planning and education resources.
The survey results I'm focusing on in this post relate to the respondents who said they'd used a holistic "financial fitness" e-learning program. 
In addition to such retirement planning tools as online calculators, the financial fitness program covers a broad range of topics from basic personal finance to advanced investment strategies. It includes self-guided learning modules, brief videos, articles and other materials.
Of the employees who said they'd used the financial fitness eLearning program, more than 90% said it had been helpful. And the group that used the program reported feeling more confident about their financial decisions, financial literacy and their ability to retire comfortably.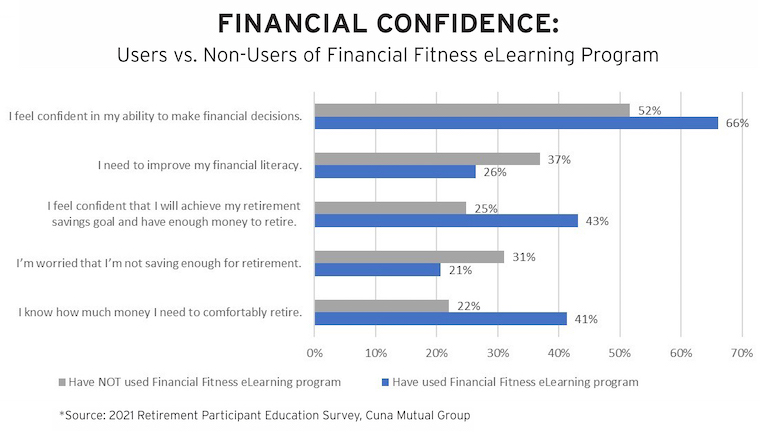 These survey results don't necessarily mean the financial fitness program is solely responsible for the higher level of knowledge and confidence among those who use it. Rather, the program's users may be somewhat more likely than non-users to be more involved and informed about money matters.
The point is, financial education programs can add value for employees, whether they need a little or a lot of help with their personal finances. 
Retirement planning is important. However, a holistic financial wellness program shows your employees you care about other money issues that may be weighing on them, like managing debt, handling financial emergencies, saving for college—or just having the flexibility to afford something they really want.
Karnail Kooner is a retirement sales specialist at CUESolutions Platinum provider CUNA Mutual Group, Madison, Wisconsin. For more information about 401(k) plans, contact him at 800.356.2644, ext. 665.7321. For more information about becoming a CUESolutions provider, please email kari@cues.org. For more information about the results of Cuna Mutual Group's 2021 Retirement Participant Education Survey or the Financial Fitness program, call 800.356.2644 X665-7321.
CUNA Mutual Group and Cuna Mutual Group are marketing names for CUNA Mutual Holding Company, a mutual insurance holding company, its subsidiaries, and affiliates. CPI Qualified Plan Consultants, Inc. and CMFG Life Insurance Company are subsidiaries of the CUNA Mutual Holding Company. Annuity insurance products are issued by CMFG Life Insurance Company, located in Madison, Wisconsin. Each insurer is solely responsible for the financial obligations under the policies and contracts IT issues.
Securities distributed by CUNA Brokerage Services, Inc. (CBSI), member FINRA/SIPC, a registered broker/dealer, 2000 Heritage Way, Waverly, Iowa 50677, toll-free 866.512.6109. Non-deposit investment and insurance products are not federally insured, involve investment risk, may lose value, and are not obligations of or guaranteed by the financial institution. Representatives offer retirement and investment education but do not provide investment, legal or tax advice. Participants are encouraged to consult their financial professional.