5 minutes
Kinecta Federal Credit Union's February mentorship event served underserved young men.
For 15-year-old Lawndale High School student Deven A., growing up without a father or male figure in the home means dealing with insecurities and less guidance.
"You have to learn to make your own path," said Deven A., whose father was once gang-affiliated. "It's normal for so many of us to grow up without our fathers and it sucks."
To fill the void, Deven A. makes a point to seek out male mentors from whom he can learn. That's why on Feb. 27 he was among 60 black male students from California's Leuzinger, Lawndale, Hawthorne, Lloyd, Mira Costa, Dominquez Hills, and Centennial high schools to participate in Kinecta Federal Credit Union's second annual Defying the Odds Black History experience. Kinecta FCU is a $4.5 billion credit union in Manhattan Beach, California.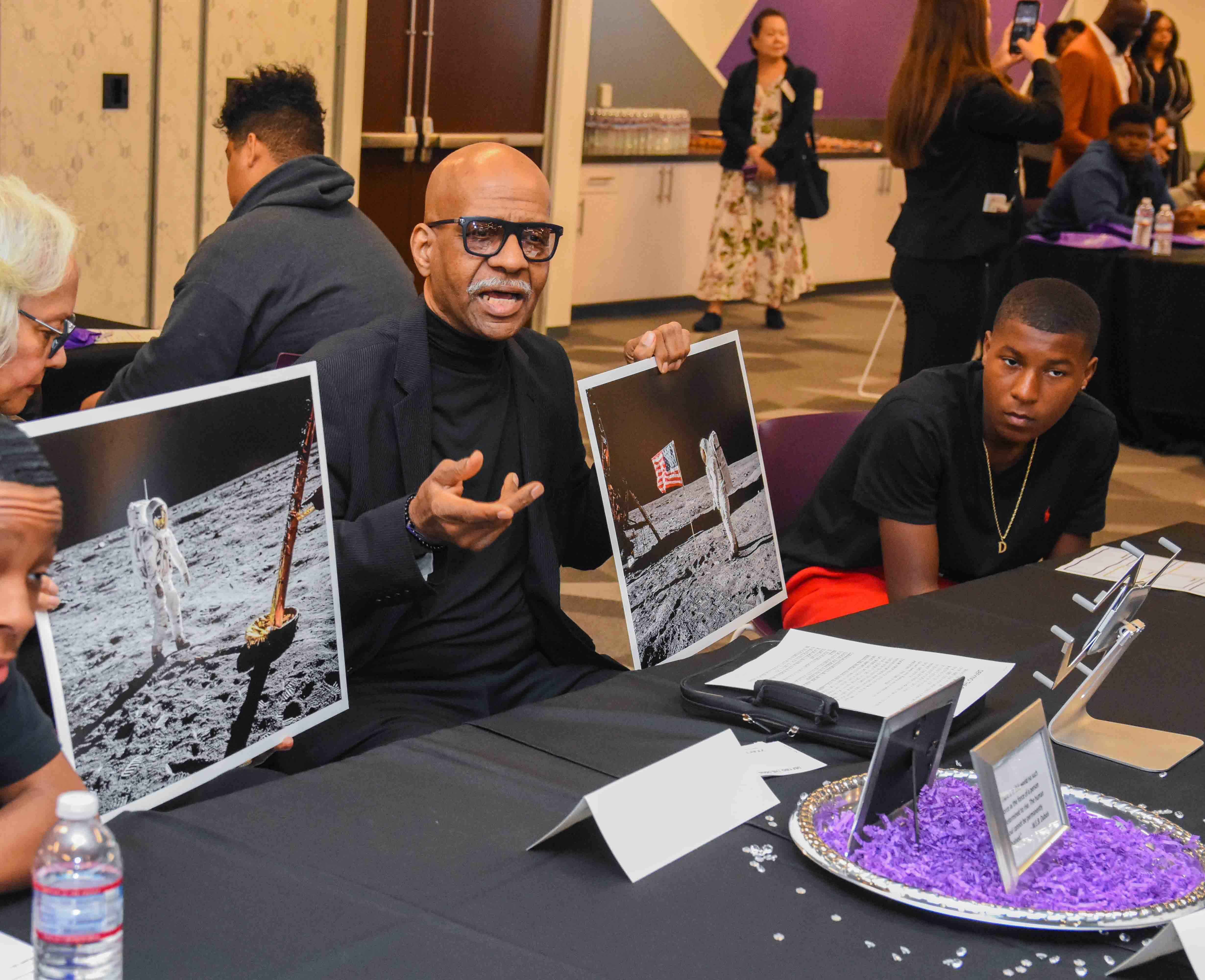 To address the unique challenges African-American boys face, the event featured a keynote address from Manhattan Beach Police Chief Derrick Abell and panel discussions with 19 high-level black male professionals in the law enforcement, aerospace, entertainment, law, education administration, wellness, and technology industries. Members of the panel answered questions and offered advice to the youths. Among the mentors was Laurence Mizell, who performed testing and reliability work on the lunar module for the NASA Apollo program. He was also one of the first to research liquid crystals found in liquid-crystal displays (LCDs).
"We wanted them to have a personal connection with a professional and we also wanted to open their eyes to the diversity of professions that there are because for a lot of young kids, African-American males, in particular," says Mikle McBride, director of regional occupational program technical education for Compton Unified School District, a Kinecta FCU partner for the event. "They see that I can play basketball and I can rap and those are my two ways out. Meeting a banker, meeting an educator, meeting someone that is a role model in a profession that they wouldn't normally see themselves in was really powerful for a lot of them."
According to a recent report from The State of Higher Education for Black Californians, black males lag other racial and ethnic groups when it comes to education.
The findings of the report blame graduation gaps on inadequate high school preparation, poverty and campuses that don't have enough black faculty to serve as mentors, among other causes.
"When we get data back and see that African-American males are lagging behind in almost every educational metric, we have to do everything we can to outreach and support and help those kids," says McBride. "As educators, we can't leave populations behind. If it were Latino females, if it were African-Americans, if it were white females, we have to do what we need to do to help them and support them in any way possible."
Kinecta FCU Community Engagement Officer Latrice McGlothin says the CU is committed to helping young adults reach their academic goals and the Defying the Odds black history event is just one of the ways that the organization accomplishes that goal through its charity, Kinecta Community Foundation. Employees of Kinecta FCU and its subsidiaries volunteered more than 8,800 hours, raised over $650,000 in donations, and participated in more than 180 community events in 2019, many of which focused on education.
"Helping to identify and address needs within the school districts that we serve is one of the ways Kinecta is banking done differently," says McGlothin, a CUES member. "As long as there is a need in the community, we'll continue to work with our partners to address those needs by hosting events like this. We pride ourselves on uncovering the felt need and employing resources that will have a positive impact."
During his keynote address to the students, Abell, a former college football player, talked about his personal experience growing up in Inglewood, California, and stressed the importance of preparation, education and finding one's passion.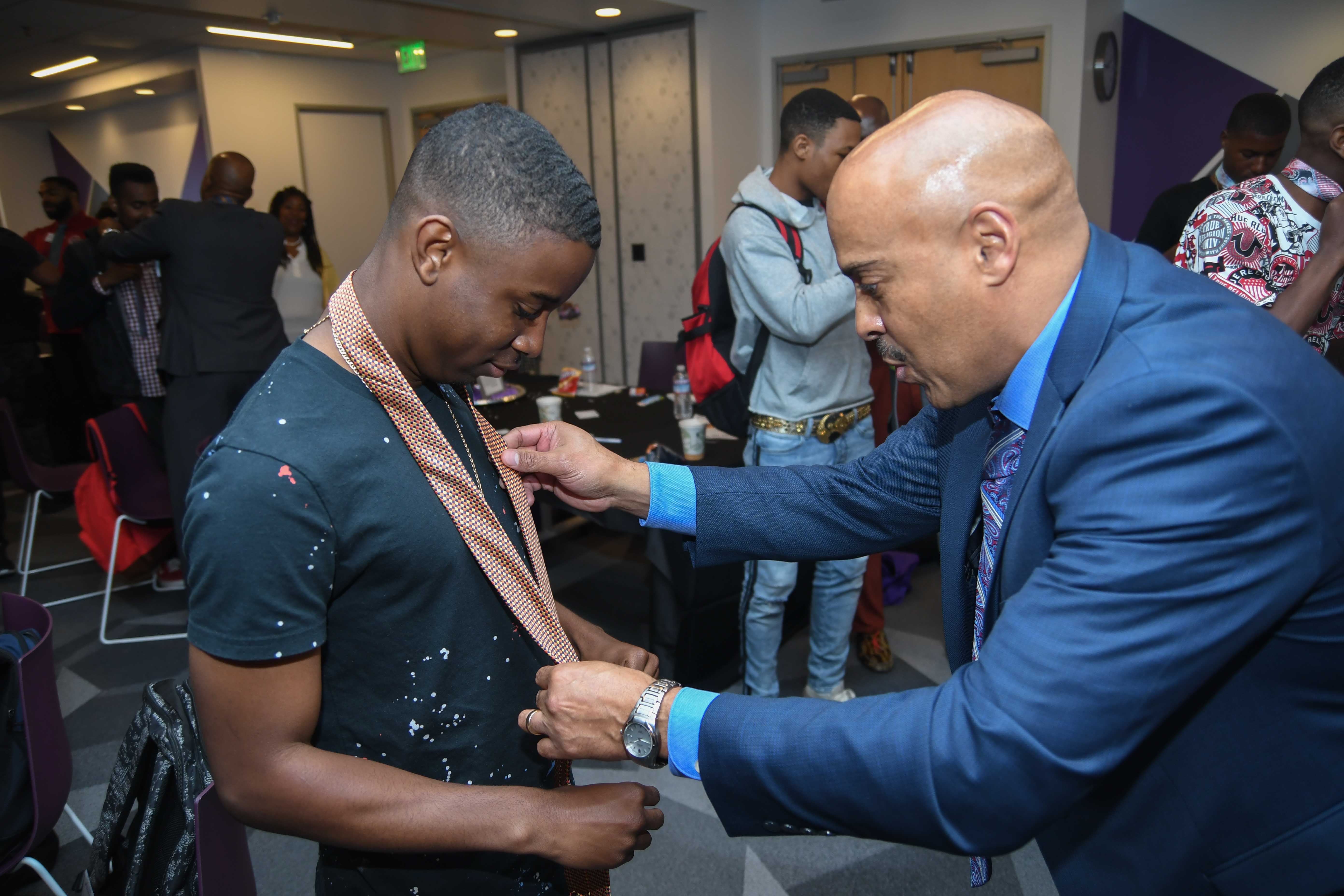 "Athletics became a part of my life where I tried to stay out of the streets. I tried to stay out of the environment that would lead me probably somewhere I didn't want to be," said Abell, the first black police chief for the Manhattan Beach Police Department.
Abell further shared that although he excelled in athletics, he didn't prepare academically for college. This caused him to score too low on the SAT to be admitted to Northwestern University where the school's coach tried to recruit him for football. Abell didn't allow that experience to keep him from achieving his goals and encouraged the students to also use adversity as motivation towards success.
"Don't get upset and let somebody win when they are saying things that you don't like," he said. "You change the paradigm. Turn it back around. How do I teach them that I am not a stereotype on television? I am not somebody out there in the streets that they either may have arrested, or they witnessed doing something that they didn't like. So now, all of a sudden, they see that every day. So, for 31 years now, I have tried to change that. Every single day I've got to be at my best. You cannot let your guard down. You have to stand tall and make sure that you are representing the best of the best."
Deven A., who wants to be a pediatrician or police officer one day, says Abell's talk inspired him. "I'm very glad I came. I feel empowered like I can do anything."
Anasia Obioha is public relations manager for $4.5 billion Kinecta Federal Credit Union, Manhattan Beach, California.