2 minutes
Aligned to the credit union's mission, the CU's new Diversity Council has increased programs, partnerships and mentorships.
Kinecta Federal Credit Union's mission to guide and support its members and communities—not only financially, but in all aspects of life—is what drives the work of its year-old Diversity Council. 
Formation of the Diversity Council
In June 2020, Kinecta FCU proudly renewed its commitment to diversity, equity and inclusion with the formation of the Kinecta Diversity Council, which is composed of 12 employees from different backgrounds and a wide range of positions and departments. The council's commitment to support and embrace equality for all involves continually seeking to learn, engage, advocate and foster an environment that celebrates differences.

"Diversity is defined as the differences amongst people that are both visible and non-visible that make them who they are," says CUES member Kim Graham, VP/human resources and talent development. "At Kinecta we strive to provide equal opportunities for all by being inclusive and supportive of the successes of our employees, members and communities we serve."  
Since its formation, Kinecta's Diversity Council has provided educational training and initiatives centered on diversity and inclusion, leadership and mentorship, including: 
Diversity and unconscious bias training 
Emerging Leadership Academy focused on staff-level employee development for leadership positions
African American Credit Union Coalition partnership to offer mentorship opportunities for employees at all levels
Year of Inclusion Celebration monthly newsletter that highlights the work of the Council
The Benefits of Embracing Diversity, Equity and Inclusion
"All employees should have a space to feel comfortable in sharing who they are," says Graham. "Diversity, equity and inclusion helps foster stronger creativity, experience and personal growth among staff. It's truly essential to our success as an organization and it's aligned with Kinecta's values of integrity, innovation and responsibility."
Graham adds that embracing the differences and stories of members and employees provides a mix of perspectives and ideas for Kinecta FCU to better serve members and communities, and in turn, helps the credit union tailor the best outreach, products and services.
Making the CU's Commitment to Diversity Visible
Kinecta FCU's Diversity Council has partnered with multiple community organizations, including Covenant House, Operation Progress, Spicy Green Book, and Green Dot Charter Schools, through event sponsorship, financial education courses and career mentorship opportunities. 
The credit union put its commitment to diversity and inclusion on display in June when its Manhattan Beach, California, headquarters building was decked out in rainbow colors to recognize Pride Month.  
Additionally, the council raised more than $5,000, donated blankets, implemented a financial literacy series for the residents at the Covenant House and sponsored the organization's gala.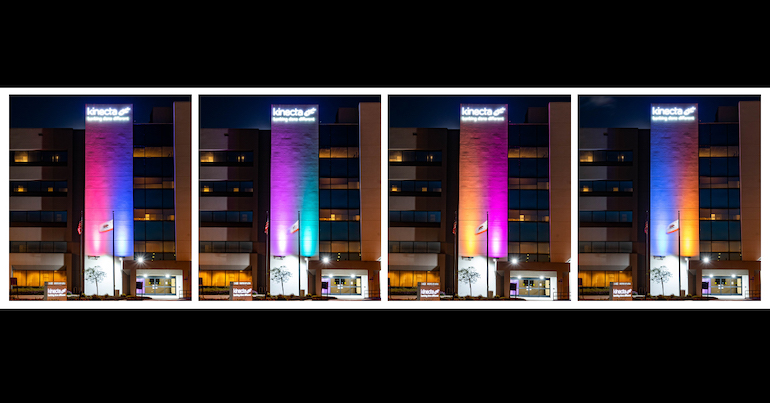 Being Inclusive Is a Journey
While she is excited about the organization's growth in the area of diversity, equity and inclusion, and progress as an inclusive organization, Graham acknowledges there's still work to do. 
"We're continuing to evaluate and assess our practices, while researching the best practices of other credit unions and organizations," Graham said. "Our goal is to idenitfy the gaps where we can better provide a culture and work environment to our employees that is best in class." 
Anasia Obioha is public relations manager for $6.4 billion/285,000-member Kinecta Federal Credit Union, Manhattan Beach, California.