5 minutes
This Coastal Credit Union vice president knows the ability to inspire others is a true sign of effective leadership—one that requires building strong relationships with the team.
Some believe leadership is about exercising power over others, telling people what to do, when to do it and how to get it done. And there's a place for this approach—for example, in a crisis where someone needs to step up and take complete command. But most often, this level of control isn't required, yet some leaders still manage their staffs as if it is. Priscilla Awkard, CUDE, isn't one of those leaders. Instead, the VP/teller center for $3.7 billion Coastal Credit Union, Raleigh, North Carolina, prefers to influence rather than mandate, inspiring action in a positive and motivating way.
Awkard has been with Coastal CU for nine years, spending the last two in her current role. "Coastal is a very unique company, and the role I have is what makes it so unique," she says. "Coastal doesn't have tellers in our branches. All tellers are located in several locations in back-office settings. … We have interactive teller machines in all our branches that allow members to interact with tellers via video. I oversee the operation of the tellers and the machines."
Pre-COVID-19, there were two of these back-office locations. Now there are eight, to enforce social distancing and as insurance in case one has to shut down temporarily because of a positive COVID-19 test result. And although Awkard has the ability to work from home, she has opted to come into the office, feeling it's important to be on-site with her team.
We recently spoke with Awkard about leadership and building trust. Here's what she told us:
You define leadership as the ability to influence; what qualities are most important in terms of contributing to this skill?
Some of the most essential and effective qualities are patience, being a strong listener, being flexible, leading by example and being able to show those who look to you for guidance that you have their backs. This can also be referred to as trust.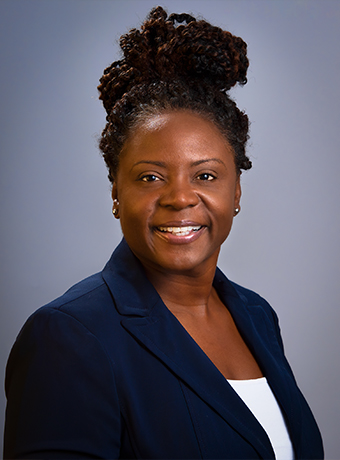 Regardless of your title, find the value in everyone. Nurture and encourage those who want to do more.
How have you gone about building trust?
When I entered this role, I had four managers—now I have five—and, combined, they had over 75 direct reports. I realized early on that for this team to work with me as their leader, I needed to establish relationships with all 75-plus team members. So, within about three months, I had arranged to take every one of them to lunch, just to give them time with me, and me time with them.
How in the world did you manage to do this?
I met with them in small groups of five or fewer during these lunches, with each person having the chance to tell me and their peers about themselves. I feel the most important piece is that employees trust you, and the only way I could think of to make this happen was in an intimate setting like this. I did have to eat a lot of salads, let me tell you.
And I have kept doing this. I take all my new hires to lunch on their first day. And I maintain an ongoing relationship with them and the rest of my team, checking in with instant messages, emails or just stopping by their desks to give them encouragement and to see how they're doing—especially now, when so they have so many things going on outside of here.
What's the toughest thing about leadership?
I would say balancing the needs of the organization with the needs of your employees; that can often be a very fine line to walk, and it must be equally balanced to make it work. I find that transparency is the key to that complex situation. If I can explain and be upfront about the business needs, while still showing compassion and understanding to the employee, a solution is more often than not worked out by the employee.
What advice do you have for aspiring female leaders?
While sitting in a women's leadership luncheon one time, a panelist explained a very interesting statistic. I don't remember the exact numbers, but I do remember her point. She said women often feel we need to be 99 to 100% qualified for a role before applying. However, men often apply for a role they feel maybe 50% or even less qualified for. That was an accurate account of my life. Now I advise women to put themselves out there. Often, what we find is that we're more qualified than we initially thought.
Finally, how can credit union organizations help develop future leaders, female and male?
Regardless of your title, find the value in everyone. Nurture and encourage those who want to do more. I went through the Credit Union Development Education training and one of the most powerful moments during that time was having to give up my title. When you arrived, you weren't allowed to share your title with anyone. This enabled peoples' egos and insecurities to go away. I realized then there are so many amazing moments for people when there are no egos or insecurities in the conversation.
Pamela Mills-Senn is a writer based in Long Beach, California.