4 minutes
The chief risk officer for Xceed Financial CU credits following her passion and giving herself a seat at the table with advancing into a leadership position. Her advice to other women? Do the same.
As chief risk officer of Xceed Financial Credit Union, CUES member Fabiana Burkett, CCE, is tasked with overseeing all risk management areas, including regulatory compliance, loss prevention, investigations, internal audits and information security functions, as well as the enterprise risk management, business resumption, and contract review/vendor management programs.
Oh yes, she's also Xceed Financial CU's corporate secretary.
Headquartered in El Segundo, California, the credit union has $935 million in assets and nine branches across New York, New Jersey and California. Its 180 employees serve 50,000 members. Burkett has been with Xceed Financial CU since 2007, coming aboard as the risk management vice president, ascending to her current role in 2013.
The organization's leaders are constantly keeping an eye on the balance sheet to check growth and progress, Burkett says. But there is another, at least equally important, measure they consider, she adds.
"We really measure our success by how our members value our efforts to help them reach their dreams," Burkett explains. "They have so many options, so we constantly have to find ways to delight them. It's our life's work, and we'd better make sure that no matter how big the credit union gets, we never lose sight of this."
We asked Burkett to share some of her insights about leadership. Here's what she had to say.
What do you feel is the toughest thing about being a leader today?
One of the biggest challenges is keeping up with the constantly evolving competitive landscape. The pace of change has increased significantly, largely due to technology. Consequently, leadership qualities such as adaptability and flexibility are a must in order to address—to the extent possible—the ever-changing technological innovation, regulatory environment and customer expectations.
However, despite great intentions, flexibility and drive, it is challenging for a leader of a credit union of our size to achieve the economies of scale larger credit unions and other competitors have attained, limiting our ability to stay nimble, implement changes and compete in certain areas. Identifying our value proposition, engaging the right service providers and solutions, and expanding our footprint with mergers are some of the measures implemented to address these concerns.
In your opinion, what are some of the most essential qualities for effective leadership?
Integrity, empathy, humility, vision, influence, adaptability and resilience. I put integrity first because it is crucial for leaders to be honest and treat people with respect and fairness, modeling ethical behaviors and holding themselves accountable. Empathy and humility allow for true collaboration. Vision, influence, adaptability and resiliency give leaders the ability to keep their organizations moving toward an established objective, overcoming setbacks and obstacles.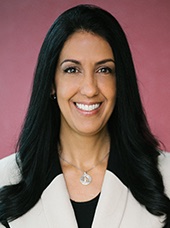 Xceed Financial Credit Union
One of the best pieces of advice I received is that, as a woman, I should not self-select out of leadership opportunities. And this is the advice I want to pass forward. Ladies, with confidence and determination, believe in yourself. Follow your passion and give yourself a seat at the table.
Any mentors along your career path who have helped guide your journey?
I've had many, and I'm truly grateful to every one of them. Since my arrival here I've been fortunate to serve under the leadership of (CUES member) Teresa Freeborn, Xceed's CEO. Throughout the years, Teresa has believed in me, provided constructive guidance and positive reinforcement, offering me opportunities for career development and increasing my job responsibilities, all of which empowered me to become a better leader.
What's the best career advice you've received? And any suggestions for aspiring female leaders, especially when it comes to recovering from career missteps?
One of the best pieces of advice I received is that, as a woman, I should not self-select out of leadership opportunities. And this is the advice I want to pass forward. Ladies, with confidence and determination, believe in yourself. Follow your passion and give yourself a seat at the table.
As for career missteps, remember that no one is perfect. Mistakes happen and the path to success is not always linear. Use the experience to grow. Face and own your mistake, learn from it, forgive yourself and then move on.
How can credit unions and industry organizations help develop future leaders, male and female?
It's important to keep career development top of mind, encouraging employees to pursue advancement opportunities within the organization and/or industry and creating targeted development plans to give them the ability to gain the skills, knowledge and experience necessary to grow and become a successful leader.
It takes resources, focus and intentionality. Speaking of intentionality, ongoing commitment to advance diversity, equity and inclusion, and investment in DEI employee awareness, training and advocacy initiatives are essential to ensure that future leaders cultivate diverse environments, equitable processes and inclusive cultures. These are the key ingredients to driving innovation, successful strategies, results and sustainable business growth.
You've attended CEO Institute, becoming a Certified Chief Executive (CCE), and described this as one of the highlights of your career. How did this help you?
The three-year program provided me with incredible learning, professional development and networking opportunities, and better equipped me for my leadership role. For us at Xceed Financial CU, CUES is also a great resource for our board directors; we rely on the CUES Director Education Center to enhance the knowledge of new and existing board and committee volunteers.
"I am very thankful for organizations such as CUES that embrace the 'cooperation among cooperatives' principle, helping to develop credit union leaders and strengthen this credit union movement I am so passionate about."
Pamela Mills-Senn is a writer based in Long Beach, California.