7 minutes
Global Women's Leadership Network offers solutions for women advancing to leadership positions.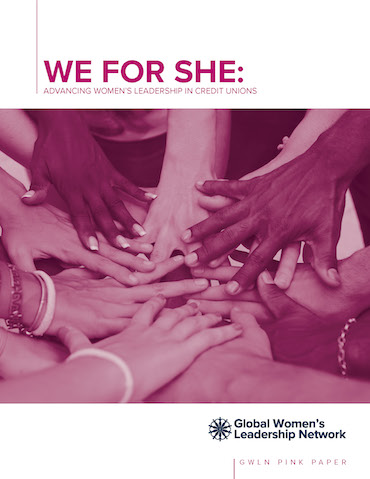 What holds women back? This is a question with a thousand answers, one of which is self-confidence. Studies have shown that, at work, women are significantly less likely to self-promote or self-advocate and are less self-assured than men.
A survey conducted in spring 2021 by the Global Women's Leadership Network shows the same is true of credit union women. According to a recent GWLN membership survey, more than 60% of respondents told GWLN that it was a lack of confidence to advocate for themselves that holds them back.
Survey findings combined with a series of interviews with women who are credit union leaders, executives, CEOs and board members across the globe resulted in the GWLN "We for She" Pink Paper. Through the research, GWLN shares the challenges that GWLN members face, including disadvantageous social and cultural norms, explicit and implicit gender biases, work/life balance and a lack of respect that harm women's confidence. The paper offers recommendations and actions that can be implemented by women and credit unions.
"We've long heard that diverse credit union boards and leadership teams are good for our business and are shown to improve profitability and productivity. Our communities expect it, our members demand it and everyone benefits from it. This 'pink paper' puts a bright light on the many issues that are still in the way of reaching gender parity. GWLN is the go-to resource center that is empowering, forward-looking and supportive of both women and men who want to change the way women are viewed, positioned and rewarded in the workplace (and beyond)," says CUES member Teresa Freeborn, GWLN chair and president of $6.4 billion Kinecta Federal Credit Union, El Segundo, California.
Who is your biggest advocate? Who is your biggest champion? How often do you advocate for yourself? How often do you advocate for other women in the industry?
Fifty-three percent of respondents reported that GWLN has helped advance their career overall, and findings also showed that GWLN credit union leaders:
Invest in women's careers and their personal development.
Recognize that diverse perspectives make good business sense.
Champion women into board and executive positions.
Mentor and coach women to seize opportunities.
Encourage women to rewrite social and cultural scripts that define power and privilege.

Globally, even though the majority of a credit union's workforce is comprised of women, women occupy far fewer leadership positions than men.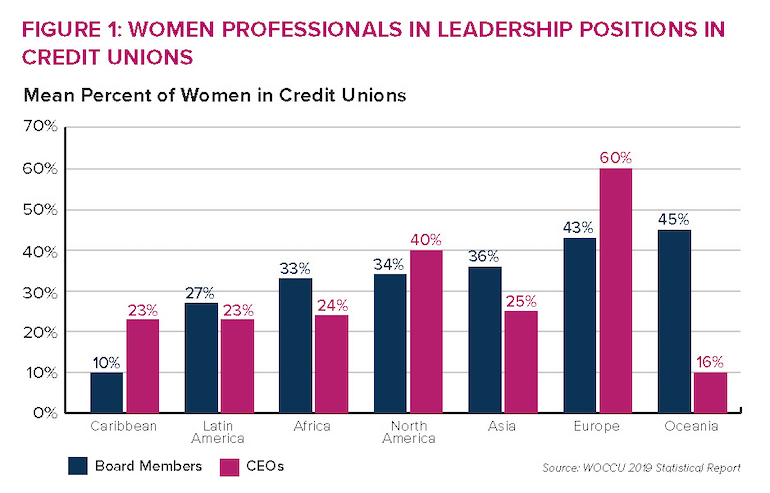 Based on input from respondents on the most common issues women face, GWLN recommends a set of actions for women and credit unions.
Issue 1: Promote Women's Leadership
What credit unions can do:
Deepen credit union succession planning emphasizing women's leadership roles.
Offer growth assignments for women to learn new skills and gain experience and adopt robust mentorship programs.
What women can do:
Build and grow networks and use them strategically.
Create a personal strategic plan and review personal growth performance regularly.
Issue 2: Confront Explicit and Implicit Gender Bias
What credit unions can do:
Map the membership base and set leadership diversity targets that mirror membership.
What women can do:
Examine unconscious assumptions about leadership and gender.
Issue 3: Support Work/Life Balance
What credit unions can do:
Examine/re-examine work policies and expand flexible and remote work options.
What women can do:
Speak up for work/life boundaries.
Issue 4: Increase Women's Confidence and Self-Esteem
What credit unions can do:
Offer listening groups, support mechanisms such as psychological or spiritual counseling, and other interventions.
What women can do:
Develop and implement a confidence development plan with support from trusted others.
Issue 5: Confront Racial Injustice and Harassment
What credit unions can do:
Promote diversity at all levels of the organization (gender, race, ethnicity, sexual orientation, etc.)
What women can do:
Listen and learn about racism, white privilege and sexual/racialized trauma.

The GWLN 2021 Pink Paper includes more action steps for each issue. View them all in the full report.
Written for the international credit union movement and a first of its kind for GWLN, the paper serves as a useful resource filled with prescriptive and actionable steps for women's advancement to leadership roles within the credit union space.
Credit unions can begin by introducing GWLN in their onboarding materials for all new employees. This provides them with information on how to engage and access services while demonstrating the organization's interest in women's leadership.
"Women need the courage to step up. There are so many competent, capable women in our industry, but the travesty is we don't see them taking on those senior leadership roles in our industry," said a credit union executive and GWLN member who was interviewed during the project.
GWLN is also looking to translate the pink paper into other languages as a resource for international Sister Societies. Regardless of location, we want all our audiences to find inspiration and practical tips to implement in their workplaces.
In alignment with the spirit of the credit union philosophy, GWLN embraces We for She to:
share best practices, innovations and learnings to extend impact;
influence the multi-stakeholder community of committed members, volunteers, sponsors, and industry partners to advance concrete change;
recognize the work of the global credit union community; and 
grow credit unions and improve lives globally.

The collective efforts of the international credit union movement play an integral part of the global change on gender equality and the rights of women and girls. The work we do today should have a ripple effect on the generation of women behind us.
To learn more about how to join and get engaged with GWLN, visit the page here. To see the full GWLN Pink Paper, visit the page here.  To register for the GWLN Executive Readiness Summit, visit the page here.
Lena Giakoumopoulos is the GWLN program director Worldwide Foundation for Credit Unions.