14 minutes
The credit union has received the prestigious Malcolm Baldrige award twice for its relentless, organization-wide pursuit of excellence.
When CUES member Gerry Agnes, CIE, assumed the role of president/CEO at $3 billion Elevations Credit Union, Boulder, Colorado, in 2008, he had a very bold objective in mind, one he articulated to the credit union's board during his interview. In fact, it was this stated ambition—among his other stellar qualifications—that led to Agnes' hiring. 
What was this vision that so compelled Agnes and excited the board? Achieving the Malcolm Baldrige National Quality Award, a prestigious recognition of performance excellence. In 2009, the Elevations CU team identified this objective as its first "Big Hairy Audacious Goal" with the understanding that earning this honor could take anywhere from 10 to 15 years. Instead, it took five. Even more astounding—in 2020, Elevations CU achieved this recognition for a second time.
The Baldrige Framework
To understand the significance of this accomplishment, some background on the award is necessary. Established by the United States Congress in 1987 to recognize achievements in quality and performance by U.S. organizations, the award was named after Malcolm Baldrige, who served as Secretary of Commerce from 1981 until his death in 1987. The Baldrige criteria provides the framework to help organizations along their journey to excellence.
There are seven categories that comprise this framework: 
Leadership. How do senior executives guide the organization, and how does the organization meet its civic/community responsibilities?
Strategic planning. How does the organization develop and implement its strategic plans of action?
Customer focus. How does the organization identify the needs of its customers and how it acquires, retains and satisfies them?
Measurement, analysis and knowledge management. How does the organization manage, use, analyze and improve its use of data and information to support its processes and performance management system?
Workforce. How does the organization support, develop and align employees with its key objectives?
Operations/process management. How does the organization design, manage and improve its critical production, delivery and support processes?
Results. How does the organization perform? How has it improved in several essential business areas—customer satisfaction, financial/marketplace performance, human resources, supplier/partner performance, operational performance, governance and social responsibility? How does the organization perform compared to its competitors?
Each of these categories provides the basis for the more than 250 application questions the organization is encouraged to address as thoroughly as possible. In addition, each category has a set possible total score, explains Agnes: 
Leadership: 120
Strategy: 85
Customer focus: 85
Measurement/analysis/knowledge management: 90
Workforce: 85
Operations: 85
Results: 450
"The Baldrige framework is comprehensive, and all recipients must demonstrate exceptional excellence in each category," says Agnes. "However, no recipient organization has achieved perfect scores in all categories. 
"An organization cannot become a recipient if they perform well in all categories except for results," he continues. "The scoring model implicitly indicates that leadership drives the results, yet in doing so, it must be integrated with high-caliber practices in the other categories."
There are additional requirements. For instance, those vying for the Baldrige award must also achieve state or regional recognition for excellence. In Elevations CU's case, this came in the form of receiving the Rocky Mountain Region's highest honor, the Peak Award, in 2013 and again in 2019. 
This achievement in 2013 qualified Elevations CU to apply on the national level and to also receive an on-site visit from a team of examiners tasked with scrutinizing every area of the credit union. After this visit, their findings were reviewed, and Elevations CU was deemed worthy of receiving the Baldrige honor. In 2020, because of the pandemic, examiners "visited" Elevations virtually.
"The initial examination occurred in early October 2020," Agnes recalls. "Then Elevations received a call from Secretary Wilbur Ross on November 18, alerting leadership to the recognition. The 32nd Quest for Excellence Conference took place on April 13-15, and that was when Elevations was publicly recognized for receiving the award."
We are always pushing forward, challenging norms and continuing our pursuit of excellence—qualities that have all become integrated into our culture as a result of the Baldrige journey.
 

The Road to Baldrige Excellence

The journey to Baldrige is onerous but worth it, benefiting the credit union's members through a team that is well-positioned to serve them, said CUES member Pete Reicks, CIE, former chief strategy and performance officer at Elevations CU. (Sadly, Reicks passed away in May 2021. Read more about him at the end of this article)

"Our processes are tighter, our service lines are stronger and our team is more committed to a shared vision and mission," Reicks said about the impact of receiving the first Baldrige award in 2014. "We also credit the growth of our organization to the Baldrige framework."

Elevations CU has 15 branches in Colorado. The credit union's more than 600 employees serve over 175,000 members.

The award's impact is borne out by the credit union's annual growth rates, as the following pre-Baldrige (2004-2008) and post-Baldrige (2009-2020) data provided by Elevations CU illustrates.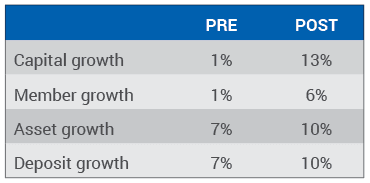 "Each member of the Elevations team has played a part in our Baldrige journey and has been essential to our success—from changing the way things have always been done, to adopting new processes and collaborating to make change," said Reicks. 
"And we would be remiss to not also include the value our membership brought to the table over the course of the journey," he added. "We developed a comprehensive model for eliciting feedback from our members, allowing them to honestly share their desires of us as their partner in banking and finances. They spoke, and we listened, and our capability to serve them has ultimately improved."
"We're always obtaining substantial feedback from our members," adds Agnes. "We capture this through Net Promoter Score surveys, focus group research, experiences recorded by our member relationships management system by branch and contact center staff, systematic recordation of staff observations, online chat and others."
Reicks also credited Elevations CU's success to a "host of advisors" who helped the credit union identify growth opportunities and created a process for moving forward. Included among these advisors is Jan Johnson of Jordan Johnson Inc., who has served as Elevations CU's Baldrige coach from the effort's inception in 2008, to the present. Johnson and her team were instrumental in helping the credit union prepare for the 2020 "onsite" examination.
"Our strong relationship with Rocky Mountain Performance Excellence has also contributed to our Baldrige journey, serving as an objective reviewer of our internal systems and setting us on the right path for the Baldrige recognition," Reicks said.  
Two-Time Recipient
After receiving the 2014 Baldrige Award, Elevations CU waited the required five years before applying for the honor again, wanting to continue its relentless pursuit of excellence and build on what was learned and achieved through the first effort, says Agnes. There were some differences between the two.
"One of the biggest changes between our first and second experience with Baldrige was a result of our organization's evolution," says Agnes. "Elevations had experienced significant growth, going from 350 employees in 2014 to nearly 600 employees in 2020. This growth put us in a new category with enhanced scrutiny by the Baldrige judges. Our leadership responded positively to the pressure, receiving the Peak Award again in 2019, and investing in additional resources to objectively evaluate our areas for enhancement as we prepared to apply for Baldrige once again in 2020."
Then there was the financial crisis, which by 2014 had exacted a heavy toll on the mortgage banking industry, Agnes says, adding that Elevations CU "felt the pinch." As a result, credit union leadership and employees were focused on stepping into the void left in the marketplace by the crisis to help members realize their goal of home ownership. Consequently, getting full-throttled buy-in organization-wide to the Baldrige framework—a concept that was "relatively unknown," says Agnes—took some work. Exacerbating the challenge was the fact that Elevations CU was in a rebuilding period, adding expertise to the leadership team inspired by the recognition of the need to equip the organization with those who could not only lead in the present, but into the future as well.
"Despite the internal and external challenges, we managed to assemble a team dedicated to elevating our internal framework and ultimately came out of the process a leader in the mortgage banking industry—a result we credit not just to the talent on our team, but to the framework instilled in our institution as a result of the Baldrige journey," says Agnes.
A Move Toward Agile Leadership
For the 2020 award, strengthening the leadership system was a primary focus. One way the credit union addressed this challenge was fortifying the system and developing and equipping leaders to achieve their future vision. Another tactic was implementing the concepts of Agile and Scrum within the credit union's enterprise-wide management team.
Originating as a software development methodology, the Agile concept assumes an "incremental and iterative approach" to project management, explains Agnes. Unlike the common Waterfall planning process, the Agile methodology recognizes that requirements may change over time and that adjustment, tweaking or improving may become necessary. It also encourages soliciting and utilizing ongoing feedback from stakeholders. (This is contrasted by the sequential Waterfall approach, characterized by exhaustive planning at a project's beginning.)
"The Agile methodology delivers a large and complex completed project by delivering many small projects, while the Waterfall methodology completes one single project," Agnes explains. "Scrum is a subset component of Agile that incorporates disciplined fixed-length iterations called sprints that commonly last one to two weeks. Each sprint includes four structured 'ceremonies' that our co-located multi-disciplined teams partake in: sprint planning, daily stand-up, sprint demo and sprint retrospective."
According to the Scrum Guide, the purpose of sprint planning—a scrum event that kicks off the sprint—is to determine what can be delivered in the sprint, how that outcome will be achieved and what will contribute to that goal. The daily stand-up meeting is a short status check held at a set time, preferably in the morning. The sprint demo provides the opportunity to generate enthusiasm among stakeholders and to showcase accomplishments. The sprint retrospective allows the Scrum team to review/evaluate its progress and accomplishments and what improvements are necessary for the next sprint.
Elevations CU deployed both the Agile and Scrum methodologies, an innovative approach that enabled the credit union to launch projects faster and more effectively and to quickly propel critical strategic initiatives forward. The Baldrige examiners took note, recognizing how this approach positively impacted Elevations CU's ability to better serve its members and community, says Agnes.
Although it can be challenging to enact, the Baldrige framework has enabled the credit union to thrive and to be responsive regardless of external events, says Agnes. For example, when COVID-19 struck last year, Elevations CU found itself in the position of having to react to the immediate issues springing from the pandemic while still refining and improving processes. 
 "As a result of the resolve, discipline and fortitude embedded into our culture and our processes, we came together as a team to find solutions," he recalls. "We rapidly deployed new loan deferment programs and employee resources, including catastrophe pay, all while continuing our pursuit for future excellence and pushing ourselves to understand where we still need to evolve for both the short- and long-term."
The culture forged by the Baldrige framework also well-positioned Elevations CU to respond to the mass shooting at the Kings Soopers Grocery Store on March 22. The credit union's Table Mesa branch is adjacent to that store, says Agnes—fortunately, all staff and members who were at that branch at the time were safe. Right after the shooting, Elevations CU and the Elevations Foundation launched a fund for the families affected by the shooting and committed to matching all donated funds up to $200,000. Credit union members, community leaders and organizations aligned with Elevations CU helped to raise nearly $550,000, which rose to almost $750,000 with the match from the credit union and the foundation, says Agnes. The monies were evenly distributed to the 10 families who lost loved ones that day.
Sharing Their Journey
The Elevations CU team has also committed to sharing what they've learned throughout their Baldrige journey with their credit union peers, says Agnes, explaining that after receiving the 2014 award, it became apparent that the mechanisms for communicating this knowledge were not in place.
"We had to quickly develop those capabilities," Agnes recalls. "We rose to the occasion and shared abundantly. That experience better prepared us for how to share our findings the second time around."
They implemented two "sharing days" that brought together those in the Elevations CU community, in the industry and in the Baldrige community. In total, 78 people from 31 organizations nationwide attended for learning, networking and sharing, he says. The sessions were held at the Boulder office, with each one lasting two days. The credit union's leaders held intensive sessions on the Baldrige framework to educate attendees on its value, in the hopes that doing so would encourage attendees to share the framework's benefits with their own organizations and inspire them to deploy it, says Agnes.
In 2016, Elevations CU produced and hosted "Colorado's Path to Performance Excellence." The panel discussion featured then-Gov. John Hickenlooper and the state's four Baldrige recipients and was attended by 137 executives from companies along Colorado's Front Range.
"Once we can safely do so, our intention is to hold similar sharing days and possibly conduct them with other recent Colorado Baldrige recipient organizations, such as the City of Fort Collins and Donor Alliance," Agnes says. "We're also exploring ways of sharing our experience with other industries on a national level. Much can be learned from outside an industry when it comes to best practices related to customer service, employee recruitment and retention, and other areas of general business productivity." 
As for what Agnes can immediately share with other credit unions, he suggests that the best time to start your own Baldrige journey is now.
"Don't let outside factors stop you from taking the first step. It is also critical to garner support from the entire organization, starting with your board, and to engage a Baldrige coach," he says, adding he "highly recommends" Jan Johnson. "We also encourage any credit union interested in starting the journey to align with their local or regional Performance Excellence organization."
It's important to remember that the effort to achieve operational excellence does not stop, there is no arriving at a final destination. Instead, says Agnes, the objective is to always grow, learn and evolve, keeping pace with how people—individual members and small businesses alike—want to bank. 
"As a leadership team, we also had to evolve and remind ourselves of this growth mindset we had bought into," says Agnes. "Recognition should never be the end goal; it is the journey that must keep us motivated."
A strategy Elevations CU uses to keep excitement and motivation high is setting Big Hairy Audacious Goals (BHAG), says Agnes, explaining the organization is modeled after business consultant and author Jim Collins' "Built to Last" philosophy. Typically, similarly sized companies tackle one BHAG every 12 to 15 years, notes Agnes.
The first BHAG was clear­—We will win the Malcolm Baldrige National Quality Award! Elevations CU has since grown beyond a "winning" mentality to a culture of excellence prevalent throughout the organization that ultimately benefits the membership, thus leading to its second BHAG—Audacious Excellence!—and receiving the Baldrige Award for the second time. Regardless of what the third BHAG becomes, one thing is clear: "We intend to receive the Baldrige recognition again in the future," Agnes declares. "We are always pushing forward, challenging norms and continuing our pursuit of excellence—qualities that have all become integrated into our culture as a result of the Baldrige journey."   
Remembering Pete Reicks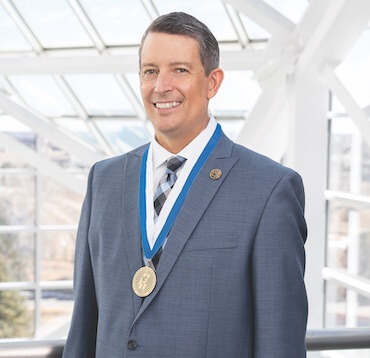 On May 18, 2021, Elevations Credit Union lost a beloved member of its family with the passing of Pete Reicks, chief strategy and performance officer. After a long and courageous battle with a rare form of cancer, Pete passed away at the age of 48, leaving behind his wife and daughter, and a community of family and friends. 
While reflecting on his time working with Pete, Elevations CU President/CEO Gerry Agnes used an analogy inspired by one of Pete's favorite pastimes—football. "Pete Reicks was Elevations' star quarterback. There's a strong lineup on the field, but, at every game, the stadium's eyes are drawn to the quarterback. This player knows every intricate detail of the game. He has the skill to adapt to its changing circumstances and the confidence to throw the tightest, most accurate spiral to score the winning touchdown. We're blessed that Pete was our team's quarterback."
Pete's career in financial services included leadership roles with Federal Reserve Bank of Kansas City before he joined the Elevations CU team in 2008. He excelled in his roles with the CU, ultimately being promoted to chief strategy and performance officer in 2019, championing a culture of innovation and leading the credit union to twice receive the highest national recognition for performance excellence that an organization can receive in the U.S.—the Malcolm Baldrige National Quality Award. Elevations will continue to honor Pete's legacy for many years to come. cues icon
Pamela Mills-Senn is a writer based in Long Beach, California.