4 minutes
Harvard Business School Professor Linda Hill provided studied insights during Directors & Dialogue December.
Linda Hill, Ph.D., not only studies the link between what leaders do and whether their organizations can innovate time and again—she also seeks to answer the question: What does the senior management team need from the board to facilitate innovation?
The Wallace Brett Donham professor of business administration at Harvard Business School and faculty chair of the Leadership Initiative, Hill presented the session, "The Board's New Innovation Imperative Collective Genius: The Art and Practice of Leading Innovation" at Directors & Dialogue December last week. The program concluded with a third keynote on Dec. 16; recordings of all three sessions will be available for registered participants. 
Governing innovation as boards must do "is actually really, really difficult work," noted Hill, who called herself an "organizational anthropologist" because her work involves talking with business leaders about what they are doing and what is and is not working well for them.
5 Key Challenges to Governing Innovation 
From her conversations with business leaders, Hill has identified five reasons boards may fail to support innovation at their organizations:
1. Insufficient time. Most senior management teams work a lot and very hard as they lead their organizations. "All that work pushes out innovation," Hill says. Spending so many hours figuring out "what can we do to be faster, cheaper, better" may preclude having time to support innovation.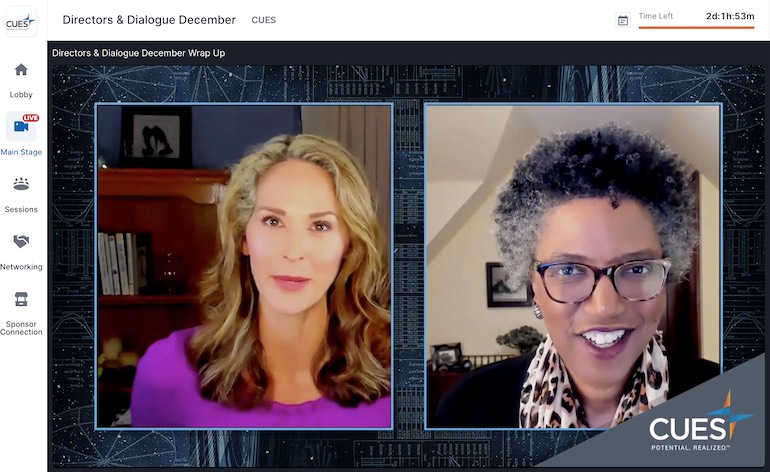 2. An outdated innovation and risk agenda. In many cases, boards don't have the expertise required to analyze the potential risks and rewards associated with innovation. As a result, they may inadvertently communicate a lack of interest in innovation to their CEOs.
3. Lack of expertise. Hill said that it's currently very tough to find board members who know enough about digital delivery and digital transformation, when that knowledge is exactly what organizations need on their boards today. 
4. Conflict avoidance. "Most boards have a polite culture," she emphasized. "They don't really like to engage in conflict. We're talking about good constructive fights" as what is needed to really illuminate the pros and cons of an innovation. 
5. Tell and sell mentality. Perhaps because the board may have an outdated innovation and risk agenda, senior managers sometimes resort to "telling" directors what's going on and trying to "sell" them on existing initiatives, rather than asking them to provide insight and to add to the innovation process. "Without the support of the board, management is less likely to pursue step-change innovations," she explained.
5 Key Solutions to Innovation Governance Challenges
In her research, Hill also has identified five things boards can do if they want to support innovation at their organizations:
1. Prioritize agility and innovation. Boards need to communicate the messages of "we've got to be agile" and "we've got to innovate," Hill emphasized.
2. Protect the core and reimagine for the future. Regulated organizations like credit unions tend to focus on protecting their core—the work of doing things faster, better and cheaper, Hill said. But boards that are more supportive of innovation "also look at the member experience" and ask, "Can we really differentiate what we're offering?"
3. Have diversity of thought and collective literacy. Hill emphasized that having diversity of thought is not the same as demographic diversity, although boosting demographic diversity may bring some diversity of thought. She described the example of Pfizer leveraging diversity of thought to redesign its vaccine trial process. The supply chain company worked with human-centered designers from Delta airlines to help it focus on its customers' needs. Hill also emphasized that boards need to consider what they collectively need to know to govern innovation effectively. She said leaders are doing things like taking master classes and meeting with customers to help them "break frame as a board and think about possibilities."
4. Nurture creative abrasion. Sometimes the most innovative outcomes stem from situations in which people with different approaches constructively grate against one another. This can be difficult to obtain, however, since so many people avoid conflict. 
5. Redefine creative abrasion as a partnership. Hill said a CEO might want to say to a board chair: "I kind of need you to be a sparring partner on this. I need to hear honestly what you think isn't working." She also described how challenging this can be to do. "It doesn't always go as smoothly as you like. Sometimes board members do step in too much. Sometimes things are said that make the CEO look less than competent." But the goal is for the organization to make "praiseworthy missteps" because that's where learning—and the next innovation—might come from. "The board can provide this outside-in, this bigger picture for the management team," Hill said. "You need to do that in a way in which you're engaged in real dialogue."
In this era of the pandemic, board members have a special opportunity to learn how to work together with their CEOs and senior management teams to create organizations that innovate time and again. "Look at this opportunity with fresh eyes," Hill advised. 
Lisa Hochgraf is senior editor at CUES.