4 minutes
CUES learning event highlights this and other key considerations for today's credit union boards.
Conversations with attendees at Directors Conference, recently hosted by CUES, point to the idea that director recruitment is often a fairly challenging—and sometimes downright scary—undertaking. 
But a look around the general session room of 400+ attendees at the event in Orlando showed that credit unions are, in fact, succeeding at recruiting more diverse directors than they were in past years, including directors of a variety of ages.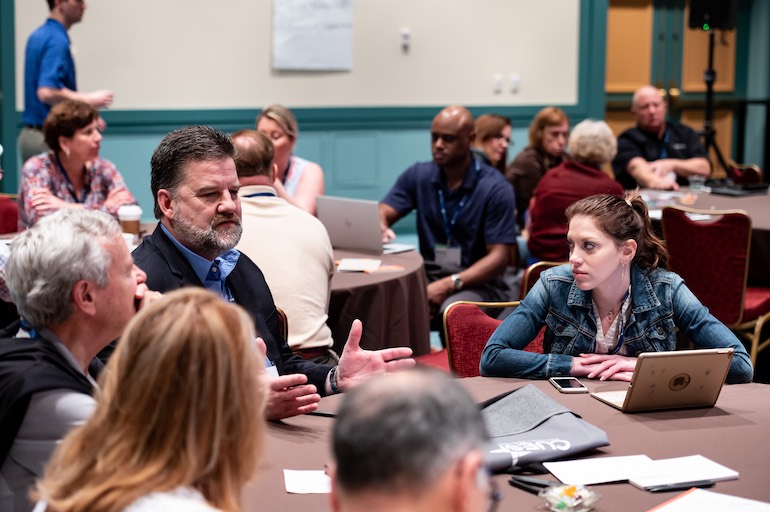 A popular breakout session during the conference comprised a facilitated panel of millennial directors. Other sessions that supported directors in their efforts to govern credit unions covered the economic environment and the importance of innovation.
Millennial director recruitment panelists Gregory Jenkins, James Sackett and Shanna Yonke—all CUES members—talked about their paths to becoming directors at their credit unions. They also offered tips and strategies other credit unions can use to more successfully recruit from a younger set.
Right off the bat, Yonke offered the idea that respecting all potential directors will aid recruitment efforts. "You can't recruit and engage any board member if you simply identify them as a token board member," said the director of $2.5 billion Connexus Credit Union, Wausau, Wisconsin. "I encourage you to look at all of us as professionals in our own right." Yonke herself is an attorney and a partner at her firm. 
Sackett, vice chair of $1.3 billion Firefly Credit Union, Burnsville, Minnesota, offered three clear steps to take when looking to add young directors to your board: 
1. Decide to do something. Don't just talk about it or think you can't. Take action.
2. Have uncomfortable conversations. If someone on your board isn't participating fully, talk about whether it might be time for that person to step aside. Talk about term limits and other board renewal tactics.
3. Take action. Colleges and universities came up as a key place to look for young people who might be interested in serving.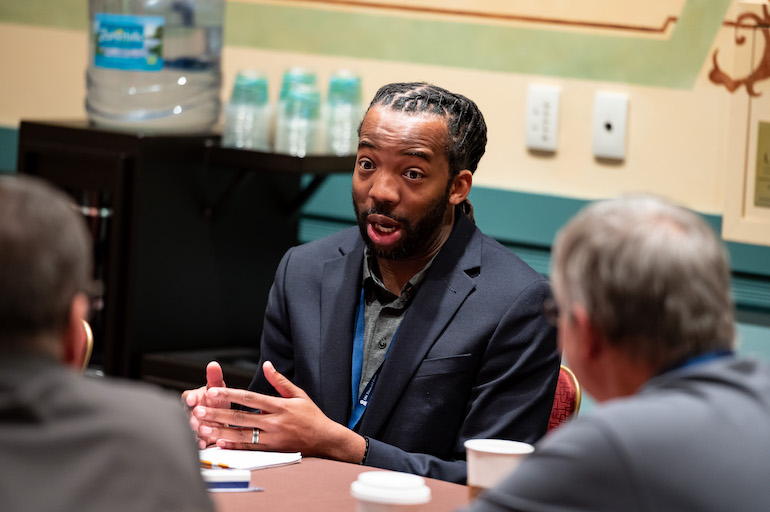 The chair of $55 million Greensboro Municipal Credit Union, Greensboro, North Carolina, Jenkins provided insight into what a young director might bring to the board table. When he started volunteering at his credit union more than a decade ago, it didn't have an app. 
"I was really the one that was saying …, you're going to have to do these things," he said. "It didn't make sense for me to spend five minutes to access my accounts when I can access all these other platforms with two clicks."
Talking about another key factor in credit unions' success—the economy, Anirban Basu of Sage Policy Group, Baltimore, said the predictions of a recession could still come to pass—but that there are also opportunities on the horizon for credit unions.
"Much of the negativity reflected in forecasts and in financial market volatility … will happen, but important parts of the U.S. economy continue to perform well," Basu said.
A positive thing for credit unions to watch for, he added, is a surge in homeownership. In 10 years, the many 27-year-olds now living in apartments downtown will be 37. They'll get married and have children. "That's going to create a lot of opportunities for credit unions for the extension of credit," he said.
While Rohit Bhargava kept the Directors Conference audience chuckling, he was also teaching participants about the importance to leadership of innovation and "non-obvious thinking." 
"A non-obvious trend is a unique, curated observation of the accelerating present," explained Bhargava, founder of Non-Obvious Company. "Winning the future takes non-obvious thinking." 
A simple example is that Bhargava always eats left-handed because that leaves his right hand free to shake hands with someone who might come up to greet him. "The world is filled with tiny thinking" like this, he said. "What does it take to be the sort of person who sees what no one else sees?"
Encouraging meeting attendees to become "trend understanders," Bhargava outlined five habits of trend curators: Be observant. Be curious. Be fickle. Be thoughtful. Be elegant.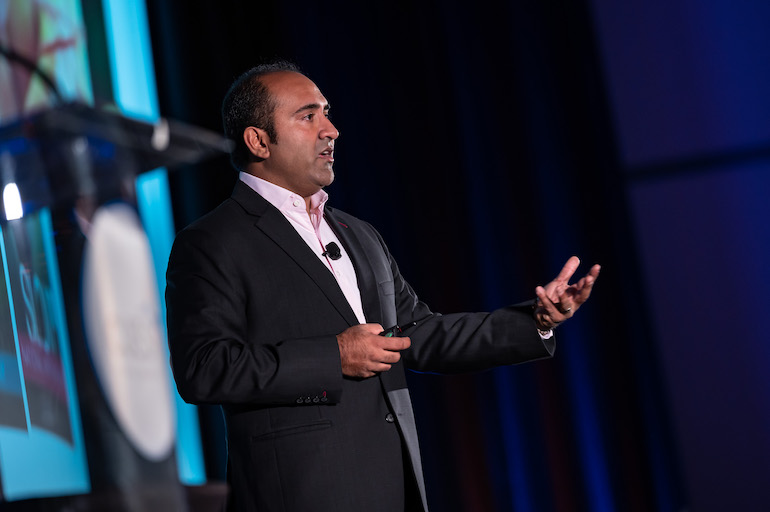 The conference also was full of valuable networking that illuminated the richness of credit union governance. In one hallway conversation, Jennie Boden, managing director of strategic relationships and a senior consultant for CUES strategic provider, Quantum Governance, Herndon, Virginia, pointed out that behind every risk lies opportunity.
Apply that idea to the conference sessions described in this article and these might be your takeaways: 
Recruiting new and millennial directors means risking that a current director might have to step aside and your board will change its composition. But you'll get fresh perspectives in your governance conversations and potentially deepen your board's overall thinking. 
Lots of economic indicators point to a recession and a recession may come. At the same time some markets—maybe the new homeowner market—will likely still be growing, quite possibly to credit unions' advantage.
Out-of-the-box thinking might take you down some dead-ends, but it can also lead you to places of great promise—and service to members.
Lisa Hochgraf is senior editor for CUES.