9 minutes
Embracing outside leadership opportunities can strengthen women's roles within their credit unions and provide a valuable assist to the industry.
Angela Hanson's first leadership experience began with a summer job. Now the chief innovation officer at $283.5 million Heartland Credit Union, Madison, Wis., she was just a teenager when she was tasked with managing a local swimming pool and coaching an 80-person swim team. A lesser soul might have thrown up her hands over the amount of work required, but Hanson was undaunted, even inspired.
"It was at this point that I knew I wanted to find a career where I could influence change, help people draw out their strengths and make a difference in a business and community," recalls Hanson, a CUES member. "And there is no better place to do this than a credit union."
The credit union industry has served as a springboard for her involvement in leadership activities outside of the immediate organization: This is Hanson's second year serving as chairman for the Wisconsin CUES Council Board. Eight years ago, she earned her SHRM-CP certification; she is a SHRM member as well. Although finding the time for all these activities can be tricky—especially with three active kids and a demanding workload—she says it's been worth the effort.
"These activities have been monumental in terms of taking my career to the next level," says Hanson. "Becoming involved has afforded me the opportunity to test my skills and accept new challenges I may not otherwise have had."
The Leadership Value
By nature, women are often "very intuitive, intrinsically driven and authentic," says Hanson, and credit unions led by women with these qualities are well-positioned to attract an "inclusive and diverse workforce, creating a culture of innovation and collaboration." If so, the benefit to the industry as a whole could prove significant, making it even more important for women to seek out leadership roles.      
Linda White's leadership activities started when she simply said "yes" to someone asking if she wanted to attend a meeting. Since then, the CUES member, now CEO of $75 million Upward Credit Union, Burlingame, Calif., has said "yes" a lot. She's involved in the Global Women's Leadership Network and a member of its Bay Area Sister Society, serves on the Healthcare Credit Union Association board, is an active member of the Burlingame Chamber of Commerce (serving as chair twice in the past decade), and is currently the president of the El Camino chapter of the California/Nevada Credit Union League.
Building confidence, learning from her peers and growing her personal and professional skills were big motivators for White in her pursuit of these opportunities. The chance to cast eyes and ears outside the confines of her credit union was another.
"By being involved, I am able to hear … about what's going on in the industry," she explains. "Seeing what's going on outside of our four walls and within the community helps us determine who, what, why, how and where—we can't be everything to all people, and so we need to focus on why we would do what, when, how and so on."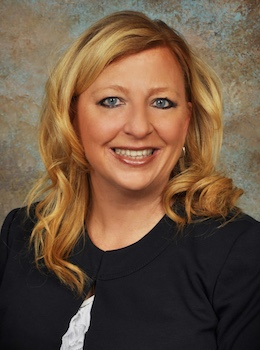 Leadership isn't for the purpose of building your resume but for the purpose of helping to build the strength of others' resumes and the organizations we're serving.
Becoming involved in outside professional or community efforts also provides women with the opportunity to observe other female leaders in action, White adds, helping them identify what kind of leader they may, or may not, want to be.
Lisa Brown, president/CEO of $55 million Tallahassee-Leon Federal Credit Union in Florida and a CUES member, has participated heavily in professional development programs both within and outside of the credit union industry, earning CUDE, I-CUDE, DEECU (Development Educator for European Union) and ADE (African Development Education) designations. She volunteers through the Global Women's Leadership Network and has spent over a decade serving as the vice chair for the Florida CUES Council. Brown's leadership activities have also inspired her political involvement.
"I lobby extensively at the state and national level for credit union issues," says Brown. "I was the only credit union [representative] to lobby against payday lenders last year in both the Florida House and Senate, when they successfully doubled their ability to take advantage of low-income members."
Since April 2018, Brown has been running to become Tallahassee's next city commissioner, seat three, the outcome to be decided Nov. 6. This most recent endeavor and her lobbying efforts have helped "catapult the brand image of the credit union," says Brown, increasing awareness and resulting in "record growth" for the community-chartered, CDFI-designated. 
Political involvement is also important to Patricia Campbell, president/CEO of Christian Financial Credit Union. Headquartered in Roseville, Mich., the faith-based credit union has $392 million in assets as of this writing but expects this to rise to over $400 million by the end of 2018. 
"I believe active participation with lawmakers is key to driving a strong charter and creating a regulatory environment that allows credit union principles to flourish," says Campbell. "I can often be found engaging with lawmakers in our state capitol, up on the Hill in [Washington,] D.C. and back in their districts."
Campbell works with the Michigan Credit Union League and serves as chair of the Michigan Credit Union Legislative Action Fund political action committee trustees overseeing the league's state and federal PAC funds. She is also a trustee for CUNA's Credit Union Legislative Action Council, representing Michigan.
Campbell is a board member of the CUES Michigan Council and is the immediate past chair. Her real passion, she notes, is putting together the Council's Fall Economic Summit, finding speakers and creating an event that tops the previous year's conference.
A longtime member of the Filene Research Council, Campbell also supports Filene's Center for Performance and Operational Excellence as a program sponsor. "Through and with Filene, I am focused on building new leaders at both CFCU and for our industry," she says. "I am proud to say that CFCU has had three individuals selected to be part of the elite Filene i3 program."  
Campbell says attending industry training programs and conferences, such as CEO/Executive Team Network™, fueled her interest in becoming an active leader in the industry. An initial impression was made when attending CUNA Management School in the early 2000s. 
"It was there that I met some of the greats in our industry, like Lois Kitsch, Mike Schenk and Mark Meyer," she recalls. "And I immediately felt a desire to grow not only my own credit union but our industry and its future leaders."
It was also around that time that Campbell first discovered CUES, particularly the writing of former VP/Chief Learning Officer George Hofheimer, now chief knowledge officer at Filene. "I would read all of his publications and whitepapers, as CUES was working on … leading-edge concepts or products being developed in the financial services industry and developing workforce talent.
"CUES was extremely responsive and knew when the economic downturn of 2008 came that it had to be flexible to retain members, and [they] made it possible for credit unions to continue to share insights … as we navigated through the storm," she adds.
 
Campbell's various leadership roles have provided her with exceptional growth opportunities, both within her organization and in the industry, she says. These activities have also enabled her to forge a broad network of people she can call on for input and assistance with any issues the credit union may be facing. Other leaders and aspiring leaders at Christian Financial CU are similarly motivated.
"Members of our team serve as chairs of committees for our trade association, our technology vendors, our community partners," she says. "Our team knows that leadership is the most important give-back."
Making Leadership Work
How does one go about uncovering leadership opportunities and, more importantly, find the time for such involvement?
According to Hanson, opportunities are "widely present and available," and in many cases are "right under your nose."
"I think if you really want to improve yourself on any level, there are plenty of opportunities out there, you just need to be open to finding them," White agrees. "It's a matter of listening and networking. People are always looking for people to get involved. You then just get to decide if it's right for you."
Leadership opportunities aren't necessarily accompanied by a title or even recognition, says Campbell. They may arise from a personal commitment to particular issues facing the industry. But, she cautions, it's best to embrace only those opportunities where you have a strong desire to participate.
"If you like technology, immerse yourself in serving in this area by joining task forces for your technology core or lobbying for data security," Campbell advises. "Don't just simply join groups for leadership opportunities if you don't have a real passion around that group's mission. Leadership isn't for the purpose of building your resume but for the purpose of helping to build the strength of others' resumes and the organizations we're serving."
But there's still the matter of finding time to lead, which all four women acknowledge can be tough. Time management is key, underscores Brown, and getting your team similarly involved can be helpful.
"This requires pushing your team to take advantage of the same opportunities for leadership outside of the credit union," she explains. "You must take a 'no excuses' attitude if you want to be successful."  
Pushing team members to embrace leadership opportunities is good for their own personal growth, networking and career advancements, says White, who also advises her employees to attend industry conferences and events.
She is a proponent of starting out slowly and also suggests getting involved with what is of genuine interest. White relies on a "good calendar" and scheduling in personal time. Although White doesn't think personal time should be treated like work, she believes it should be prioritized and on the calendar.
During her early days as CEO, Campbell said "yes" to nearly everything that came her way. She was asked to join the boards of 15 or so industry organizations in her first month and accepted eight invitations. Since then, she has learned the value of being more selective.
"It was crazy," Campbell recalls, with "almost every waking moment spent in the office, or at one of our CUSO board meetings or preparing for a committee meeting on a board I had joined."
She now tries to limit her involvement to five groups at a time. Campbell seeks out Christian Financial CU leaders and peers that she sees as a good fit for the leadership opportunities she can't tackle—a strategy she recommends for others who are becoming overcommitted.
"The credit union industry's cooperative spirit and 'people helping people' attitude extends beyond the employees assisting members—credit union people help other credit union people," Campbell says. "I believe the collaboration in our industry is one of the … dynamics that makes our industry so strong." 
Pamela Mills-Senn is a freelance writer based in Long Beach, Calif.