5 minutes
At Inclusiv, the leadership of Pamela Owens, CUDE, helps small and minority deposit institutions be sustainable.
For some, the desire to lead and serve is one they cannot ignore—if the opportunities don't exist, they'll create them. Pamela Owens, CUDE, SVP/organizational development and capacity building for Inclusiv, New York, provides a compelling illustration of this dynamic.
Founded in 1974 and formerly known as the National Federation of Community Development Credit Unions, Inclusiv serves 270 credit unions nationwide. Collectively, these CUs—which focus on providing affordable products and services to low- and moderate-income people and communities—have more than 10 million members and more than $112 billion in assets.
Owens has been with Inclusiv 21 years, occupying the SVP role for the past four. In this position, she works with staff on developing Inclusiv's talent capacity and sustainability as well as helping the organization's credit union members do the same. Her focus remains on faith-based credit unions and small, mostly MDI (minority deposit institutions) CUs.
Before joining Inclusiv, Owens worked at Fordham University (in New York) designing curriculum and working with at-risk youths. Her CU career began when she responded to an ad placed by the National Federation of Community Development Credit Unions for a director of education. Owens jumped at the chance to design a training institute from the ground up and founded the CDCU Institute in 1998, which provided management training for staff and boards, focusing on small credit unions. During its run—the program was sunsetted in 2012 primarily due to the costs associated with in-person training—CDCU graduated 11 classes, training over 300 credit union professionals.
Owens also developed the "Each One, Teach Many" financial literacy train-the-trainer program, which reached more than 40 states, 1,000 trainers and 25,000 credit union members and ran from 2006-2011. Today, the Pathways to Financial Empowerment program shares many of the same principles around making financial literacy simple and accessible for users.
She coordinated the Cooperative Finance Leaders for America fellowship program and developed the African American Credit Union Initiative, which reaches out to MDI CUs. Because of these and other efforts, in 2019, Owens was inducted into the African American Credit Union Coalition Hall of Fame.
We recently spoke with Owens on the topic of leadership. Here's what she told us:
You've had so many great leadership moments. Which has made you the proudest?
I'm proud of the work I did when I came to Inclusiv in putting together the CDCU Training Institute. I am equally proud of the work I do now with the Inclusiv team on preserving smaller-asset-size MDI CUs and helping them grow. We work collaboratively with AACUC, the Network of Latino Credit Union and Professionals and other groups to accomplish this work and it's an honor to be part of the leadership on this issue.
Have you faced any leadership challenges?
Yes—I can become very impatient when things are moving slowly. But I've learned there is a reason for all things, and sometimes having things move more slowly gives you an opportunity to see different perspectives. I've learned every situation is different and that you must evaluate them accordingly.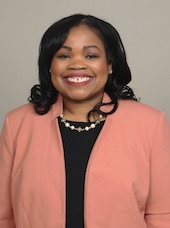 SVP/Organizational Development and Capacity Building
Give younger and middle management employees a chance to show their leadership skills—be their mentor and supporter. Create a team that works on identifying and developing training opportunities for staff.



How have mentors helped you grow as a leader?
They've been my role models. When I first entered the industry, I didn't know much about credit unions, especially community development credit unions. Some of my earliest mentors taught me about the history of the CU movement. They were all pioneers in their own right—Rita Haynes, retired CEO of Faith Community United Credit Union in Cleveland; Joy Cousminer, retired president/CEO of the former Bethex Federal Credit Union, Bronx, New York; Earnest Johnson, retired credit union specialist at Inclusiv of Southern Cooperatives, Epes, Alabama;  and Woodrow Keown, formerly of College Station CD  Federal Credit Union, College Station, Arkansas. They've all been recognized for their lifelong commitment to credit unions and inducted into the Cooperative Hall of Fame and are Herb Wegner Award winners. They're also Annie Vamper Helping Hands award winners—the Vamper Award is the highest honor given to a CDCU by Inclusiv.
What was some of the best advice these mentors gave you?
To always listen to my inner voice, to challenge myself, to stay strong in my convictions and not be afraid to have an opinion that differs from others, and to never forget to be humble.
What other advice do you have for aspiring female leaders?
The credit union movement is male-dominated, and you see few women and people of different ethnicities in executive positions at larger organizations. So, strive for the higher positions at larger CUs and become the trailblazers. Develop a group of friends and mentors of all ages and ethnicities. Be open to reaching out and introducing yourself. Put yourself in situations where you don't look like everyone else in the room. You'll find you have more commonalities than differences.
Also, attend training events and conferences. I took some training workshops with CUES early in my career and found them insightful and helpful. It was a great way to network with other CU professionals. I would also encourage people to volunteer for CU events.
Finally, how can credit unions and industry organizations help develop future leaders, both female and male?
Hire from outside of the CU and the industry. Give younger and middle management employees a chance to show their leadership skills—be their mentor and supporter. Create a team that works on identifying and developing training opportunities for staff. Also, participate in internships with local colleges and universities. Once someone gets the CU bug, they tend to stay. I thought it would be just three years for me. Now that I'm entering my 22nd year, I see how important CUs have been to me professionally and personally. cues icon
Pamela Mills-Senn is a writer based in Long Beach, California.